Yellow Butter Cake with Chocolate Frosting
15 Thursday Aug 2013
Written by Maeghan in Cakes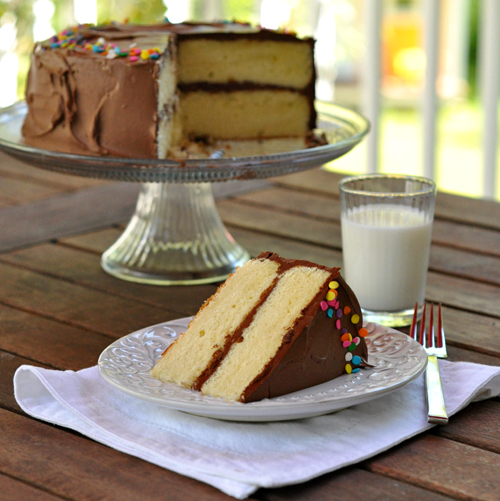 This past weekend I celebrated my 35th birthday. Normally, I sit amongst a pile of recipes and decide which cake I want to tackle for my birthday. I try to choose something challenging or something that I prefer but the rest of my family may not. It's my day, isn't it? This year, I had a difficult time choosing. I've had a lot going on and I just didn't feel up to it. I haven't let the cat out of the bag on here yet, so I suppose it is time. I'm expecting my second child this November, a baby boy. (If you haven't noticed the decrease in postings, it's this guys fault for draining my energy and appetite!) While things have been going smoothly, I was just too tired this week to think about dessert. We've been trying to cram in every last bit of summer into our lives with my daughter, take care of a lot of things on our  "To-do" list, and I've had that Smart Balance contest looming over my head.
What I wanted was something easy, something simple, and something that would taste delicious. I went back to my childhood and chose what I think of as the classic combination, yellow cake with chocolate frosting. Whether you make a cake or choose to do cupcakes, this flavor combination is a classic for a reason. My go to yellow cake recipe, that I love and will one day post on here, is a bit involved. The texture and flavor are great, but I didn't have the energy to to a lot of tedious steps. I wanted something I could make ahead of time, including frosting and stick in the refrigerator when we were ready to enjoy it. I wanted to spend more time with my family and less in the kitchen. Enter this recipe! I remember reading about it and I read through the instructions and was very happy with how easy it was. Dirty two bowls for the cake, and one for the frosting. Everything could be made ahead of time without losing flavor or texture. The cake was easy enough to make, I made it while my husband and daughter ran a couple of errands one evening and the frosting was easy as well. When my husband came in he commented on how good the frosting smelled. This was about as easy as you can get and you skip using that box recipe!
So, as I sit here contemplating my 34th year and what I hope for my 35th, while enjoying a big slice while my little one takes a nap, I am thankful. I am thankful for a wonderful husband and daughter, a healthy son on the way, a great family, and supportive friends and you readers who have really pushed me the past year to build this blog. Your support and my eventual win in the Smart Balance contest really humbled me, I am so grateful to all of you. I love cooking and baking, but I have found enjoyment in sharing these recipes and stories with you as well. I look forward to this next year, of building and growing, and probably a lot of chaos!
So, on to the recipe that you should add to your arsenal for a quick, no-fail yellow cake. No more excuses, skip that box and make this! Believe me when I tell you there was silence while my family devoured this cake! It's moist, delicious, and you can't go wrong.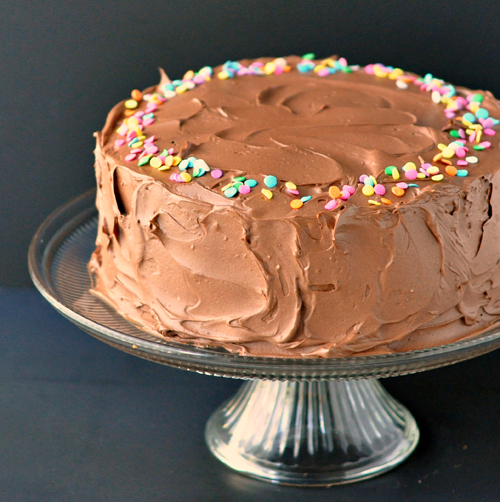 Yellow Butter Cake with Chocolate Frosting
Ingredients
For the cake:
2 sticks (1 cup) unsalted butter, at room temperature, plus more for greasing pans
1 1/2 cups all-purpose flour, plus more for dusting pans
1 1/2 cups cake flour
1 Tbsp baking powder
1/2 tsp salt
1 3/4 cups sugar
4 large eggs
2 tsp vanilla extract
1 1/4 cups milk
For the frosting:
1 lb. semisweet chocolate, finely chopped
6 Tbsp boiling water
6 Tbsp Dutch-process cocoa powder
3 sticks (1 1/2 cups) unsalted butter, at room temperature
1/2 cup confectioners' sugar, sifted
Pinch of salt
To make the cake:
Pre-heat oven to 350 F. Line the bottoms of two 9-inch round cake pans with parchment paper. Butter and flour the edges of the pans, tapping out the excess. Set aside.
In a medium bowl, combine the flours, baking powder, and salt with a whisk and set aside.
In the bowl of your stand mixer, add the butter and sugar. Beat on medium-high until light and fluffy, about 4 minutes, scraping the bowl as needed. With the mixer still running, add an egg in one at a time, beating well after each addition. Add the vanilla. Turn the mixer on low speed and add the dry ingredients in three additions, alternating with the milk. Bet each addition just until incorporated.
Divide the batter between the prepared baking pans. Bake, rotating the pans halfway through baking, until the cakes are golden and a toothpick inserted in the center comes out clean, 30 to 35 minutes. Transfer the pans to a wire rack and allow to cool for 20 minutes. Run a knife around the edge of the pans to help remove the cakes. Invert the cakes onto the rack and peel off the parchment. Let the cakes cool completely before frosting.
To make the frosting:
Place the chocolate in a microwave safe bowl and heat at 30 second increments until melted, stirring between each cycle. Make sure not to cook the chocolate too much! Allow the chocolate to cool to room temperature, about 25 to 30 minutes.
Meanwhile, combine the cocoa powder and boiling water in a small bowl and stir until the cocoa is dissolved.
In the bowl of your stand mixer, beat the butter, confectioners' sugar, and salt on medium-high speed until light and fluffy, about 3 to 4 minutes. Add the melted chocolate and beat on low speed until combined, 1 to 2 minutes. Beat in the cocoa mixture until well blended. If your frosting is a little too runny at this point to frost your cake, allow it to cool and firm up before applying it to your cake.
To assemble the cake:
Level the cake halves if necessary. Dab a small amount of frosting on your cake platter and to act as "glue" and place one of your cake layers on top. Top with 1 cup of the chocolate frosting and smooth over the top of the cake. I had leftover frosting so you can probably be more generous with your middle layer if you aren't doing any piping work with the frosting. Top with the remaining cake layer. Frost the top and sides of the cake with the remaining frosting as desired. I say take it easy and just smooth it on top, leave the intricate frosting work for another cake! Refrigerate, covered, for up to 3 days. Let the cake come to room temperature at least 30 minutes before serving.
Source: Martha Steweat's Baking Handbook, as seen on Annie's Eats