Zucchini Chips
07 Monday Jan 2013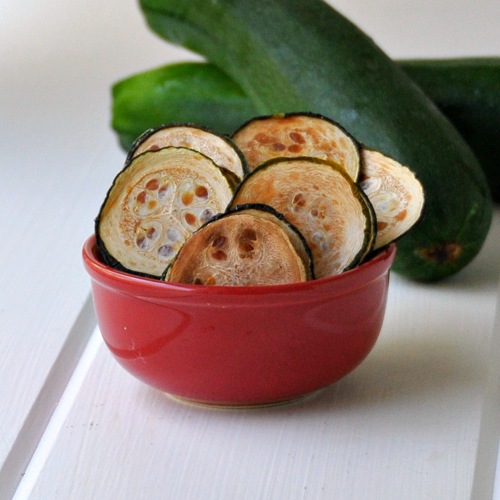 During the summer I was up to my ears in zucchini. I found a lot of different ways to prepare it and I have a lot of zucchini down in my freezer awaiting some new recipes. One of our favorite snacks was baked zucchini chips. It is a great snack and it is so healthy! While I can't use any of my frozen stash for this now, I luckily can still hit the produce section! It is a perfect snack after a long, cookie-filled holiday season! Plus, they taste best when they are hot out of the oven so the warmth factor is better in the winter, right? You are warming up your house too which I'm always a fan of come January! These will get a bit chewy after they have been sitting out so it's best to eat these the same day.
You can season these with any of your favorite seasonings or serve with a nice dip as well!
Zucchini Chips
Ingredients
2 Medium zucchini, sliced thinly
Cooking spray
Coarse sea salt
Pre-heat oven to 200 F. Line baking sheet with parchment paper or a silpat.
Spray the prepared baking sheet with cooking spray. Arrange the zucchini slices on the baking sheet. They do not have to be spaced out, but shouldn't touch.
Spray the top of the zucchini slices lightly with cooking spray and sprinkle with sea salt. Less is more here, as the zucchini will shrink and absorb the salt!
Bake for about 2 hours or until crispy. Allow to cool just slightly on a wire rack. Store in an airtight container at room temperature.
Source: The Way to His Heart