Chipotle Quinoa Chili
13 Thursday Mar 2014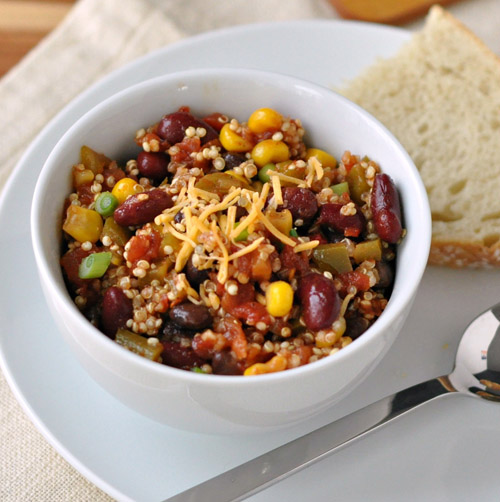 This winter has been relentless. It's frigid cold and the snow just wont quite. To make matters worse, after being sick free for 2 whole weeks, we are all getting sick. Again. This has not been fun. Add in a newborn and it just plain old stinks! So, we need easy meals that are good for the soul and warm us up. I also want something that is a little healthier. It's difficult to find easy comfort foods for the winter that are good for you, but after all of this sitting around the house, it's needed.
This chili is awesome and everyone I know loves it. I adapted it a bit because my husband made a mistake with the grocery shopping and it actually worked out better. The taste was great and it removes one more step from the prep work. So, if you can, try to find the can of diced tomatoes with chipotle chilies in it. If not, use a chipotle chili in adobo sauce as the original recipe suggested. Besides being better for you since it's meatless, it also means you can make this on short notice since you don't have to defrost anything and this isn't a chili that needs to simmer all day. Win! Serve this up with some Super Easy Crusty Bread and you have a great meal in little time!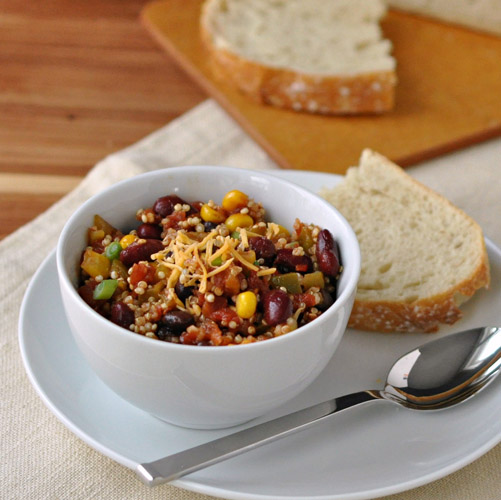 Chipotle Quinoa Chili
Ingredients
1 Tbsp oil
1 yellow onion,chopped
4 to 6 garlic cloves, minced
2 Tbsp chili powder
1 Tbsp ground cumin
3 cans (14.5oz each) diced tomatoes with chipotle chilies
1 can (15oz) black beans, drained and rinsed
1 can (15oz ) red kidney beans, drained and rinsed
2 bell peppers, chopped
1 cup frozen corn
1 cup quinoa, uncooked
4 green onions, sliced
In a dutch oven or large pot, heat oil on medium-high heat. Add onion and saute until translucent, about 3 to 5 minutes. Add garlic and cook for an additional 1 minute. Add chili powder and ground cumin and stir for 1 minute.
Stir in tomatoes, beans, peppers, corn, and quinoa and bring to a boil. Reduce heat to a simmer and cook for 20 to 25 minutes, stirring occasionally.
Remove from heat and stir in green onions. Serve warm.
Adapted from Kraft, seen on Alida's Kitchen