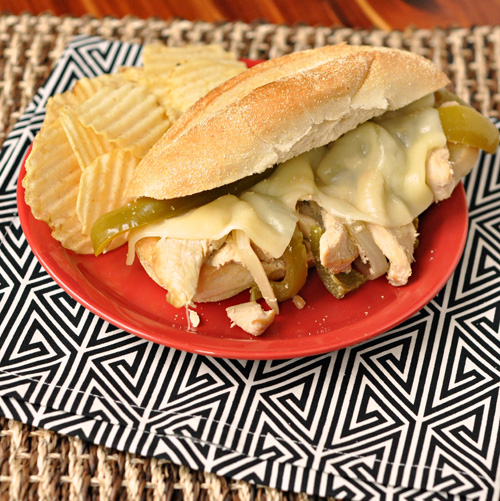 Spring time is always so busy because we are trying to hurry and get everything ready for summer. Summer is so short here in Maine that we have to make the best of every second. So, while we're busy (mostly my husband) staining the decks, bringing out the furniture, putting the screens in I don't have time to cook dinner. I still want something good though. We are starting to use our grill more and more but even that takes some time so I love tossing in some meat and veggies into the slow cooker and leaving it. Coming back at the end of the day and serving an easy salad and chips and these delicious sandwiches!
The original recipe called for Dale's Steak Seasoning. We don't have that here in Maine so I checked the comments and sure enough, someone had posted their own copycat. I tweaked the copycat a bit because I felt the chicken needed some more seasoning and the result is below.
Slow Cooker Chicken Philly Sandwiches
Ingredients
2 Tbsp unsalted butter
1 large sweet onion, sliced
2 green bell peppers, sliced
3 boneless, skinless chicken breasts, sliced
4 Tbsp reduced sodium soy sauce
1 Tbsp honey
1/43 tsp vinegar
1/8 tsp ginger
1/4 tsp garlic powder
salt and pepper to taste
Mozzarella cheese slices
sandwich rolls
Spray slow cooker with non-stick cooking spray and turn heat on to LOW.
Add butter, oinions, and green peppers.
Toss chciken with soy sauce, honey, vinegar, ginger, garlic powder, salt, and pepper and add to slow cooker.
Cover and cook for 5 hours or until chicken has cooked.
Serve on rolls with cheese melted on top.
Adapted from Food Family & Finds