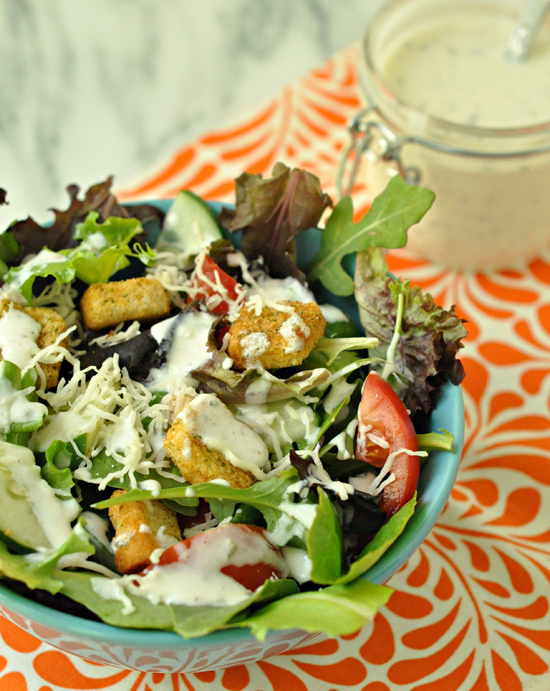 This post is sponsored by Stonyfield and Taylor Farms. As always, all opinions expressed here are my own.
I know a lot of you think of summer as "salad season" or for some of you spring and a little bit of winter is as well if you are trying to eat a little healthier. For me I eat salad all year long. I obviously have phases, but I enjoy salads a lot. When I am super busy, like right now, a salad mix where I can simply toss the pre-washed lettuce into a bowl and put some add-ins in there is gold.
This Baby Spring Mix from Taylor Farms is great for that. I can tell it's been washed and then dried. You don't take some from the top and find a giant glob of soggy lettuce in the middle. The lettuce is super fresh and you can taste it. I don't want to have to worry about my lettuce. It needs to be fresh and clean and safe for me to eat. That way I can get on with what I really love. Salad dressing! I love all kinds. I think the only one I've ever turned my nose up at is Blue Cheese, yet I'll dunk a chicken wing in that any day. When I want something indulgent and creamy I make this house dressing. Of course it isn't actually too indulgent thanks to Stonyfield Yogurts. It's healthy and tastes great and gives my body what it needs. It also has a great flavor that really heightens the flavor of dressing. This dressing is cool and creamy. I've played around a bit to try to have a great garlic flavor without being too garlicky. Remember though, as with most dressings it will get more potent the longer you let it sit.
I really need these easy meals that feel indulgent and keep me healthy. June. Seriously, I didn't feel this busy last year, but now with two kids in school it is insane. I feel like it's lots of fun things for the kids which means more work for me for chaperoning, making cute treats, and remembering everything. Then add all of the end of year gifts and it feels like Christmas in June. I don't mind it though, this year my kids both had amazing teachers. It will be over before we know it and we'll be missing school. It's always the way isn't it? So, whether you are scarfing down lunch in the office or at home or enjoying a lazy summer day, grab some Stonyfield yogurt, make this dressing and bring some life to your every day salads.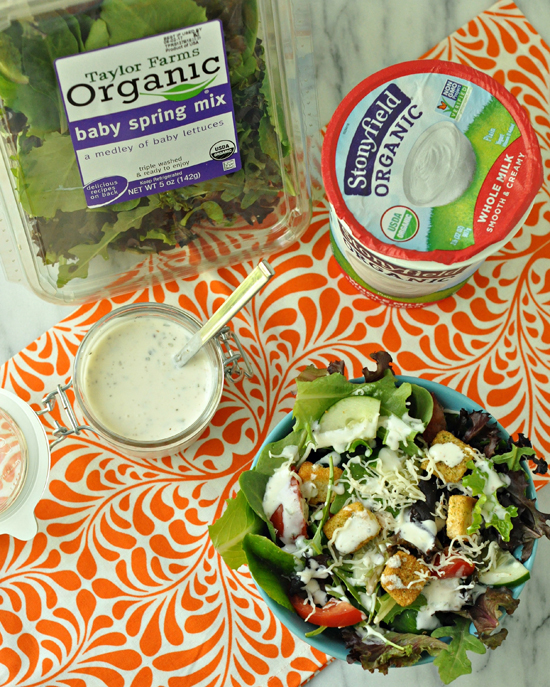 Creamy Garlic House Dressing
Ingredients
1 tsp minced garlic
1 tsp dried basil
1 tsp dried oregano
1/4 tsp freshly ground black pepper
3/4 tsp salt
5 tsp white wine vinegar
6 Tbsp reduced fat milk
Whisk ingredients until combined and refrigerate. The longer you let sit, the bolder the flavor.
The Way to His Heart
Save
Save
Save
Save
Save
Save
Save
Save
Save