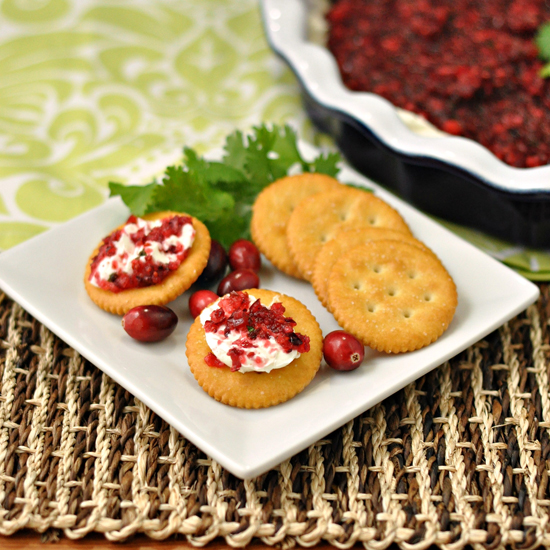 Alright everyone, I think I've got your super easy holiday appetizer right here. It takes minutes to make and transports easily. Looks gorgeous and is different enough to impress!
This Thanksgiving I was asked to bring an appetizer and I debated on what to bring. I wanted to try something new because it's my chance to test a bunch of different palates, but I also didn't want to go too far out on a ledge. As a lover of dips, I knew I wanted to try a new dip to hopefully add to my arsenal. When I found this Cranberry Cream Cheese dip online I was excited. I adore using fresh cranberries for the taste and the gorgeous color they add to any meal. It's also just so festive looking. I knew a few family members have been enjoying my recent appetizers with cilantro and jalapeno so I figured this was a safer bet.
This dip was everything I was looking for. It's absolutely stunning, although it does look better once it's on the cracker so if you have a tentative crowd you may want to mix it up ever so slightly or take a few bites to get the plate going. Once everyone started trying it and word got around that it was delicious, it started going pretty quickly. The flavors are prefect. It's got enough heat to add depth to the cranberries while not being "hot." As we know, I'm not a huge fan of hot. The cream cheese also mellowed it out. My husband isn't a fan of cream cheese unless it's baked and it isn't glaringly cream cheese, but he enjoyed some of the leftover cranberry mixture with the crackers and chips as a stand alone salsa.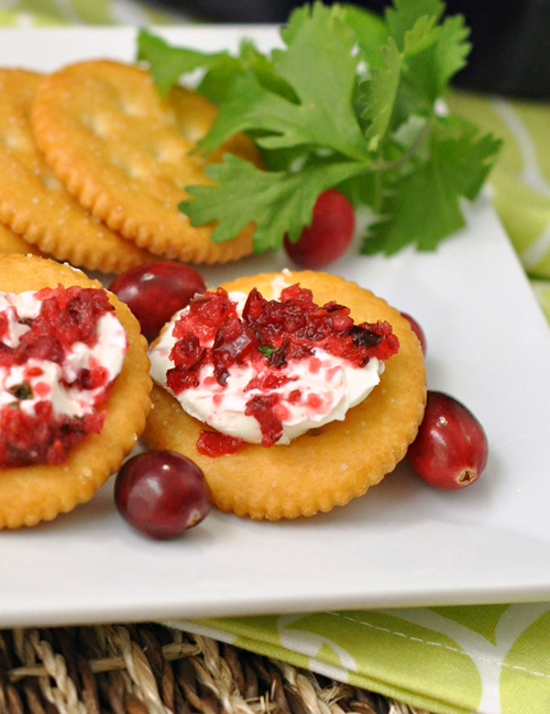 Cranberry Cream Cheese Dip
Ingredients
12 oz fresh cranberries
5 green onions, chopped
1/4 cup chopped cilantro
1 jalapeno pepper, seeded and finely diced
3/4 cup sugar (more or less, to taste)
1/2 tsp cumin
2 Tbsp lemon juice
1/2 tsp salt
2 8-oz packages cream cheese, room temperature
Place the cranberries in a blender or food processor and pulse to give them a rough chop. Add the remaining ingredients, up to the cream cheese, and pulse until finely chopped. You don't want to process too long as you don't want it turning into a puree. Refrigerate for 4 hours but up to 24 hours.
Spread the cream cheese on a serving plate or pie plate in an even layer. Top with cranberry mixture. Garnish with cilantro. Serve with crackers, pita chips, or tortilla chips.
Source: Buns In My Oven