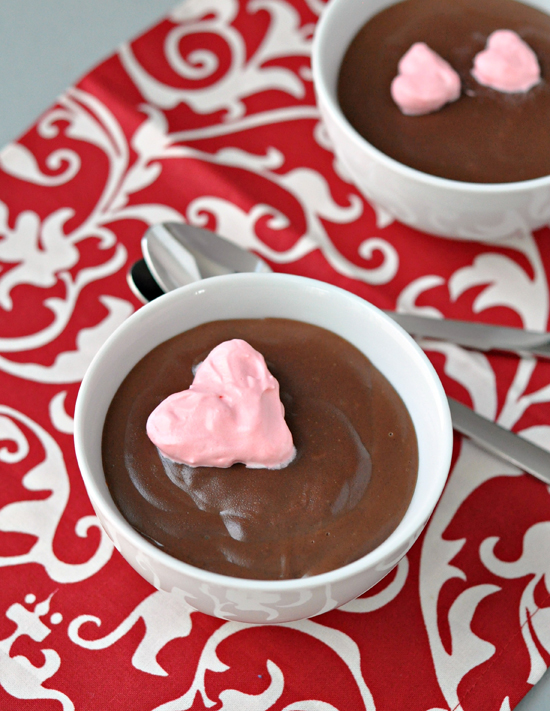 We're escaping the cold Maine weather in a week and heading down to Florida. This means many things. I'm a very busy mom packing, getting things ready for the house/pet sitter, getting things ready for the blog, all of the Valentine's school activities etc. Since we are leaving on Valentine's Day, I thought I'd make a nice dessert this past weekend to celebrate a little early. My mind immediately went to all of these wonderful, complicated and decadent desserts and then I realized just how busy I am. I figured you all may be busy as well. Looking for a sweet dessert that is easy to make and that everyone will love. Who doesn't love chocolate pudding? Well, my husband doesn't really love it, but he loved mine. Not sure if it's because I'm his Valentine, it's just that good (I think so), or it was there. Either way, everyone gobbled it up.
I also think pudding is just so comforting in the winter. It's filling without making your stomach feel super full, which is a con in my book if you are making this for an intimate Valentine's dinner. Enjoy it warm and it's perfect for a snowy day.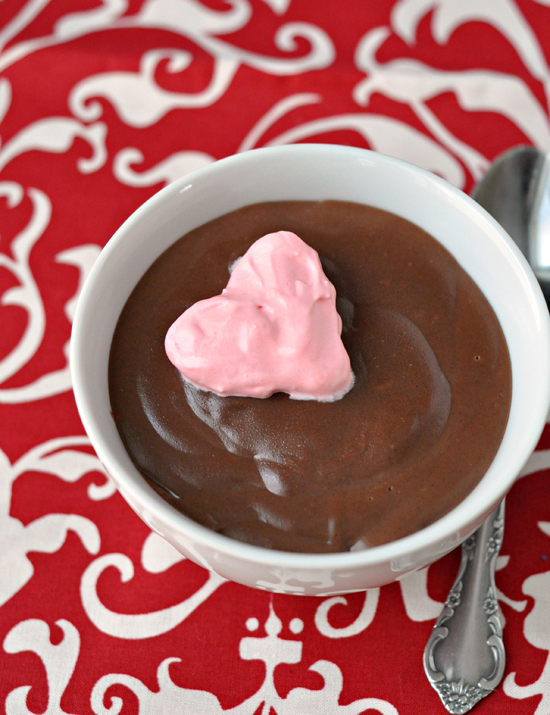 I used semi-sweet chocolate because I knew the kids would enjoy it more, but using all bittersweet or a mixture of both is great. There's also a note at the bottom of the recipe for a wonderful, simple, adaptation as well. I made it festive by tinting the whipped cream, placing two dollops of whipped cream on the pudding and using the back of the spoon to shape it into a heart. Voila! Dessert is served. This was really, really, delicious. I had more the following day, just a spoonful after working out ya, oops. I swear it got better overnight. It was supposed to be just a spoonful but I was amazed at how awesome it tasted and I had half a bowl. Sigh. Back to the elliptical.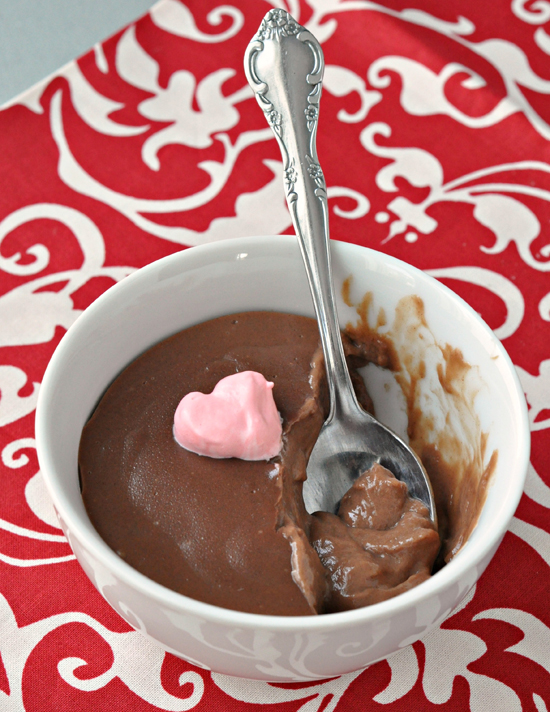 Silky Chocolate Pudding
Ingredients
1/4 cup cornstarch
1/2 cup sugar
1/8 tsp salt
3 cups whole milk
6 oz semi-sweet or bittersweet chocolate, coarsely chopped
1 tsp pure vanilla extract
Combine cornstarch, sugar, and salt in a medium saucepan. Slowly, with a thin stream, whisk in the  milk until incorporated and smooth. Place over medium-low heat and whisk occasionally, scraping the bottom and sides. After 10 minutes, and when the mixture has begun to thicken and coat the back of a spoon, add the chocolate and continue stirring for another 2 to 4 minutes or until chocolate is fully incorporated and the mixture is quite thick. Remove from the heat and stir in vanilla.
Distribute among individual cups or one large serving bowl and chill until it is cool and set, about 2 to 3 hours.  To avoid the skin on top of the pudding, place a piece of plastic wrap on the surface of the pudding before refrigerating.
Pudding keeps for 3 days.
*For an extra chocolate boost, replace one ounce of semisweet chocolate with unsweetened chocolate.
Serves 4 to 6
Source: Smitten Kitchen, adapted from John Scharffenberger