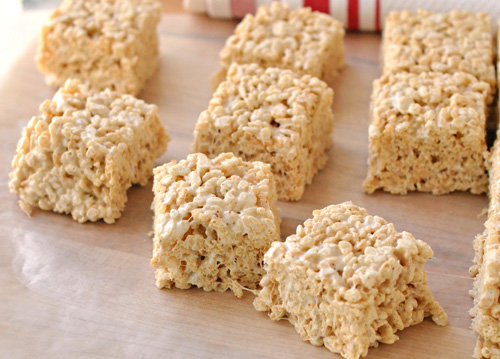 Rice Krispie Treats are one of those desserts that always sound good, but then when I finally have one I'm disappointed. I never grew up with them and only remember having my first one back in high school. It was tasty enough, but it just didn't do it for me. It should have though, marshmallow coated puffed rice cereal has the makings of something good, but they tasted bland to me.
When I was searching for snacks to make for Caroline's fifth birthday party I found a cute setup with rice krispie treats acting as hay bales. I loved the idea because it was cute, something easy to make, and typically a great snack for kids with an array of allergies. I set out to find a great recipe. I wanted something that didn't stray from the classic, but upped the ante sort of speak. Honestly, I knew the kids would eat anything, but I wanted them to be delicious for the adults if they managed to get any. I didn't want to serve boring, cardboard tasting treats. I can't get down with that. So, I did some reading and I asked a lot of my fellow bloggers what they thought of this recipe from Smitten Kitchen. I was apprehensive with the fact that the recipe calls for double the butter. I'm all for butter usage, but not everyone else is and I also didn't want to waste all of that butter if these were going to be mediocre. The feedback was all positive and I was urged to give these a try, I wouldn't be sorry. I wasn't and you wont be either!
These rice krispie treats are delicious. So delicious in fact, that you may eat the first batch, serve the second batch for its intended purpose, then make a third batch to enjoy as a family and take pictures. Then, maybe make a fourth batch because you can freeze them and they make an awesome snack when you need some indulgence. Just saying….
These taste just like the classic, but just as I wanted, they are just better. The browned butter does what it always does, making something ordinary into extraordinary. The extra butter, well it's just good and the salt enhances the flavor perfectly. What you're left with is a treat that everyone will recognize, but for some reason yours will just taste…better.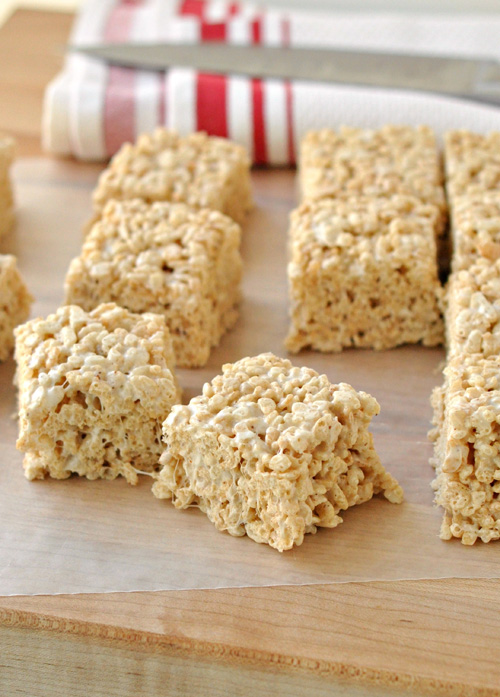 Salted Brown Butter Rice Krispie Treats
Ingredients
4 oz unsalted butter (1 stick)
1 10-oz bag marshmallows
Heaping 1/4 tsp coarse sea salt
6 cups Rice Krispies cereal (about half of a 12-oz box)
Spray an 8-inch square pan with 2-inch sides with cooking spray.
In large pot, melt butter over medium-low heat. It will melt, then foam, then turn clear golden an finally start to turn brown and smell nutty. Stir frequentl, scarping up any bits from the bottom as you do. Don't take your eyes off of the pot, as the butter will go from having color and "browned" to burned in less than a minute.
As soon as the butter turns a nutty color, turn off the heat and stir the marshmallows in. If the marshmallows haven't become smooth from the residual heat turn the heat back on to a simmer and stir until smooth.
Remove the pot from the heat and stir in the salt and cereal. Pour the mixture into the prepared pan. Using a piece of wax paper is the easier and best way to press the cereal firmly into the corners and edges.
Let cool and cut into squares.
Yields 16 2-inch squares or 32 1×2-inch bars
Source: Smitten Kitchen