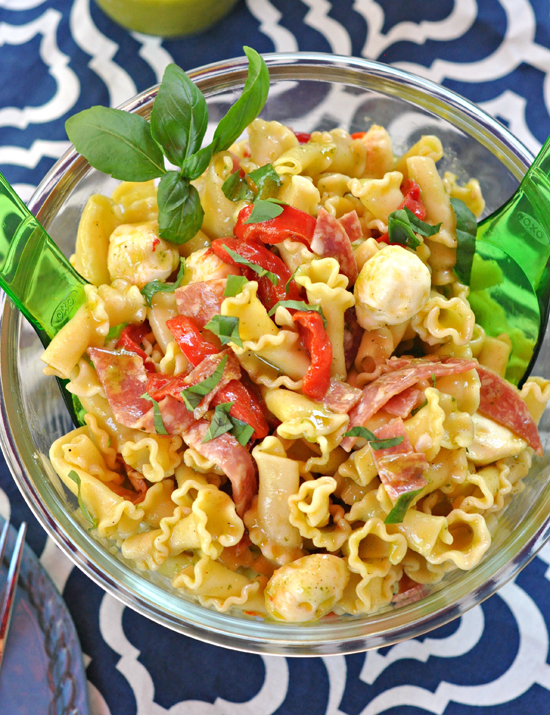 Is it me or is this summer flying by? Here in Maine our summers are short, but sweet and we try to make the most of it before we, or should I say I, hibernate. The fact that my daughter, Caroline, is on her first school vacation and I get to spend time with her before school starts back up makes it seem like it's flying by. Oh, and have you all noticed that "Back to school" signs are already out at the stores? Groan!
I feel like we're only just getting started with the grilling season since June was so rainy here. The one thing I am always on the lookout for is a good side dish. I get so bored of some of the staples and a lot of the super good ones aren't that great for a cookout on the go/potluck scenario. I'm inundated with basil right now so I decided to whip up a light dressing and create a pasta salad that has hints of your typical pasta salad, but a fresher taste. This Pasta Salad with Basil Dressing is going to get a lot of mileage from here on out!
Speaking of being on the go this summer, one of our favorite things to do is cookout at the marina. For us, there is nothing better than heading out for a boat ride and coming back and grilling right there. We load up the kids, the cooler, and the sunscreen and make a day of it. If we aren't at the marina, we're up at camp or dining out on our deck. I look for ease of use, functional, and quality in my food storage containers because we may decide at a moments notice that we're eating somewhere else. That means all of our food is stored in containers that can be brought anywhere. This 8 Piece SNAP Glass Round Container Set is the best! The containers are made of thermal shock-resistant borosilicate glass, so they can be kept in the refrigerator or freezer, and they can go straight into the microwave or oven for reheating. The lids are BPA-free and have four locking tabs and a removable gasket which ensures a leakproof seal. SNAP Glass Containers are both nestable and stackable, which means whether they're full or empty, it's easy to fit them in your cabinets. I personally love them because I have no problem serving my food in them. They make great serving dishes. Just because we are eating al fresco doesn't mean I want my food to be served in just anything. Plus, the glass keeps things extra cold!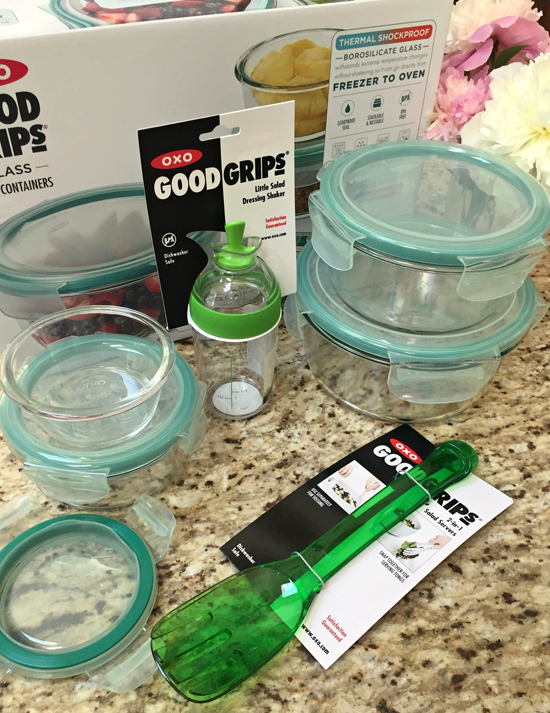 You'll also notice I'm using the 2-in-1 Salad Servers
Little Salad Dressing Shaker which are very handy to have. I just store them in our bag and they are ready for any dish! I also have my beloved Little Salad Dressing Shaker which I've been using for a few years now. This guy is my sidekick during the warmer months.
I received these products from OXO, but as always the opinions expressed here are my own.
Pasta Salad with Basil Dressing
Ingredients
1 lb cavatappi pasta (or any fun shape that holds sauce well)
1/2 cup chopped basil, plus some for garnish
1/4 cup red wine vinegar
1 tsp Dijon mustard
1/4 tsp sugar
1 garlic clove
1/2 tsp freshly ground black pepper
1/2 tsp salt
3/4 cup extra-virgin olive oil
1/4 cup roasted bell pepper, cut into strips
2 oz Genoa salami, cut into strips
12 Ciliegine fresh mozzarella balls, cut in half
Boil a large pot of salted water and cook pasta until al dente, about 8 to 10 minutes. Drain.
In a blender, add basil, vinegar, mustard, sugar, garlic, black pepper and salt until finely chopped. With the blender running, slowly add the olive oil until the dressing is smooth.
Add pasta, dressing, and remaining ingredients in a dish and toss. Can be served warm or cold.
The Way to His Heart