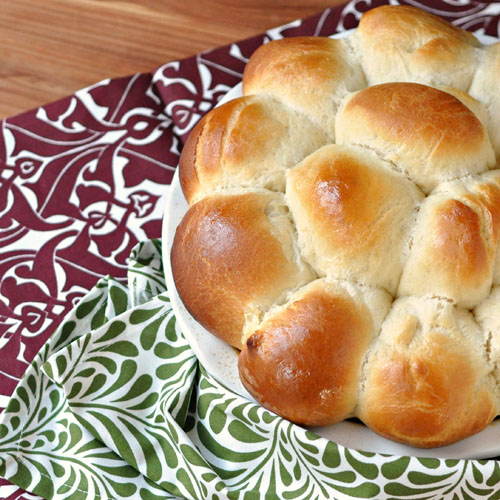 Thanksgiving is just a few days away and I know that most everyone has their menu planned out, but I also know that some are reviewing their grand plans and realizing that maybe, just maybe they bit off more than they could chew. The most important part of pulling off a great dinner is having a schedule, or a mise en place. The second most important thing you can do? Do as much in advance as you possibly can! It's your Thanksgiving too and you shouldn't be slaving away in the kitchen while everyone else enjoys the company and the food!
We all have family favorites that must be on the table and recipes we've been dying to try out. For my family, the fundamentals are obviously the turkey, then mashed potatoes, stuffing, a variety of vegetables, and bread. Fresh, homemade bread is a must. There is no room for store bought on Thanksgiving. The bread must be warm and made with love. There are so many ways you can take the easy road, but I think if you serve fresh bread to your family, they'd appreciate it too. Bread really is so easy to make and something to always be thankful for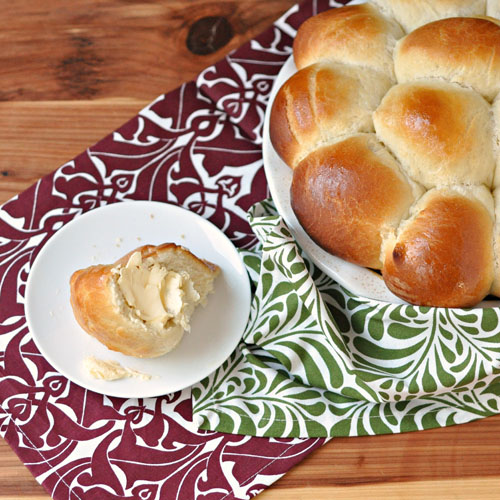 I speak to so many people who say that they are afraid of yeast. Why is that? Now pie crust, I get that. But yeast? It's your friend. It does what you need it to do, give it a little sugar and it's a happy little thing and give it some salt and it will stop. It's pretty simple. There's no doubt that yeast makes bread so much better. Before you've even tasted it, you can smell it cooking and just start to taste it. Have no fear, I've got such an easy recipe below for you. These Honey Yeast Rolls are easy, delicious, are beautiful to set on your table, and you can make them the day before! Yup, it's that easy!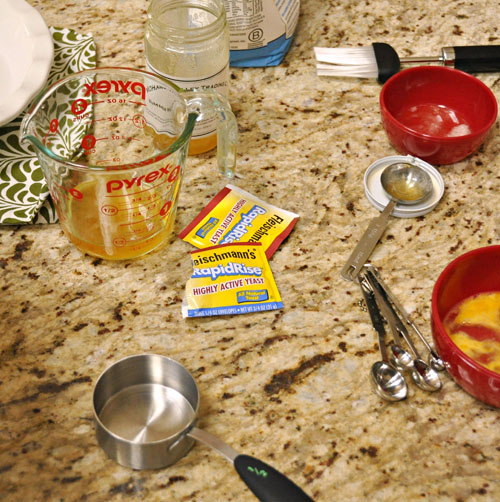 Bread is what gets everyone in my kitchen, even more so than cookies and frosting. Whether you want to make these rolls or try some other great recipes from Breadworld by Fleischmann's, do your Thanksgiving meal a favor and make it from scratch.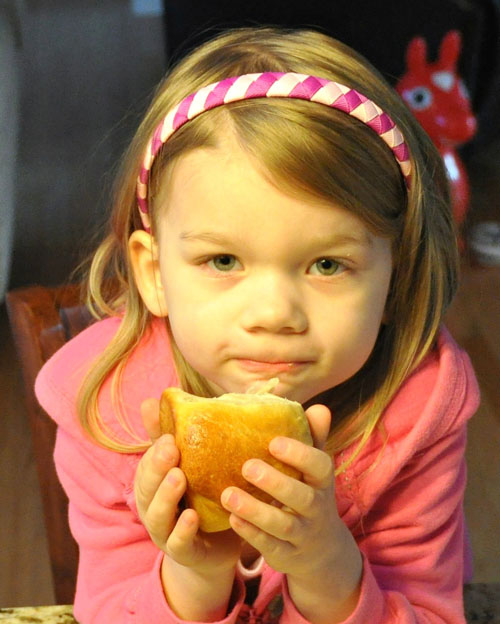 This post is sponsored by Fleischmann's and Karo Syrup and I was compensated for my time, but as always the opinions expressed here are solely my own. Take a look at some great recipes for your holiday dinner and desserts from Fleischmann's and Karo Syrup that are beginner friendly and will have your guests asking for seconds!

Looking for some more great recipes that are easy for Thanksgiving? Another family favorite that has to be on our table for every holiday are these Clover Rolls. Looking for a nice crunchy loaf? Try this Super Easy Crusty Bread. Our Thanksgiving and holiday prep wouldn't be much without Karo corn syrup without that perfect pecan pie. Or how about these soft caramels or marshmallows?
Honey Yeast Rolls
Ingredients
2 1/4 tsp Rapid Rise Fleischmann's yeast
1 cup warm water (105 – 115F)
1/4 cup honey
3 Tbsp canola oil, plus extra for greasing
1 1/4 tsp salt
1 egg, lightly beaten
3 1/2 – 4 cups bread flour
2 Tbsp butter, melted
2 Tbsp honey
In the bowl of a stand mixer, combine yeast and warm water, let it sit for a few minutes. Add honey, oil, salt, and egg and mix to combine. Add 3 cups of flour and mix with the paddle attachment until the dough comes together in a sticky mass. Switch to a dough hook and turn mixer on low speed. Gradually add the remaining 1/2 to 1 cup of flour in. Continue kneading dough on low speed for about 8 minutes, until the dough is smooth and elastic.
Transfer dough to a lightly oiled bowl, turn once to coat, and cover with plastic wrap. Let rise in a warm, draft-free spot until doubled in size, approximately 2 hours.
Turn the dough out on to a lightly floured work surface and knead for 30 seconds. Cover with a clean towel and let rest for 10 minutes. Punch the dough down and divide into 12 equal sized pieces. Shape each piece into a smooth ball and place evenly into a lightly greased 9 or 10-inch pie dish. Cover with towel and let rise in a warm, draft-free spot for 20 to 30 minutes.
Pre-heat oven to 400 F. Mix the melted butter and honey together and brush the tops of the rolls. Bake for 15 to 20 minutes until the tops are golden brown. Cover loosely with foil and bake for an additional 10 minutes, or until the center of the rolls registers 190 F. Let cool slightly before serving.
To make the rolls a day ahead of time, prepare rolls up to the point of shaping. Do not allow another rise. Instead, cover with plastic wrap and place in the freezer for 2 to 4 hours. Then, transfer to the refrigerator and leave overnight to slowly rise. The following day, bake as directed but allow for additional baking time, approximately 2 to 3 minutes.
Source: Annie's Eats