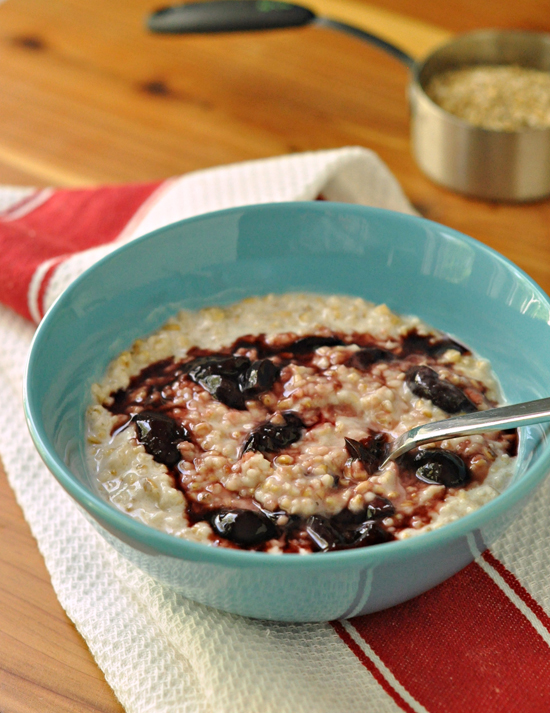 Thank you Stonyfield and Bob's Red Mill for sponsoring this post as part of Stonyfield's Clean Plate Club. As always, the opinions expressed here are solely my own.
Busy, cold mornings are upon us and I still want to make breakfast count before I send my daughter off to school each day. Thankfully, she loves oatmeal. It's her first choice for breakfast, even over pancakes and waffles! My son will eat it as well, but not as often. I love this recipe because I can make a big batch and it can last the week. It becomes just as convenient as the instant stuff, but it's so, so much better for you.
How good? Well, the way I've made it I've used some great ingredients from some great companies. Using Bob's Red Mill Steel Cut Oats, I'm giving my daughter all of the nutrients that she can get from the oats. Toss in Bob's Red Mill Coconut Sugar and I've given her a delicious taste, while not using as much sugar. Be forewarned, coconut sugar is lovely, but has a caramel taste and smell so use lightly until you've found your desired flavor. Next, I've used Stonyfield's amazing Grassfed Yogurt. I've waxed poetic about this yogurt before, but suffice to say grass fed is best and I know that I've sent her off to school with a healthy gut which leads to a healthy mind, no really. It's proven 🙂 Last, but not least, are the cherries. Yes, they are in there to add a punch of flavor and a pretty factor to the dish, but don't be food, cherries are a great anti-inflammatory and help boost sleep and memory. Umm, I need to be eating a lot more cherries I think!
You all know me though, while I do care about what's going into my family's body, I am big on flavor and the flavor here is awesome. It really makes waking up early in the morning worth it, well almost!
Creamy Steel-cut Oats with Cherries
Ingredients
To make the oatmeal:
Make this the night before you want your oatmeal.
Heat butter in a large saucepan over medium heat. Add the oats and brown them for 2-3 minutes, until they start giving off a toasted, nutty aroma. Pour in 3 cups water and salt, stir.
Bring to a rolling boil, then turn off heat and cover. Let sit over night.
To reheat the next morning, simply warm up on the stove top or scoop out what you'd like and microwave and put remaining oats in the refrigerator.
To make the cherries:
In the meantime, in a medium saucepan, combine 1/4 cup water, sugar, and cornstarch; bring to a boil over medium heat, stirring constantly. Stir in the cherries. Reduce heat; simmer, uncovered, until thickened and cherries are soft, about 3-4 minutes. Remove from heat.
Add cherries to oats or refrigerate until ready to use.
To assemble oatmeal:
Warm up oats, stir in yogurt, and top with warm cherry mixture. Enjoy!
Note: Both the oats and cherries may be stored in the refrigerator for up to 5 days. The creamy factor is best when the yogurt is stirred in after warming.
Source: The Way to His Heart