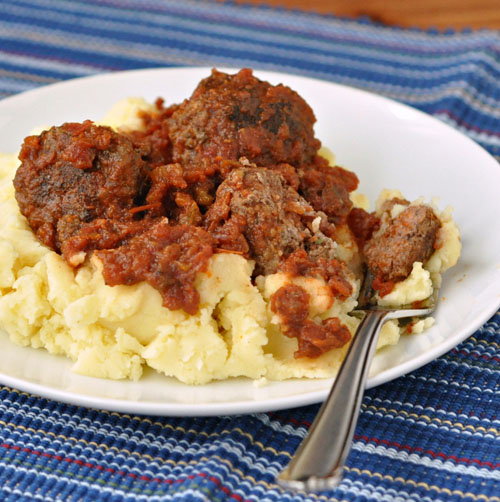 While I have no quirky April Fool's recipe or food treat for you today, I have been switching things up in the kitchen lately. This time of year, when we're about done with winter foods but don't have the wonderful spring veggies in season is always a difficult time. So when I saw this recipe I thought it would be a great, easy way to play with our taste buds.
I decided to change the name of these meatballs from Barbecue Meatballs to Southwest Barbecue Meatballs. They definitely lend a more complex flavor then the image that comes to mind of simply saturating meatballs in BBQ sauce. We found the flavor and heat just perfect with these meatballs, you weren't diving into the mashed potatoes because they were too hot. Serving with mashed potatoes also makes these flavorful meatballs seem like comfort food and is a great medium to soak up some of the gravy! These can be interchanged with ground beef or ground pork, whichever you prefer. They can also be made in advance and frozen, but they are quick enough to make on a weeknight as well.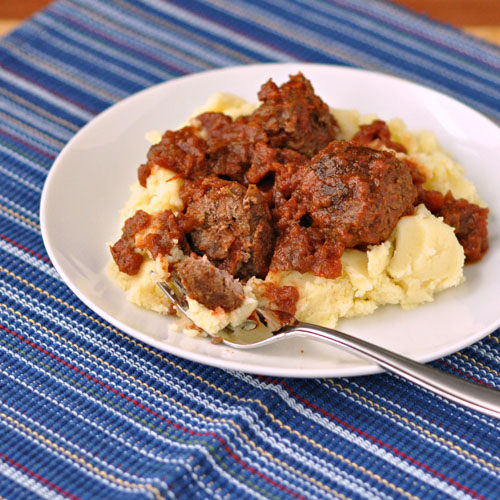 Southwest Barbecue Meatballs

Ingredients
2 Tbsp dark brown sugar
2 1/2 Tbsp apple cider vinegar
1 tsp ground cumin
1/4 tsp smoked paprika
1/8 tsp ground cloves
1 14.5oz can diced tomatoes with mild green chiles
1 1/4lb ground turkey
3 Tbsp Italian-seasoned dried breadcrumbs
1 Tbsp chili powder
Cooking spray
Place the first 6 ingredients in a blender; blend until smooth. Set aside.
Combine the turkey, breadcrumbs, and chili powder in a larger bowl; using wet hands, shape into 16 meatballs.
Heat a large skillet over medium-high heat. Lightly coat pan with cooking spray. Add meatballs; cook 2 minutes, turning to brown on all sides. Add tomato mixture to pan; bring to a summer. Cover, reduce heat, and simmer for 6 minutes or until the meatballs are done.
Serves 4
Nutritional Information
Per serving (4 meatballs and 1/3 cup sauce)
279 Calories, 11.4g Fat, 29.5g Protein, 14.2g Carbohydrates, 2g Fiber, 98mg Cholesterol, 2.4mg Iron, 540mg Sodium, 61mg Calcium.
Source: Cooking Light April 2013