Tags
bacon, BBQ Chicken, California Pizza Kitchen, chicken, cilantro, Copycat, Copycate, dip, pizza, Smoked Gouda, Warm Dip
Share it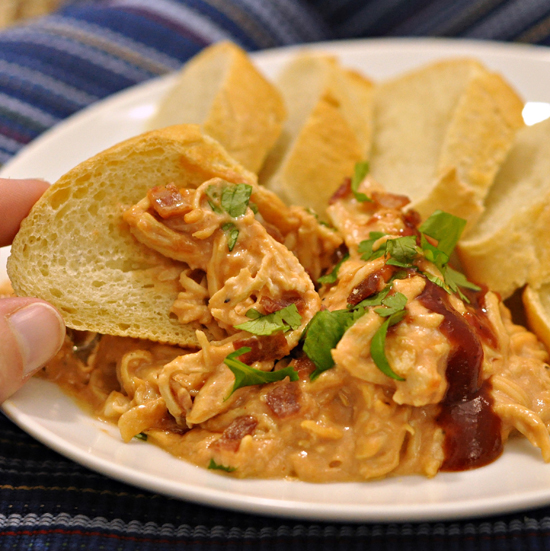 Whether you are looking for something warm and delicious to snack on while watching the snow fall, the big game, or because you love eating warm dips, you must try this! We made it last month and it's become a favorite. Sometimes I worry about buying ingredients for a new recipe and having leftovers, but these were quickly used for a second batch. It's been a great treat to snack on during the cold weekends, by ourselves throughout the day or with friends. I originally served this toasted french bread and tortilla chips, but we started eating it with potato chips and anything we can get our hands on to use as a vessel. What I haven't gotten is a great picture of this stuff. Sometimes it's not about the looks, and this is the case. It's good, I promise! I just wanted to hurry and get this recipe to you so you can start enjoying it as well!
I listed two ways to prepare this down below. If you want to make this in advance and serve later on to friends or to bring somewhere, go the slowcooker method. If you want to make this quickly and enjoy immediately, then the oven route is the way to go. Either way, they taste good. The original recipe showed red onions, but I felt that although they are used on California Pizza Kitchen's BBQ Chicken and I love it there, it just didn't add anything to the dip.
California Pizza Kitchen BBQ Chicken Pizza Dip
Ingredients
2 small chicken breasts
salt and pepper to taste
1 1/4 cup BBQ sauce (plus more for garnish)
8 oz cream cheese, softened
1 cup sour cream
1 cup mozzarella cheese, shredded (plus more for garnish)
1/2 cup Smoked Gouda, shredded
6 slices bacon, cooked and crumbled
handful Cilantro, chopped
Sprinkle chicken with salt and pepper. Cook for 4 hours in slow cooker set on low. Shred chicken once cooked.
In a small bowl, beat the cream cheese until smooth. Add sour cream and barbecue sauce and mix until smooth. Add the mixture to the slow cooker and stir in the mozzarella and smoked Gouda. Cook for 2 hours until hot and bubbly.
Top with bacon and cilantro and serve with chips, bread or pita chips.
If you'd like extra browning, place in an oven proof dish and top with extra cheese and place under the broiler until the cheese has melted and is browned.
**You may also bring the chicken to boil in a pot of water seasoned with salt and pepper and then simmer until done, approximately 15 minutes. Then place everything into an oven proof dish and bake for approximately 30 minutes.
Slightly Adapted from: Oh, Sweet Basil