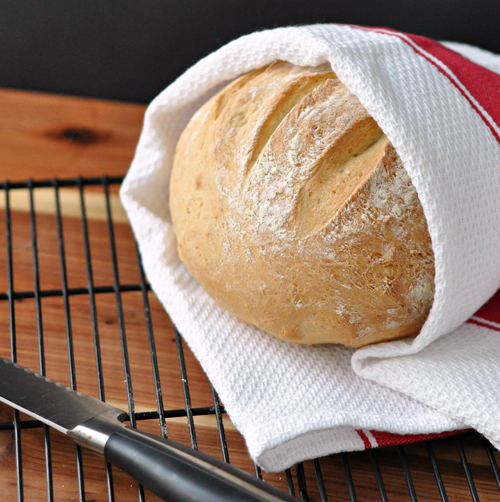 There is nothing better than homemade bread. Besides the fact that it tastes great, you have the anticipation, the smell of it in the oven, and then everyone fights over that first warm slice with a slab of butter on it. The problem is, most don't get the chance to make homemade bread. We consume a lot of bread and I just don't have the time to keep up right now, heck I don't even have enough time to get to the store these days to grab a loaf there either! With casseroles, stews, and soups this winter we require a lot of bread and I've found the perfect recipe. The name of it is so fitting, I couldn't change it. Besides the yeast, you should have everything in your pantry as the ingredient list is minimal and all you need is a spoon and a bowl! No kneading either! So, this weekend if you are making something that you know you'll want bread to go with it, try this instead of grabbing a loaf. You'll love how easy this bread is to make!
Super Easy Crusty Bread
Ingredients
1 1/2 cups warm water
2 1/4 tsp yeast (1 package)
2 tsp salt
3 1/4 cups bread flour or all-purpose flour
corn meal for dusting stone
In a large bowl, and the water, yeast, and salt and stir until combined. Add the flour and stir until incorporated. Work the dough with the spoon until the lumps are gone.
Place a towel or plastic wrap over the bowl and set in a draft free spot for 2 hours.
Pre-heat oven to 450 F. Place a pizza stone in the center of the oven to warm as well. Add 2 cups of water in an oven-safe dish  and place in the rack below the pizza stone. This will create steam and give that nice crust you are looking for.
Once the dough has risen, form into a ball and sprinkle flour on top. Make 2 or 3 slices on the top of the bread.
Sprinkle the pizza stone with corn meal or flour and place the dough on top. Bake for 30 minutes.
Source: So Tasty, So Yummy , originally from Veg Obsession