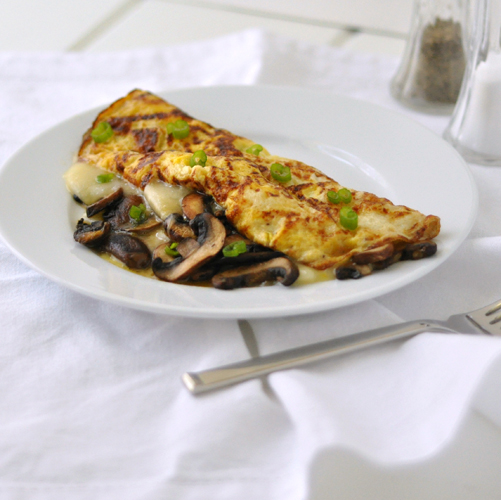 I've been bored with my breakfast creations lately and have been trying to think of ways to get myself out of the rut. I did what I typically do if I have time and energy, I started checking out my fridge for ideas. Tucked back in the drawer was a nice little chunk of Havarti cheese just waiting to be used. I started thinking about what I wanted to use with it and eggs were the obvious choice, but what else? I eyed an container of baby bella mushrooms and got excited. That didn't last long though when I realized they were past their prime. Sigh.
So, I waited until my next shopping trip and picked some more up. I kept thinking about this omelet though. I so wanted this omelet and hoped that it would be tasty. I had a feeling it would, but you just never know sometimes. Everything about this omelet was perfection. It was so indulgent, but took no time at all. The smell of the butter, mushrooms, and eggs cooking woke up my senses. Add a little cheese and I was in heaven. I sat down to my plate and just looked at it for a moment. I pleaded with it,"please be tasty. I so need you to be tasty, okay?" One fork in and I was sold. This omelet had my heart. I typically don't finish an omelet. Not due to the taste, but because they are so filling. I finished every last bite and then sat back and sighed. It was heaven. The fact that my daughter was playing fairy princess and allowing me to enjoy my breakfast was pretty nice too!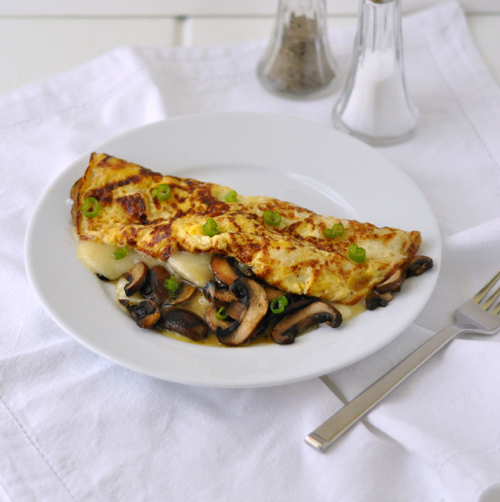 Havarti & Cremini Omelet
Ingredients
2 large eggs
1 Tbsp unsalted butter, divided
1 cup sliced cremini mushrooms (baby bella)
3 Tbsp milk
salt and pepper to taste
2 oz. Havarti cheese, shredded or sliced thinly
1 green onion, sliced
Place eggs in a bowl filled with hot water, not scalding. This will warm the eggs up slightly and allow for quicker cooking.
Place half of the butter into a medium non-stick skillet and turn heat to medium-low. Add mushrooms and cook for 2-3 minutes, or until nicely browned and softened. Remove mushrooms and set in a dish.
While the mushrooms are cooking, crack eggs into a bowl and add milk. Salt and pepper to taste. Using a fork, slightly stir the eggs but take care not to incorporate too much air into the eggs. Once the mushrooms are finished, place the remaining butter into the skillet and stir it around using a silicone spatula. Add the eggs and cook for about 2 minutes, just till they are almost done. Once they are mostly cooked through, add the cheese over the top of the eggs and the mushrooms. Cook for about 1 minute longer, or until eggs are finished, and then roll the omelet out of the pan and onto a plate. Sprinkle green onion on top and serve warm.
Source: The Way to His Heart