Here is another amazing recipe from one of my favorite bloggers, The Redhead Baker. She always has such a a great assortment of unique recipes to try and I love seeing what she comes up with next. I can not wait to try this recipe out, it looks and sounds divine and it would mean I'm able to stand at my stove again once I ditch this big pregnant belly! Make sure to check out more from The Redhead Baker!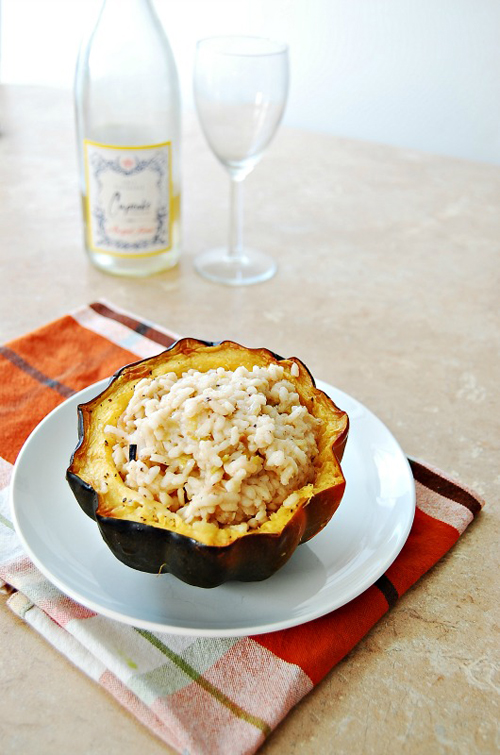 One of the best parts of being a food blogger is belonging to the food "blogosphere," the community of food bloggers. I've gotten to "meet" and interact with some great people and make new friends, like Maeghan.
So, when Maeghan asked me to guest post on her blog as she gets ready for the arrival of her baby boy, I was thrilled to help out.
I've had an idea for stuffed squash in my mind for quite some time, and decided that the special occasion of guest posting on Maeghan's blog was the perfect time to make this special-occasion-worthy recipe! The squash creates its own bowl, and the presentation will be sure to impress!
Each component of this recipe is delicious on its own, but putting them together makes them delicious. This recipe is also very adaptable – you can change up the flavors in the risotto, or you can change up the variety of squash.
The recipe makes a lot of risotto, so if your squash are on the smaller side, you'll likely have more than you need.
If you've never made risotto before, it's a very hands-on recipe and requires a lot of attention and stirring, which is why I usually save it for special occasions. Cooks are divided over whether it can be made ahead and reheated. Some say it gets "gloppy." You could roast the squash and partially cook the risotto, leaving one or two cups of hot broth out, and finish it just before your guests arrive.
Risotto-Stuffed Acorn Squash
Inspired by Bon Appetit
Ingredients
Two medium acorn squash, 2.5 to 3 lbs each
Extra virgin olive oil
 4 slices thick-cut bacon, cut into .5-inch strips
2 medium leeks, white and light-green parts only
10 cups (80 fluid ounces) low-sodium chicken broth
2.5 cups Arborio rice
1 cup dry vermouth
.5-cup grated Parmesan cheese, plus extra for garnish
2 tbsp lemon juice
Kosher salt and pepper
Directions
Preheat oven to 450 degrees. Line a sheet pan with tinfoil, and spray with nonstick spray.
Cut each squash in half. Remove the seeds and hollow out a bowl, leaving about an inch around the sides and bottom. Slice off about half an inch of the bottom, if necessary, so the squash doesn't roll around.  Brush a little extra virgin olive oil on the insides of the squash halves and season with salt and pepper. Roast for 25 minutes.
While the squash is roasting, cut each leek in half lengthwise, and rinse thoroughly under cool water. Pat dry, then slice into .5-inch pieces. Pour the broth into a large saucepan or stockpot, and set over medium heat to come to a simmer.
Cook the bacon in a large, deep skillet over medium heat for about 5 minutes, or until lightly browned but not crispy. Add the leeks to the pan and cook about 2 minutes, until the leeks begin to soften. Add the Arborio rice to the pan, and increase the heat to medium-high. Cook, stirring frequently, for about a minute.
Add the vermouth to the pan and stir until the wine is absorbed by the rice. Add one cup of the hot broth to the rice mixture and cook, stirring constantly, until the liquid is absorbed. Add another cup of hot broth, and repeat the constant stirring until the liquid is absorbed. Continue adding hot broth, one cup at a time, and stirring constantly until absorbed, until the rice is al dente (you may not need all of the broth).
Remove the skillet from the stove. Stir in the grated Parmesan, then the lemon juice, and season with salt and pepper to taste.
Remove the squash from the oven, and fill each half with .75 to 1 cup of the risotto. Reduce the oven temperature to 300 degrees and return the stuffed squash halves to the oven, roasting another 20 minutes.
Garnish with additional grated Parmesan cheese before serving.
Guest post by The Redhead Baker