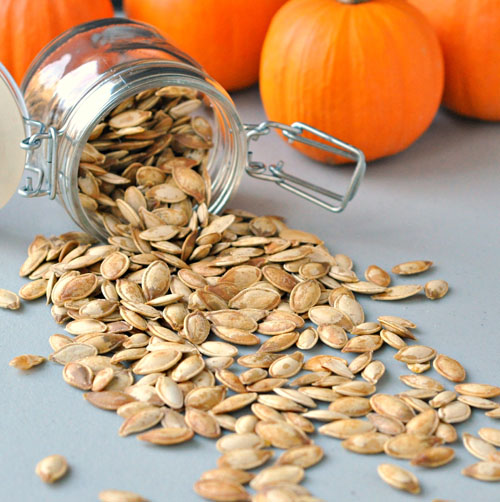 When I was little my favorite part of Halloween wasn't the candy, but pumpkin seeds. I'm not going to lie and say I didn't love the candy, but I could have that any time of year. The pumpkin seeds were a seasonal treat. I've yet to find them in the store prepared the way I like, so they are still a treat that only comes once a year. I've made them a few different ways over the years. I have a quick version that is tasty and of course there are some fun flavors as well, but this recipes brings out the flavors and tastes just like my  mom used to make. If you have the time, this is the way to go, and it's really not that much more difficult!
Roasted Pumpkin Seeds
Ingredients
1 pumpkin
salt
1 Tbsp olive oil
Cut pumpkin and scrape seeds out. Work seeds out of the pulp as best you can. Place seeds in a colander and rinse until the seeds are completely clean.
Pre-heat oven to 400 F. Place oven rack on top shelf.
Measure the seeds using a measuring cup. For every half cup of seeds you have, add 2 cups of water and 1 tablespoon of salt to a medium saucepan. You can add additional salt if you prefer a saltier end product. Add the seeds and bring water to a boil. Reduce heat and let simmer for 10 minutes, then drain.
Coat the bottom of a roasting pan with olive oil and add the pumpkin seeds, tossing to coat with oil. Then spread the seeds in a thin, single layer and roast anywhere from 5 to 20 minutes, lightly browned. The time depends on the size of the seeds. Remove and allow to cool on a cooling rack before eating.
Source: Simply Recipes