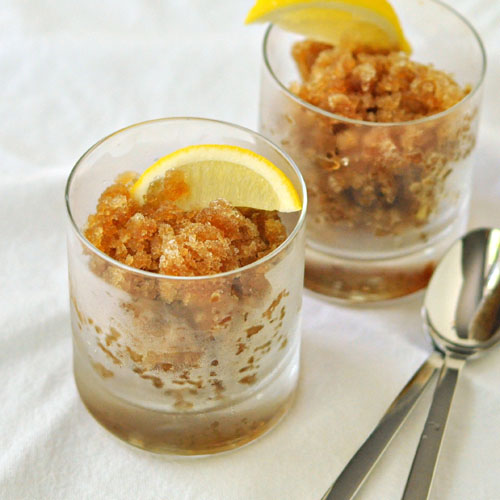 I'm back at it with the sweet tea! This time with a simple frozen treat that will have you rethinking how you drink, I mean eat, your sweet tea. A friend of mine actually posted this recipe on Facebook one day and I immediately went and bookmarked it and knew I'd be making it asap. It's so easy to make and really doesn't differ fro preparing sweet tea. All you have to do is set aside a day when you are home so that you can visit the freezer every 20 minutes or so, but it's so worth it.
This is perfect for a hot day. You can enjoy it as a frozen treat, but if it melts then you have yourself a wonderful beverage as well. I'm pretty tempted to keep this in the house at all times since it's great either way. The recipe calls for black tea bags, but being from the south I used Luzianne tea. If you have access to those than go ahead, I have it brought up from South Carolina by mom.
Sweet Tea Granita
Ingredients
2/3 cup sugar
3 cups water
2 black tea bags, preferably English breakfast or other good-quality tea
Bring sugar and water to a boil. Add tea bags and steep for five minutes. Cool to room temperature.
Pour liquid into a shallow, freezer-proof dish and cover with plastic wrap and place in freezer.
After an hour, run a fork through the mixture to break up any large pieces of ice; return to the freezer. Repeat every 15 to 20 minutes until the consistency is fluffy and no large ice crystals remain, about two or three more times. Scoop into glasses and serve.
Granita may be made ahead and stored in a plastic-covered container in the freezer for up to three days. Fluff with a fork before serving.
Source: Garden & Gun