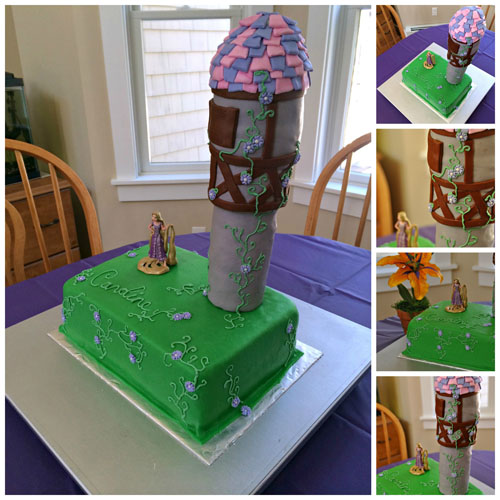 Each year we go a little above and beyond the standard birthday cakes we grew up with and make something fun for my daughter Caroline. The first year or two they were my idea, but now my husband has gotten in on the action. He's always helped, but he's done it because he has to

This year, I wanted to go for something simple. My son George was almost 5 months and we had our hands full, but my husband thought we could pull off this Rapunzel cake and we did. This is only the third time we've worked with fondant and I've gotten a lot of questions and compliments so I wanted to answer a few here and show you how we did this cake. You can see our how we've progressed from our first time with the Puppy Cake and the following year with her Hello Kitty cake. There are links below for recipes, the party, and inspiration.
So, since we do have kids and a regular kitchen we have to do the decorating of the cake the night before the party. What I do to make my life easier the night before is do as much prep beforehand. I start off with baking the cakes a couple of weeks beforehand and then freezing them. A week out, I make the marshmallow fondant and storing that in the refrigerator. This way, once the kids go to bed we can frost and decorate the cake and not need to make everything as well. It still takes a few hours to decorate so leave plenty of time! I wish we had kept track of how much time decorating took, but I'd say probably 4 hours in all??? (This doesn't include the preliminary cake and fondant making time.) Good music and good company makes it go by pretty fast

For this cake, the base cake was pretty easy to make. I used 3 sheet cakes and stacked them on top of each other, did my crumb-coat and then frosted. We rolled out a large piece of green fondant and covered the cake. Easy enough. The tower was a little trickier. I made a 9-inch cake and then used biscuit cutters to cut some circles out of it. I purchased a foam piece from the craft store and used that for some of the tower to give it support and drove dowels into it anchor it into the sheet cake. We measured the foam piece base and used the appropriate sized cutters to start with our tower and then eye-balled it using a knife and a Microplane to shaves down the edges. Frosted and covered it with the fondant and then the decorating begin. Remember, you don't need it to be perfect, frosting layers before adding the fondant can be used to fill in the gaps. You do want it to be good before you add the fondant though since everything will show up when you apply the fondant.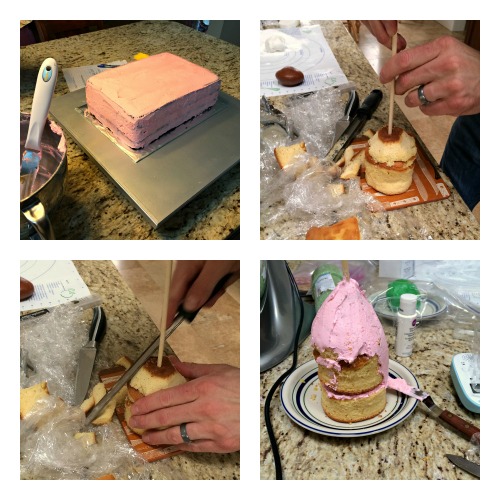 I used the inspiration cake and we really went from there. With lots of straight pieces for the wood it really isn't that difficult to free-hand. My husband had the tower covered and the roof tiles in place before I could doing some other party prep. I originally started using the end of a paintbrush to gently press into the fondant and create a stonewall up the tower, but it didn't come out as nicely as I had seen online so I ditched that pretty quickly. Tools for doing the fondant work: a fondant smoother, a rolling pin, paintbrushes, edible adhesive, toothpicks, and a knife. Nothing too fancy. For the flowers along the tower and cake, I purchased some punch cutters and used that the same way as a cookie cutter, then I placed a tiny edible pearl in each one for the center of the flower.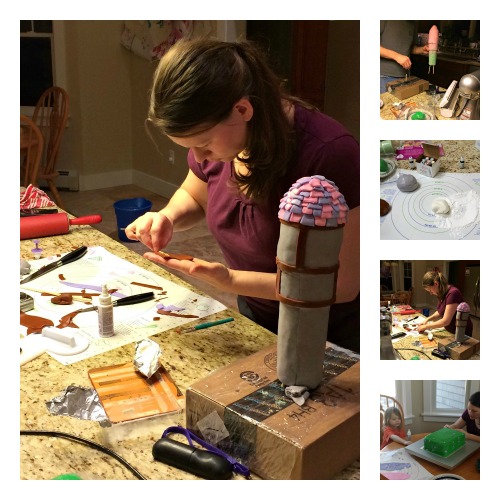 We did all of the fondant work on the cake and then put it in the refrigerator for the night. Quickly cleaned and decorated for the party and went to bed. That morning I woke up and finished the details on the cake; my daughter's name, vine work and flowers. Place the Rapunzel figurine on top and it was done! For the vine work and name I used a new toy, the Nordic Ware Decorating Pen . This worked so well! I don't have the best handwriting and I don't have much experience in writing names with icing and this helped me out quite a bit. While I typically have no problem using a piping bag, this made the task very easy and go much faster than normal.
I hope this has answered some questions and has given some of you encouragement to try playing around with fondant cakes too. Frankly, we're fans of any kind of cake in my household, but it's always so much fun to see my daughter's face light up when she sees what craziness we create for her. We always let her pick what kind of cake, but design is always a surprise. If you have any questions, please leave them in the comments below so that I can answer them and others can learn as well.
A Very "Tangled" Rapunzel Birthday
cake inspiration Rapunzel Cake by words, pictures, & cake…,