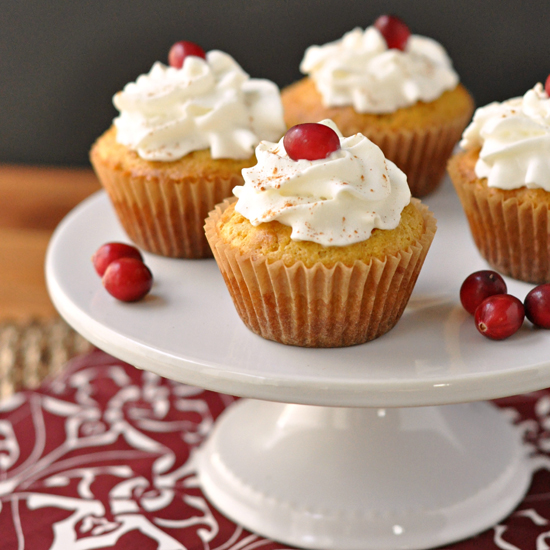 I've been on a cranberry kick lately as you all have noticed. My daughter loves them now so it's fun to experiment with different recipes. These particular cupcakes I've had saved since last year. I thought I would make them this fall but I never got around to it. I had envisioned these as the perfect different Thanksgiving dessert. Which, they are, but these also make a great December treat. You can still enjoy the festive cranberry and it will be seasonal and it's nice to steer away from the typical chocolate, peppermint, and gingerbread that is all around.
I made these cupcakes for my daughter's school teacher/staff luncheon. I knew there would be all sorts of treats and I wanted to make sure that I wouldn't be sending in something that would be similar to the others. What I also loved about these cupcakes is that they are basically sugar free, minus the maple syrup, they are nut free, and they are vegetarian. When bringing in food to a group of people you're unsure about with dietary restrictions, it's nice to hit a few on the list at least.
These cupcakes are delicious and were a big hit at the luncheon and at home. I was a little concerned that there wasn't enough sweetness in the cupcakes, but with the filling and the whipped cream, they have a perfect balance. They are pretty easy to make and they will definitely catch everyone's eye. How easy is a little cinnamon dusting and a cranberry for a garnish?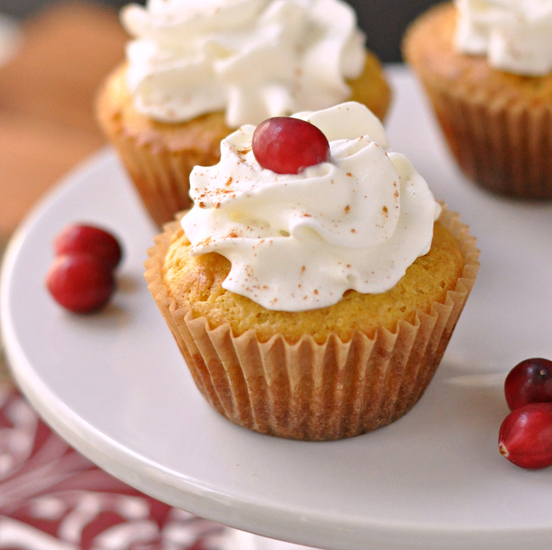 Vanilla Cupcakes with Cranberry Filling and Whipped Cream
Ingredients
1 1/2 cups all-purpose flour
1/2 tsp baking soda
1/2 tsp baking powder
1/4 tsp salt
1 cup plus 2 Tbsp maple syrup, divided
1/2 cup 2 percent or whole milk
1/2 cup butter, melted and cooled slightly
2 large eggs
1 tsp vanilla extract
1 cup cranberries
1 tsp cinnamon
2 tsp cornstarch
2 cups heavy cream
Pre-heat oven to 375 F and line a muffin tin with 12 paper liners.
In a bowl, whisk flour, baking soda, baking powder, and salt to combine. In a separate bowl, whisk together 1/2 cup maple syrup, milk, butter, eggs, and vanilla extract. Pour into dry ingredients and stir until just combined. Divide batter in the muffin tin. Bake for 18-20 minutes until cupcakes spring back when pressed and have domed. Remove from oven, let cool for 5 minutes, then transfer to a rack to finish cooling.
In a saucepan, combine cranberries with 1/2 cup maple syrup and cinnamon. Bring to a boil, reduce to a simmer, and let cook until cranberries are soft and starting to break down, 4-5 minutes. In a small bowl, combine cornstarch with 1-2 Tablespoons water, stirring to dissolve starch. our into cranberry mixture and continue to cook until mixture thickens. Remove from heat and let cool.
To assemble, take a small knife or apple corer and cut out a small chunk in the center of each cupcakes. Spoon 1-2 Tablespoons of cranberry filling into the center. Finish filling cupcakes and set aside.
Once muffins are cool, beat heavy cream until it forms stiff peaks. Whisk in 2 Tablespoons of maple syrup. Spread or pipe the whipped cream onto the cupcakes and sprinkle a bit of cinnamon and extra cranberries for garnish.
Yields 12 cupcakes
Nutritional Information
Per serving: Calories 442, Fat 25g, Protein 5g, Carbohydrates 52g, Fiber 1g, Sugar 28g
Source : Kiwi Magazine, December 2014