12 Tuesday Apr 2016
Written by Maeghan in Candy
When I was looking for ideas for Caroline's Mermaid birthday party I found a slew of great sweet treat ideas. I wanted to work smarter and not harder this year since a lot has been going on around these parts. While I've gotten better at making large batches of cupcakes, cake pops, and decorated sugar cookies, I wanted to do something different. Now that the kids are older and can handle a little bit more sugar I decided that making straight candy would be okay. Everything in moderation, right? When I happened upon this adorable sea glass rock candy I knew I wanted to make it for the girls favor bags. I asked Caroline and got her stamp of approval! The best part is since its candy it can be made in advance and have one less thing out of the way for the days leading up to the party. I love having favor bags basically assembled and practically done at least a week before the party.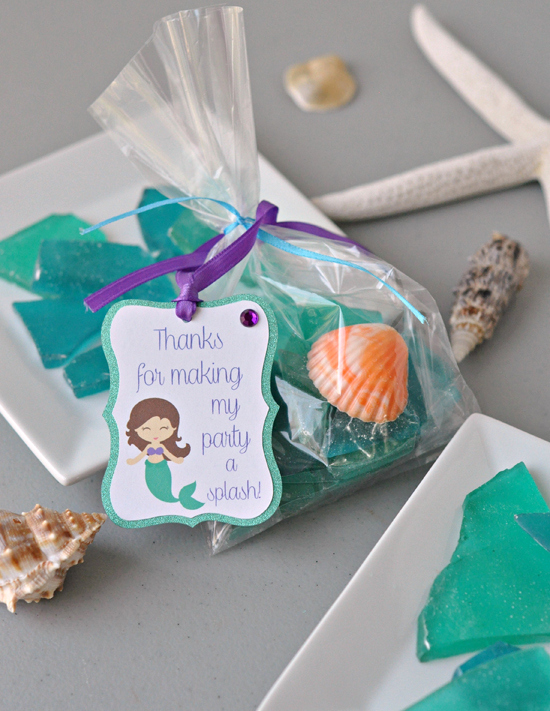 This candy was so easy to make and a lot of fun. While it's difficult to mess up and even if you did, you're going to smash it anyways so looks aren't everything here. You can use any flavor you want to and any color so you can really mix it up and personalize it. Toss it in a cellophane bag, add an adorable favor tag and ribbon, and you're done! I saw some where people put brown sugar as sand on the bottom before placing the candy inside but since I was making these for kids I figured I'd save the parents sanity of not having brown sugar go all over the place! I think they are adorable just the way they are. Since I made some cute seashell chocolate candies for the cake I decided to throw the extras in the favor bag for a little extra.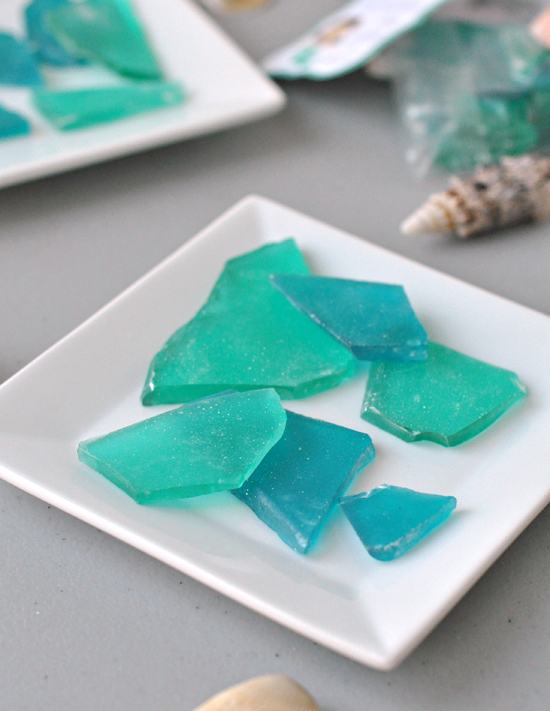 Sea Glass Rock Candy
Ingredients
1 3/4 cup granulated sugar
1/2 cup corn syrup
1/2 cup water
1 or 2 drops food coloring (I used teal and blue)
1/4 tsp candy flavoring (I used cotton candy)
1 cup powdered sugar for coating
Lightly spray a 9×13″ baking sheet with cooking spray.
Add sugar, corn syrup, and water to a saucepan. Bring up to a boil, while stirring to dissolve sugar. Once boiling, stop stirring and let it bubble away until it reaches 300F on a candy thermometer. As it gets close to 300F, add in the drops of food coloring, but don't stir, it will mix itself in.
When it reaches 300F remove from heat immediately. Stir in candy flavoring and immediately pour out onto the baking sheet. Allow to cool and harden.
Flip baking sheet over and remove the candy. Using a hammer, or something sturdy, break the candy into desired sized pieces.
Working in batches, place the candy pieces into the powdered sugar and coat well. Using a dish cloth, rub the powdered sugar off of the candy, which will leave you with a dulled, sea glass look.
Store the candy in an airtight container.
Source: The View From Great Island, Mermaid Favor Bag Tags by Rachael's Craft Shack