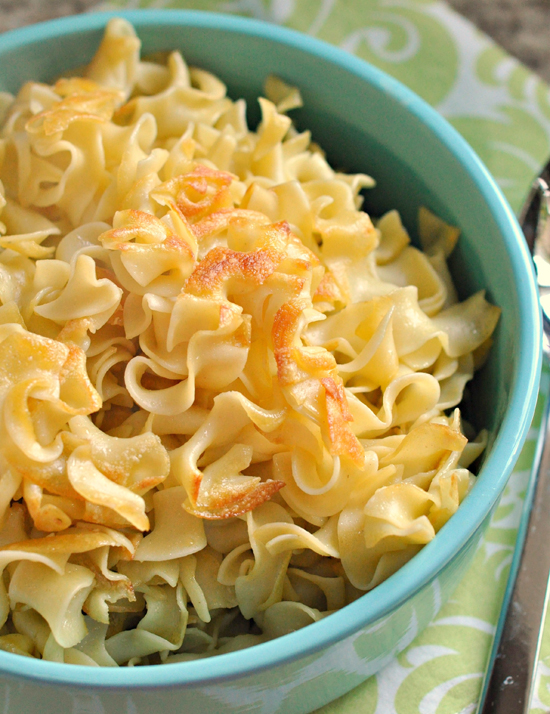 Some recipes go way back and this is one of them. I have hesitated for years about posting this side dish because it was so simple and easy and then I realized that that was what makes it great. Why shouldn't I share it? This isn't some revolutionary idea, but I've never met anyone else who has made egg noodles like this so I thought I should share.
These noodles were one of the side dishes in my mom's arsenal. Growing up I loved when she made these buttery, crispy noodles and would always vi for the crispiest ones. We never even had a name for them. They were just "egg noodles" to us. If a bag of egg noodles were in the cupboards then this is how they were served. I'm not sure where my mom got the idea for these, but I'm so glad she did. When I met my husband I made these and as he did with much of my cooking, he hesitantly looked on. One spoonful though and he was sold. The kids love these noodles as well. Caroline and my husband enjoy the softer noodles while I now have competition for the crunchy ones with George.
What I love about these noodles is that they are easy to make yet are a comfort food side dish. A lot easier than mashed potatoes, but serve that same warm, buttery comfort goodness purpose. I serve these with any kind of protein. No sauce is meant for these noodles, just a little sprinkle of salt and eat them just as they are.
Buttery, Crispy Egg Noodles
Ingredients
12 oz package of egg noodles, I prefer Extra Broad
3 Tbsp unsalted butter
Bring a large pot of water to a boil. Season with salt. Add egg noodles and cook according to directions on package. Drain.
Add noodles and butter to a large nonstick skillet and cook on medium-high until about half of the noodles are crispy, about 10 minutes. Stirring only occasionally so that the noodles set on the bottom and will crisp up.
Serve warm. I love sprinkling just a bit of salt on top for a great buttery, salty flavor.
The Way to His Heart