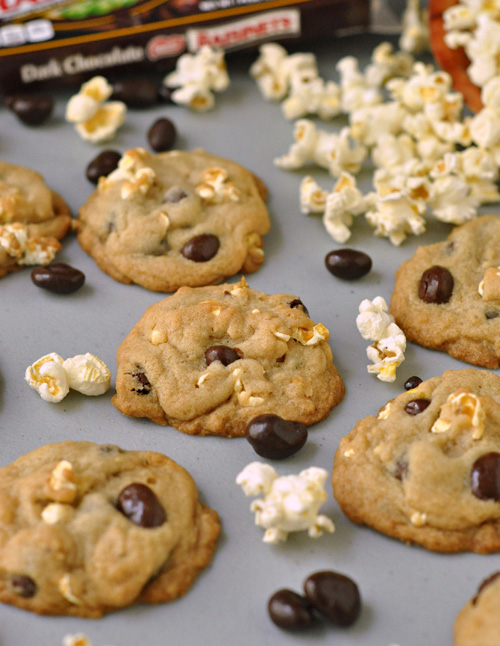 We took Caroline to the movie theater for the first time over the weekend. We waited until there was a better chance of her actually paying attention to the film and it was really perfect timing. She was so excited and old enough to know how much of a treat it was. She's been to plays before and she's seen Annie with the "Let's go to the movies Annie" song so she was pretty amped. When we got there she was so excited to get popcorn in a giant tub. We indulged and got the biggest bag and some candy. We settled in and watched the Minion movie and every time I looked over at her face it made me smile because she had the sweetest look of pure bliss on her face. She said it was the, "best day ever" so I think we did good. Granted, she's said that a lot in her life which is good since she also tells us there are plenty of "worst day evers" too!
So, once we got back into the hum drum of the work week I decided to have some summer fun baking and keep up the excitement of the movie theater. Who doesn't love making popcorn for cookies at nine in the morning?
These cookies have a base that is similar to a chocolate chip cookie, but then the Raisinets and popcorn add a sweet and salty kick. I'm sure even the toughest critics will like these!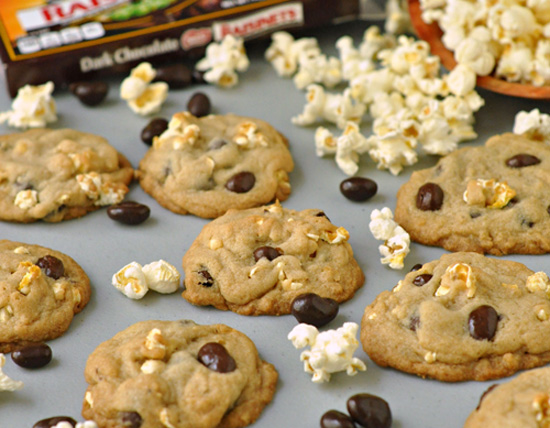 Blockbuster Cookies
Ingredients
 2 1/2 cups flour
1 tsp baking soda
1 tsp kosher salt
1 cup (2 sticks) butter, at room temperature
1 cup light brown sugar
1/2 cup granulated sugar
1 egg yolk
1 whole egg
1 Tbsp vanilla extract
1 1/2 cups Raisinets
4 cups buttered and salted popcorn
Pre-heat oven to 325 F. Line two baking sheets with parchment paper or silpat.
In a small bowl, whisk flour, baking soda, and salt until combined.
In the bowl of a standmixer add butter and mix on medium speed until light and fluffy. Add both sugars and blend until combined.
Add eggs and vanilla extract to butter mixture and blend on medium-high until they are fully incorporated.
Add the flour mixture to the butter mixture in three batches, blending well after each addition.
Gently stir in the Raisinets and then gently fold in the popcorn.
Using a medium cookie scoop, or about 2 tablespoons, scoop out 9 cookies for each baking sheet. Bake until golden brown, about 14 minutes, rotating the pans about halfway through.
Transfer the cookies to a cooling rack and repeat with the remaining dough.
Yields 36 cookies.
Slightly adapted from FamilyFun Magazine November 2012