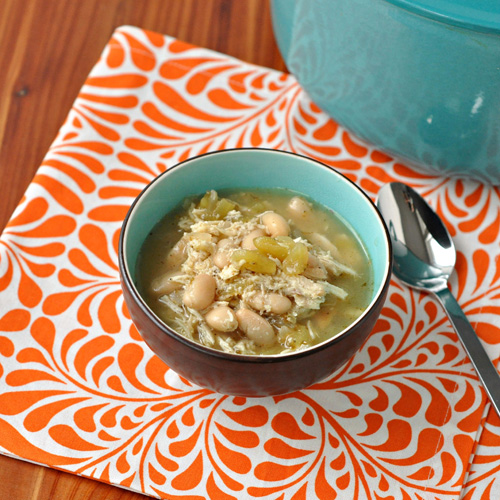 We've been clear sailing this winter so far with snow storms so naturally, just shy of a week before we leave for vacation we are going to get hit with a few storms. A blizzard tomorrow, no less. So, in honor of crazy cold weather, lots of snow, and the Super Bowl coming up, I wanted to share this awesome chili with you. We love it because it's a little different than the normal, ground beef, chili. It packs a punch, is hearty and comforting, but it's actually pretty healthy! Yup, low carb and gluten free. So, I can feel like I'm indulging with a warm bowl of chili and not feel guilty when I got for an extra handful of tortilla chips!
Keep warm and enjoy the game everyone!
Chicken & White Bean Chili
Ingredients
4 boneless, skinless chicken breasts
4 tsp vegetable or olive oil, divided
1 onion, chopped
1 tsp. minced garlic
2 tsp. ground cumin
1 tsp. oregano
1/2 – 1 tsp. ground cayenne pepper
 7 oz. diced green Anaheim chiles
4 cups chicken stock or canned chicken broth
2 cans (15 oz.)  cannellini beans
1 tsp. chicken flavor base
Heat 2 teaspoons of oil in a non-stick pan, add chicken and saute until the chicken is cooked through and barely starting to brown. Set aside to cool.
While chicken is cooking, heat the other 2 teaspoons of oil in a heavy soup pot, then saute onions until they're softened and just starting to brown, about 5 minutes. Add minced garlic and saute about 1 minute more. Add the ground cumin, oregano, and ground cayenne pepper and saute for 1 to 2 minutes.
Add green chilies, beans, chicken stock, and chicken flavor base and let simmer for 30 minutes. While the chili simmers, shred the chicken into bite-sized pieces. after the chili has simmer for 30 minutes, add the chicken and simmer 10 to 15 minutes more.
Serves 6
Slightly Adapted from:  Kalyn's Kitchen