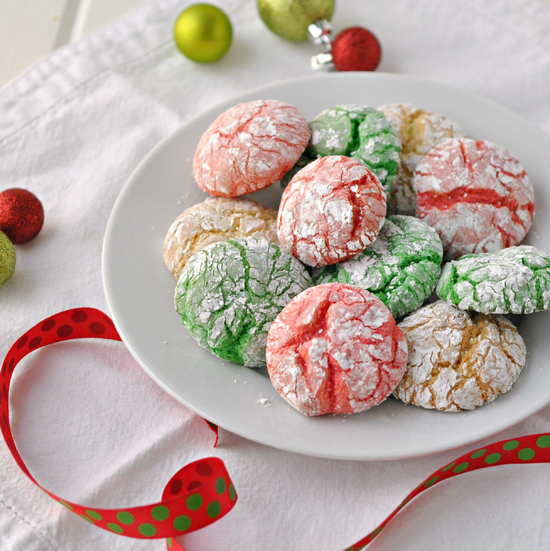 We are nearing the end of December and cookie making season and I've only made one batch so far this year! Granted, I'll be making a bunch of candies this week and one more special batch of cookies for Santa. These cookies were a lot of fun to make since they were easy, although sticky to form into a ball. My daughter loves anything that requires food coloring which made it fun to make with her.
I chose to make these cookies this year to kind of steer away from the chocolate laden cookies. Now that she is in school and having lots of parties, I want to send in something sweet for the kids without being a complete mess and sugar high for them! These are pillowy and soft and have a nice, gentle flavor. The recipe also make a lot, 6 dozen, so they are great for cookie swaps and parties! Don't worry though, the recipe and be halved easily.
Colorful Crinkle Cookies
Ingredients
3/4 cup confectioners' sugar
1 tsp cornstartch
2 boxes (18.25 oz. each) French vanilla cake mix
4 large eggs
3/4 cup (12 Tbsp) unsalted butter, melted and cooled
1/2 tsp red food coloring
1/2 tsp green food coloring
Preheat oven to 375 F. Line 2 cookie sheets with parchment paper
In a medium bowl, whisk together the confectioners' sugar and cornstarch, set aside.
In a large bowl, combine the cake mixes, eggs, and melted butter. Beat with an electric mixer until thick and well blended.
Divide the batter into thirds. Stir the red food coloring into one third and the green into another third. Leave one third white. Working with one color of batter at a time, divide each into 24 balls about 1 1/2″ across. Roll the balls in the confectioners' sugar mixture to coat. Transfer to a prepared cookie sheet, place the balls about 2″ apart. Repeat with the remaining batter.
Bake until the cookies are puffed and lightly browned around the edges, 9 to 10 minutes. Let cool for several minutes before transferring the cookies to a wire rack to cool completely. Repeat with the remaining cookie dough.
Yields 6 dozen cookies.
Source: Parents Magazine, December 2013