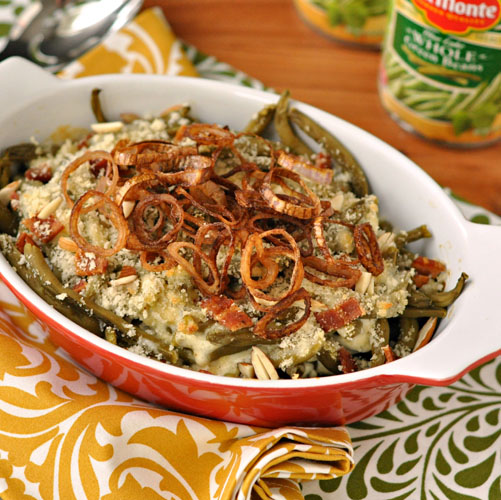 It's that time of year where we're all gearing up for the holidays which means decorating, shopping for presents, and menu planning! Sometimes, menu planning can be the most cumbersome of them all. If you're like me, you want to try out new things while keeping some of the favorites, please everyone, and have a wonderful dinner with little effort so you can spend time with your loved ones.
I don't have much experience with the classic green bean casserole. It was never served at any of my family holiday dinners, but so many love it that I wanted to give it a try. Since so many have moaned and groaned about the classic I immediately new I wanted to revamp the recipe. I wanted to bring in some new flavors, while still keeping the essence of the classic. I also didn't want to overdo it and create so much work in the kitchen for what is supposed to be a simple vegetable side dish. I decided to exchange the overly breaded fried onions for some crispy shallots, forgo mushrooms since no one in my household likes them and bring in bacon. Who doesn't like bacon? It goes so well with green beans, as does almonds, it was the natural choice. Plus, the almonds, bacon, shallots, and panko give a wonderful crunch. You still have the creaminess that the mushroom soup provided, but it's not as saturated so you really taste the green beans which are supposed to be the star of the show.
I'm really quite pleased with how this recipe has turned out (and always go back for thirds when I make it) and I hope you will be as well. It's really pretty easy to make and some can be prepared ahead of time. Simply make your bacon and shallots the night before. You still have the ease of canned green beans, but using a good quality bean from Del Monte along with not saturating it with canned soup, yields a great flavor without the trouble of blanching and cooking the beans before you even begin. Pop the casserole in the oven while your turkey is resting and it will be ready by the time you are ready to serve your food. You'll also see how easy it is to change up flavors. If you want to add some garlic or herbs, simply add it to the cream mixture. I prefer to keep the flavors simple since the flavors already present already work so well together.
This post was sponsored by Del Monte through their partnership with POPSUGAR Select. While I was compensated to write a post about Del Monte, all opinions are my own.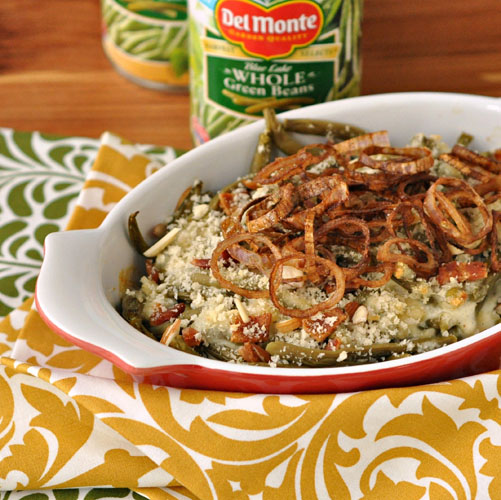 Better With Bacon Revamped Green Bean Casserole
Ingredients
1 Tbsp unsalted butter
1 Tbsp flour, extra if using for shallots
1/2 cup heavy or light cream
2 Tbsp Parmesan cheese
pinch of salt
1/8 tsp freshly ground pepper
2 14.5oz can of Del Monte Whole Green Beans
1 slice of cooked bacon, diced
2 Tbsp sliced almonds
1.5 Tbsp Panko breadcrumbs
2 medium shallots, sliced into thin rings
3 Tbsp olive oil or canola oil
Pre-heat oven to 350F.
In a small saucepan, simmer butter until melted. Add flour and stir continuously with a whisk until incorporated and cooked, about 1 minute. Add cream, cheese, salt, and pepper and continue whisking until thickened, about 1 to 2 minutes. Set aside.
In a 1 qt. baking dish, add beans and bacon. Pour cream mixture of beans and gently toss. Sprinkle almonds and breadcrumbs on top and cook for about 15 minutes.
While beans are cooking, heat oil in a small pan and lightly fry shallots until golden brown, just a few seconds on each side.  Shallots can be tossed in flour, if desired, before frying for more crunch.
After beans have cooked for 15 minutes, remove from oven and top beans with shallots. Bake for an additional 2 minutes to warm shallots. Remove and serve warm.
*Bacon and shallots can be made the night before.
The Way to His Heart