Chipotle Ranch Chicken Nachos
30 Monday Jan 2017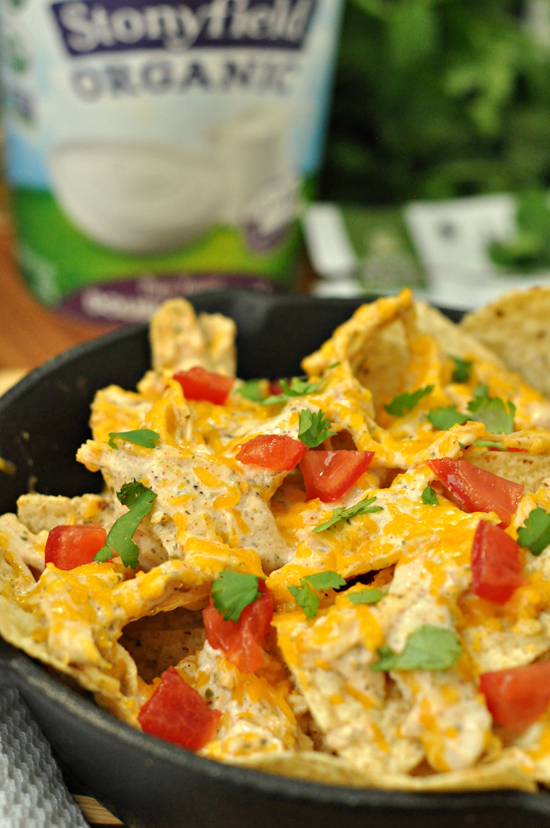 This post is sponsored by Stonyfield and Simply Organic. As always, all opinions are my own.
When I found out that Stonyifeld would be sending their new product, Double Cream, and some wonderful spices and dips from Simply Organic during the playoff season I knew some sort of game day snack would be born. We're big fans of nachos in my house. Probably more than I care to admit. Sometimes we'll even call it dinner if there is some sort of meat involved. Besides the fact that nachos are delicious the big factor for me is my kids wont eat them. That's right, they don't respect the nachos. They'll eat the chips and the cheese, but not melted and not together. This is actually a huge win for us. We have found ONE snack that we can sit and enjoy at a normal pace without our kids eyeing it, asking for just "one bite," or sticking their grubby hands in our food. They walk on by. It's glorious! I can hand them a few chips out of the bag and then eat these in peace.
Typically, when we make nachos they become kind of a free for all and we toss anything and everything we can find on them. These nachos right here were thought out. I knew I wanted to use the Chipotle Ranch Dip from Simply Organic. My husband hates dips that do not involve cheese so I knew this was going to be one of the only ways I could utilize this. I was a little sneaky, sneaky with it. I had plenty left over though for dipping veggies, chips, etc. in addition to these nachos. The Chipotle Ranch dip had a great kick, plenty of spice, but wasn't too hot. I really liked that. I'm not a fan of heat for the sake of heat. I like my food to have flavor and depth. The ranch gave it a great little twist as well. One little side note about Simply Organic that I did not know until working with them, perhaps you did? One percent of their sales goes to support organic farming and agriculture. I can always get behind a company that helps support the farmers that create their product!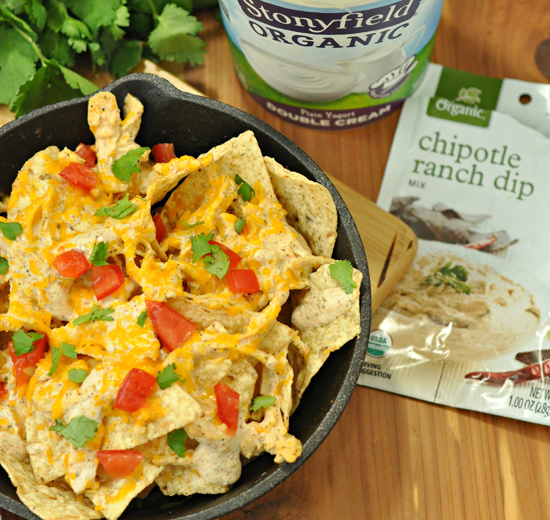 Now, we've talked flavoring of these nachos but we haven't talked about what really ups the ante in my book. That would be Stonyfield's Double Cream. It's their newest whole milk product and the stuff of yogurt cooking dreams. Made specifically with cooking in mind, Double Cream has just what it says, a higher fat content than any of our other whole milk yogurts, making it thicker, creamier, and more luscious for your cooking needs, while still boasting all the awesomeness of yogurt. It's also an ideal and wholesome sub for cutting vegetable oils and sour cream. I love it personally because it doesn't have as tangy of a flavor as yogurt so my family found it more pleasing. I enjoyed the Double Cream on it's own atop of my baked potato, dipping my veggies into the Chipotle Ranch dip, or baked with the chicken and nachos. It's definitely delicious and the fact that it has all of the health benefits as yogurt? Talk about a game winner!
So, back to the nachos really quick. The reason I think these are pretty awesome is because the chicken is smothered in the Chipotle Ranch dip made with the Double Cream. This gives the chicken a huge amount of flavor, but keeps the chicken nice and moist as well. These aren't your typically nachos with over baked chicken on top that you have to smother in salsa or sour cream. Not at all! Then, put all the usual fixings on top and you've got yourself one heck of a game day appetizer! Enjoy!
Now tell me, if you could substitute Double Cream for sour cream, butter, or oils, which recipe of yours would you like to try first?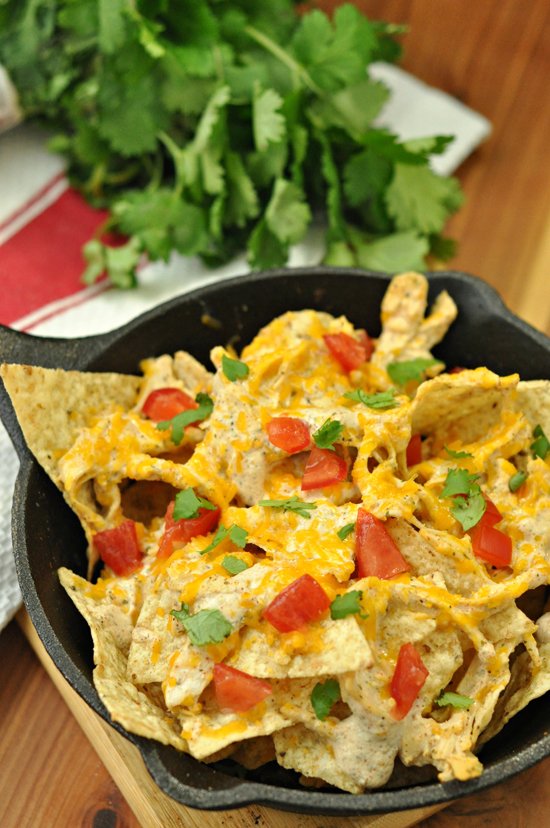 Chipotle Ranch Chicken Nachos
Ingredients
8 oz shredded chicken
1 cup  Chipotle Ranch Dip (see below)
Tortilla chips
3/4 cup cheddar cheese
1/4 cup diced tomatoes
cilantro for garnish
For the Chipotle Ranch Dip
Pre-heat oven to 350 F.
Mix chicken and Chipotle Ranch Dip until combined.
Place tortilla chips in a oven proof dish. Top with chicken and cheese. Add more chips and repeat. Bake for approximately 10 minutes, or until cheese has melted.
Top with tomatoes, cilantro, and any other  favorite nacho toppings.
Save
Save
Save
Save
Save