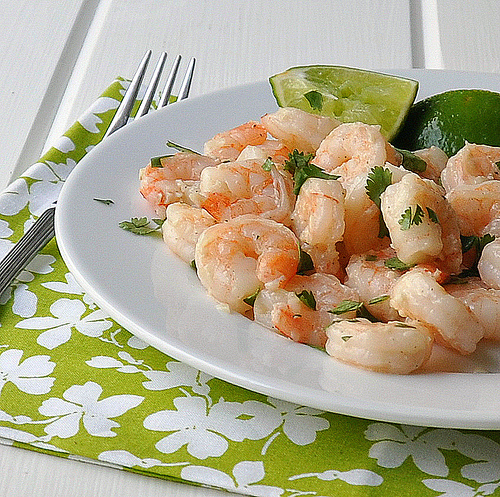 While you can get shrimp all season long, I love stopping by our local fish market and picking up some fresh shrimp and coming home and seeing what I can cook up. Shrimp are so versatile and work with anything. I think they are really the chicken of the sea! Keep summer around for a bit longer with the fresh taste of lime and cilantro. The great thing about this recipe is you are using fresh ingredients and nothing processed so you are truly eating healthy, but you definitely don't skimp on the taste. I typically have all of these ingredients in my house so it is a go-to quick recipe, especially if I'm only cooking for my daughter and I. While I'm cleaning the fish, I send her off to pick some cilantro off the deck. It's fun, vibrant, healthy, and tasty. Who wouldn't want to try it?
Cilantro Lime Shrimp
Ingredients
2 tsp olive oil
2 lb shrimp, shelled and deveined
6 cloves garlic, crushed
1/3 cup fresh cilantro, chopped
1 lime
salt and pepper
Heat oil in a large frying pan on medium-high heat. When hot, add the shrimp and season with salt and pepper. When the shrimp is cooked on one side, about 2 minutes, turn over and add the garlic. Sauté for another minute or two until the shrimp is cooked. Remove from heat. Squeeze the lime all over the shrimp and toss with cilantro. Serve alone, with rice, or over a bed of lettuce.
Nutritional Information
Serves 4
Serving Size 6 oz, Calories 197.3, Fat 4.1g, Protein 35.9g, Carb 2.4g, Fiber 0.1g
Source: Skinny Taste