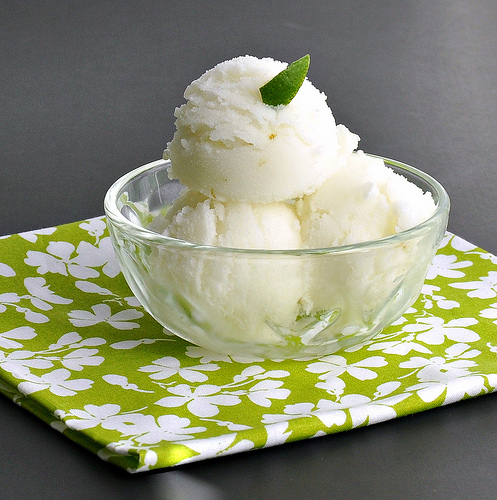 I had a few key limes leftover after making the Key Lime Cupcakes and I was looking for something to do with them. I didn't want to waste their goodness by using their juice in drinks or in a marinade and I knew I couldn't have another cake in my house "just because." I happened upon this recipe and it was perfect. It's light, healthy, and tastes great! Sometimes, during Summer you want something that will cool you off, but isn't heavy like ice cream and this fits the bill perfectly. Frozen citrus? Sign me up! Yes, it's a dessert, but it doesn't count when it barely has any calories at all!
Key Lime Ice
Ingredients
1 cup sugar
2 tsp key lime zest
1/3 cup key lime juice
2 1/2 cups boiling water
1 cup non-fat or low-fat plain yogurt
Combine sugar, lime zest, and lime juice in a heatproof bowl. Add boiling water and stir until the sugar has dissolved. Cover and refrigerate until chilled, about 1 hour or overnight.
Add the yogurt to the lime mixture and whisk until smooth. Pour into an ice cream maker and freeze according to manufacturer's directions. Alternatively, you can freeze the mixture in a shallow metal pan until solid, about 6 hours. Break into chunks and process in a food processor until smooth.
Serve immediately or transfer to a storage container and let harden in the freezer for 1 to 1 1/2 hours. Serve in chilled dishes.
*You can cover and freeze for up to 2 days. Let soften in the refrigerator for 1/2 hour before serving.
Makes 8 servings, at 1/2 cup each.
Nutritional Information
Per serving: 117 calories, 0 g fat ( 0 g sat , 0 g mono ), 1 mg cholesterol, 28 g carbohydrates, 1 g protein, 0 g fiber, 19 mg sodium, 13 mg potassium.
Source: Eating Well