Sucré Chocolate Giveaway!
26 Thursday Sep 2013
We've all had those days where things just don't go right. Toss any cliche' that you want at it, but it's just not a good day. I was having one of those last week and just couldn't shake it. My doorbell rang and I rolled my eyes as the dogs began to bark and I feared would wake my daughter from her nap. I knew it was some delivery so I didn't rush up to see what it was. They could leave the package and I'd get to it eventually. We often order pretty mundane household items so I was counting on it not being anything exciting. I finally headed out and checked to see what it was and noticed the return address, New Orleans. I thought back to my conversation with a chocolate boutique the previous week and opened up the box immediately. You can enter all sorts of jokes about the pregnant woman needing chocolate here if you'd like. There, to save the day, was the prettiest sight for sore eyes. A beautiful box that contained delicious chocolates. It was my savior!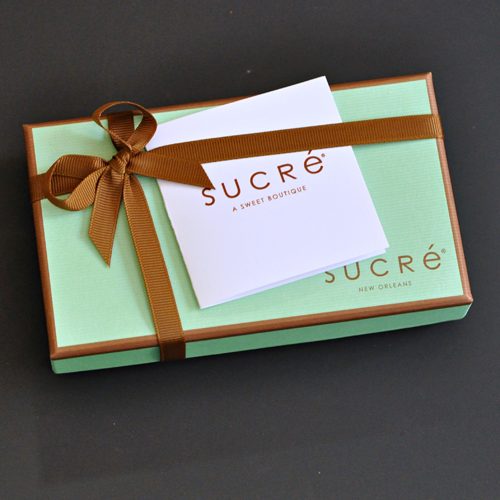 Sucré Sweet Boutique asked me to try some samples of their NOLA chocolate collection and I happily obliged. The best part is one lucky reader will also receive this wonderful box of chocolates. They also have a wonderful selection of macarons and let us not forget, they are located in New Orleans so they offer some wonderful King Cakes to get you in the Mardi Gra spirit!
The NOLA chocolate collection consisted of pecan ganache encased in a dark chocolate finish, white chocolate ganache blended with banana and rum, caramel milk chocolate ganache in a dark chocolate topped with salt, New Orleans coffee folded into dark chocolate ganache encased in dark chocolate, and my favorite, the Meuniere. This has to be one of the best chocolates I've ever had. It is brown butter folded into white chocolate ganache and just to up the ante and make it that much better, they've encased it in a dark chocolate. When I read the description I didn't know how they would pull it off, but one bite and I thought "yeah, that's perfection!"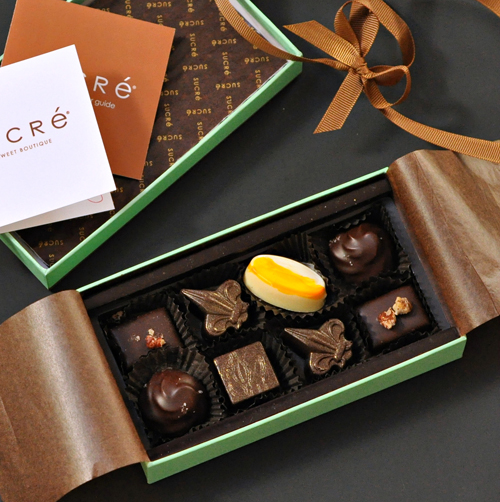 ***The contest is now closed. Congratulations Annie!***
Now it's your turn, to enter to win a box of the NOLA chocolate collection from Sucré, all you have to do is leave a comment telling me what your favorite chocolate treat is. Do you prefer exotic flavors or something more traditional? Whether you've had a bad day, are a pregnant lady in need of chocolate, or want to indulge in some grown-up chocolates you deserve these. Might as well treat yourself good, right?
Please, one entry/comment per person. The giveaway is limited to the contiguous US. A winner will be selected October 2nd at 2:00 pm EST by a random number generator and contacted by email. All entries are subject to verification. Good luck!
Sucré Sweet Boutique provided me with the NOLA chocolate collection to sample and one box to offer a reader as a giveaway. While the giveaway is sponsored by Sucré, as always the opinions expressed here are solely my own.