Beatty's Chocolate Cake
26 Tuesday Jan 2016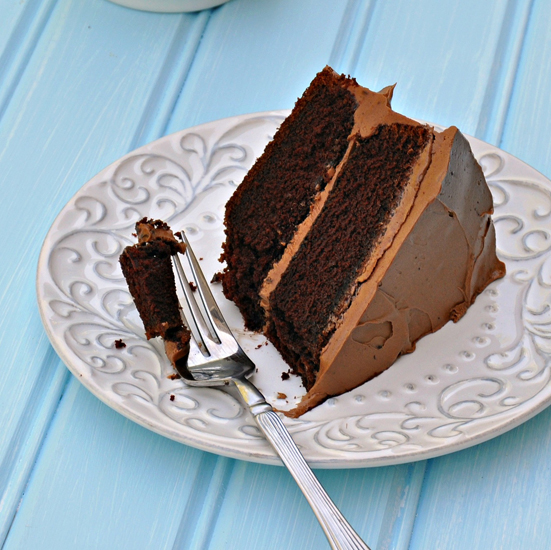 This cake has been called the "Best Chocolate Cake Ever" and there is good reason, it really is. At least for a chocolate cake that has no extra gimmicks inside or other flavors. It's pure chocolate here, the flavor only being enhanced by the coffee and not lending any flavor to it. I've been making this cake for a few years now and it never ceases to impress. Even when I botch up the frosting and it's somewhat grainy because I let the chocolate seize (see note in directions). I took these pictures a long time ago, but deemed them not worthy and said I'd take some more the next time I made the cake. Except each and every time the cake was eaten before the chance ever came back up. I decided this week to go ahead and share this cake with you anyways. I honestly feel bad for keeping it from you all for this long. Well, that is if you haven't heard of it already and/or aren't an avid fan of Ina Garten. If you aren't though, this cake will change your mind.
While I have other good, all purpose chocolate cakes, this is the cake I make when I'm not serving a bunch of kids or needing something to support a lot of marshmallow fondant. This is the cake that puts any given Sunday dinner over the top. This chocolate cake is what I make when someone wants a simple birthday cake, but deserves more. This is the cake you need to make soon, very soon! See if you beat me to it, since I've been craving this cake for the past few days and keep telling myself to at least wait until the weekend!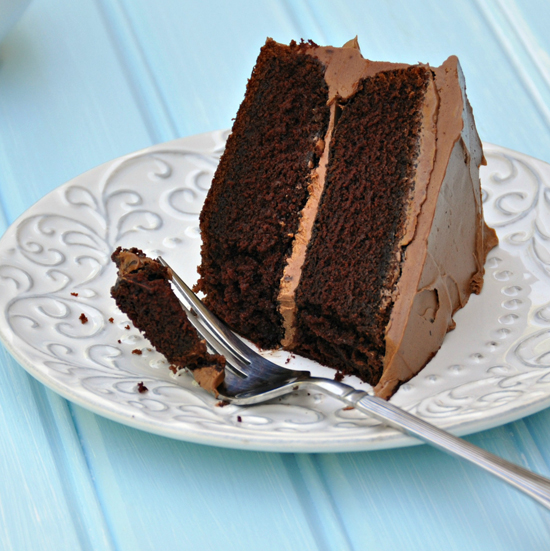 Beatty's Chocolate Cake
Ingredients
For the cake:
Butter for greasing pans
1 3/4 cups all-purpose flour, plus more for pans
2 cups sugar
3/4 cups cocoa powder
2 tsp baking soda
1 tsp baking powder
1 tsp kosher salt
1 cup buttermilk, shaken
1/2 cup vegetable oil
2 extra-large eggs, at room temperature
1 tsp pure vanilla extract
1 cup freshly brewed hot coffee
For the frosting:
6 oz good semisweet chocolate
1/2 lb (2 sticks) unsalted butter, at room temperature
1 extra-large egg yolk, at room temperature
1 tsp pure vanilla extract
1 1/4 cups sifted confectioners' sugar
1 Tbsp instant coffee powder
To make the cake:
Pre-heat oven to 350 F. Butter two 8″ x 2″ round cake pans. Line with parchment paper and then butter and flour the pans.
In the bowl of an electric mixer, fitted with the paddle attachment, sift flour, sugar, cocoa powder, baking soda, baking powder, and salt. Mix on low speed until combined. In a medium bowl, combine the buttermilk, oil, eggs, and vanilla. With the mixer on low speed, slowly add the wet ingredients to the dry. With the mixer still on low, add the coffee and stir just to combine. Scrap the bottom of the bowl with a rubber spatula. Pour the batter into the pans and bake for 35 to 40 minutes, until a cake tester comes out clean. Cool in the pans for 30 minutes, then turn them out onto a wire rack and cool completely.
Place one layer, flat side up, on a flat plate or cake stand. With a knife or offset spatula, spread the top with frosting. Place the second layer on top, rounded side up, and spread the frosting on the top and sides of the cake.
To make the chocolate frosting:
Chop the chocolate and place it in a heat-proof bowl set over a pan of simmering water. Stir until just melted and set aside until cooled to room temperature, but not stiffened otherwise chocolate will seize in the frosting.
In the bowl of an electric mixer fitted with a paddle attachment, beat the butter on medium-high speed until light yellow and fluffy, about 3 minutes. Add the egg ylk and vanilla and continue beating for 3 minutes. Turn the mixer to low, gradually add the confectioners' sugar, then beat at medium speed, scraping down the bowl as necessary, until smooth and creamy. Dissolves the coffee powder in 2 teaspoons of the hottest tap water. On low speed, add the chocolate and coffee to the butter mixture and mix until blended. Don't whip! Spread immediately on the cooled cake.
Serves 8
Source: Ina Garten, Barefoot Contessa at Home