Buttery Lemon Broccolini
05 Friday Apr 2013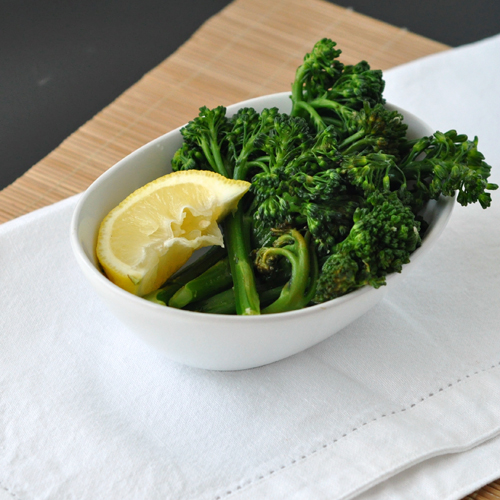 I know what you are all thinking. The only way I make vegetables is to stuff them or cook them with bacon, but it's not true. Although, they are wonderful ways to eat anything! I do love letting the vegetables do the talking and using simple ingredients that really highlight their natural flavors.
My daughter and I deemed these buttery, lemony Broccolinis our "springtime" dish. In her words, "They are so cute and little," just like all of those baby chicks and ducks we've been seeing at farm supply stores lately. They are a beautiful bright green, like those flowers eagerly breaking through the earth and the lemon gives a fresh smell and taste, just like the air outside that is slowly melting away that last bit of snow. If you think this is just poetic prose for the blog, you're wrong, we have daily discussions like this while we eat. Partly because it's fun and mostly because it gets her to eat new things!
Buttery Lemon Broccolini
Ingredients
4 qt water
1 1/8 tsp salt, divided
12 oz Broccolini
1 Tbsp unsalted butter, softened
1/2 tsp lemon zest
1 1/2 tsp fresh lemon juice
1/8 tsp freshly ground black pepper
Bring 4 quarts of water to a boil in a large saucepan. Add 1 teaspoon salt and cook the Broccolini in batches for 5 minutes. Remove the Broccolini with a slotted spoon. Drain and discard the water.
Combine the butter, zest, and juice, stirring with a fork until well blended. Return the Broccolini to the sauce pan over medium-high heat. Stir in the butter mixture, remaining 1/8 teaspoon salt, and pepper, tossing gently to coat.
Source: Cooking Light November 2009