Chinese Barbecued Spareribs
28 Monday Jan 2013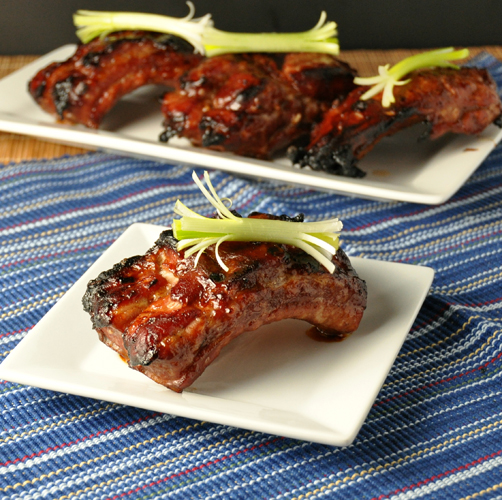 It's no surprise that I am a huge fan of appetizers and Chinese appetizers are my favorite. I get to eat out at Chinese restaurants very rarely because my husband doesn't care for it too much and I can't bring my daughter because of her peanut allergy. When I do go, I am torn between a nice meal or just ordering a bunch of appetizers!  One of my favorites is the barbecued spareribs, especially the boneless. You know, the ones that make your white rice turn red? The only problem is most of them are made with MSG which then turns my face all puffy and my eye lids are massive. No good! For some reason, I just haven't attempted to make my own. I guess I figured it would be too time consuming. With Chinese New Years just around the corner I wanted to make some so I did some research and wasn't happy with what I found. Then, I remembered a tattered cookbook my mom gave me that had classic Chinese recipes in it and I've used before. Voila! An authentic recipe that uses simple ingredients and doesn't take years to marinade or cook. No MSG or red food coloring here. Perfect!
Let me tell you, these ribs were wonderful! Like, I want to eat them way too often now. Next time, I will go boneless which I know will seal the deal for me and I'll never order those boneless spareribs out at a restaurant again. The only thing I was disappointed about was that I didn't make some tasty crab rangoons to go with these!
Adhere to the marinade time, there is no need to marinade longer. I know that sometimes longer is better, but really, take advantage of the short marinade time on these!
Chinese Barbecued Spareribs
Ingredients
2 lbs spareribs, short boned preferred
2 cloves garlic, minced
3 Tbsp light soy sauce
1  Tbsp sherry
3 Tbsp hoisin sauce
1 Tbsp granulated sugar
1 Tbsp honey
1 Tbsp low-sodium chicken broth
1 Tbsp canola oil
Remove the fat from the ribs and trim ribs neatly. Cut ribs so there are 2 ribs per piece. Then, cut halfway between each rib. This allows for even cooking and for easier eating!
Combine all of the remaining ingredients and pour the sauce over the ribs. Allow the ribs to marinate for 3 hours. Turn the ribs every hour.
Pre-heat oven to 400 F.
Place the ribs on a foil covered rack and roast for 45 minutes.
Adapted from 'Round the World Books