Cinnamon Glazed Popcorn Mix
27 Thursday Dec 2012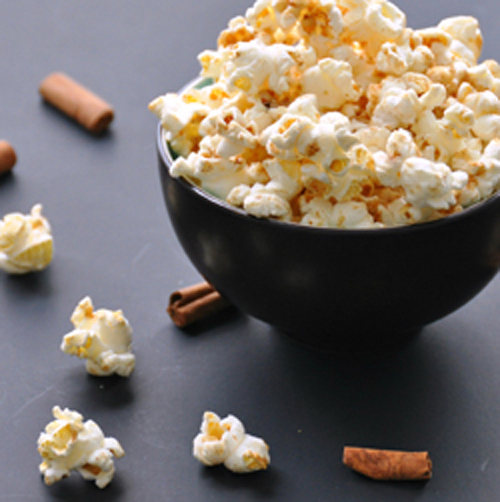 We consume a lot of popcorn in our house. I would say we have popcorn 3 to 4 times a week! While we are typically purists and love a nice bowl topped simply with salt or a drizzle of butter, I decided to try something new as a nice little snack before Christmas dinner. I was taking things easy this year since we had all been sick and I also wanted something light to accompany the rest of the food. It got great reviews as something a little special, yet was easy to make! Since my daughter is allergic to nuts, I omitted the cashews and it was still a great treat! I also didn't bake it for as long as the original recipe as I found the texture unappealing.
Cinnamon Glazed Popcorn Mix
Ingredients
4 cups plain popcorn (about 1/4 cup of kernels)
3/4 cup raw cashews
3 Tbsp unsalted butter
2 Tbsp honey
1/2 tsp ground cinnamon
1/4 tsp ground ginger
1/2 tsp salt
Pre-heat oven to 325 F. Line a baking sheet with parchment paper.
Melt butter and honey in a small pot over low heat. Add the cinnamon, ginger, and salt and stir.
Place cashews in a large bowl and coat with a tablespoon of the butter mixture. Spread the cashews on to the baking sheet and bake for 6 minutes.
In the same large bowl the cashews were in, add the popcorn and drizzle the remaining butter mixture over top.
Once the cashews have cooked, add the popcorn to the baking sheet and mix the cashews and popcorn. Making sure to have an even layer and bake for 4 minutes.
Remove the baking sheet from the oven and shake the mixture around and cook for another 2 minutes. Repeat this once more, for another 2 minutes.
The popcorn will harden as it cools.
Adapted from 100 Days of Real Food