Classic Marinara Sauce
08 Friday Feb 2013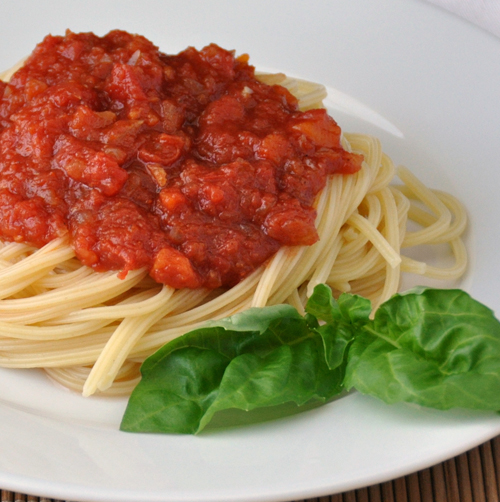 When I first started cooking I wanted to have a good recipe for some classic sauces. My husband and I both enjoy Italian, so establishing a good red sauce, Bechamel, and marinara were important to me. These sauces can make or break a meal. When you have spent all of that time cooking the pasta, shredding the cheese, layering lasagna or stuffed manicotta the last thing you want is to ruin your fish with a sub-par sauce.  Been there, done that. You can get an A for effort, but that doesn't please the stomach!
When I started researching recipes for a marinara sauce that would be my go to and testing them out, I found a lot of similarities. Frankly, I had never thought of using carrots or celery, but if "they" say to use them then why not at least give it a try. Now, I get it. The sauce is rich, flavorful, and thickens to a beautiful consistency. You can adjust the seasoning after you establish your base as well. I cook up a batch of this recipe and then when I want to use some for a pizza or for dipping mozzarella sticks I will add some kick with red pepper flakes. I can keep it this way for a nice lasagna or simply tossed with some spaghetti. This base will serve you well in your kitchen adventures with Italian fare.
This makes 2 quarts of sauce, so you can freeze some for up to three months. This sauce can also be made one day ahead of time. Simply cool it and then cover and refrigerate. When you are ready to use it, rewarm over medium heat.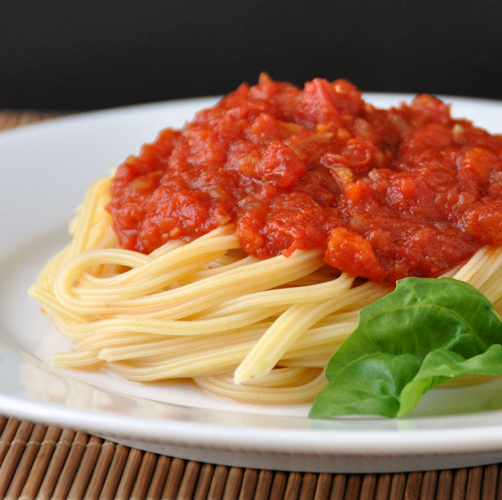 Classic Marinara Sauce
Ingredients
1/2 cup extra-virgin olive oil
2 small onions, finely chopped
2 garlic cloves, finely chopped
2 celery stalks, finely chopped
2 carrots, peeled and finely chopped
1/2 tsp sea salt, plus more to taste
1/2 tsp freshly ground black pepper, plus more to taste
2 (32oz.) cans crushed tomatoes
2 dried bay leaves
In a large pot, heat the oil on medium-high. Saute the onions and garlic until the onions are translucent, about 10 minutes. Add the celery, carrots, salt, and pepper. Saute until all of the vegetables are softened, about 10 minutes. Add the tomatoes and bay leaves and turn down the heat to low. Allow to simmer, uncovered, until the sauce thickens, about one hour.
Remove and discard the bay leaves. Season the sauce with additional salt and pepper to taste.
Source: Everyday Italian, Giada De Lauenriis