Dark Chocolate Fondue with Kahlua
01 Friday Feb 2013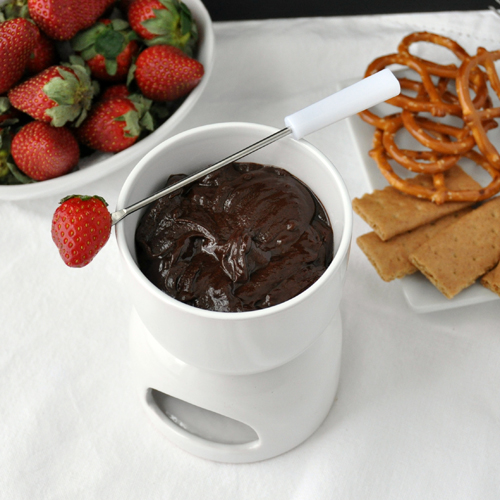 There really is nothing like dipping sweet, fresh strawberries or salty pretzels into wonderful, warm chocolate. It just hits all of the senses. Add really good quality dark chocolate and a splash of nice liqueur and you have wonderful treat to share after a romantic meal. Or, skip the liqueur and you have a fun way to serve dessert for your little ones. The thing I love about fondue is the serving size is small, so while you are enjoying something decadent, you wont feel weighed down afterwards.
Dark Chocolate Fondue with Kahula
Ingredients
1/3 cup heavy cream
2 tsp unsalted butter
8 oz dark chocolate, chopped
1 Tbsp Kahlua (or any liqueur that you like ie: Chambord or Grand Marnier)
marshmallows, pretzels, strawberries, apple slices, cherries, or bananas for serving
In a small saucepan over medium heat, stir heavy cream and butter until just simmer. Do not let it reach a boil.
Remove from heat and add dark chocolate pieces, stirring quickly. Add Kahlua and pour into a warm fondue pot. Serve immediately.
Source: The Way to His Heart