Egg Drop Soup
04 Monday Feb 2013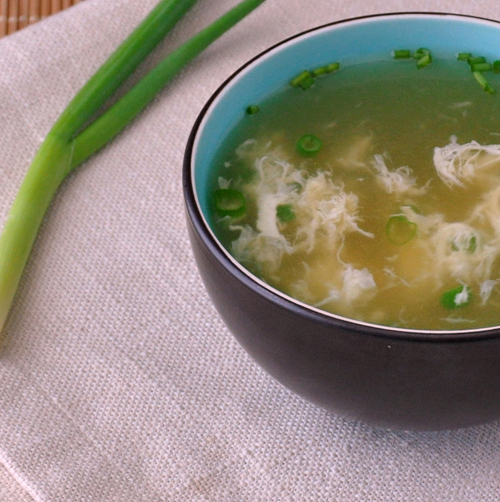 While most know that I love nothing more than a bowl of steamed white rice and an appetizer or two from my favorite Chinese restaurants, nothing brings me back to my college years like buying a quart of soup on a freezing Boston night and heading back to my apartment. Others carried coffee, I carried my soup for warmth. Although I didn't eat a lot of soup growing up, the warmth that this soup brought me made me feel like I was home. I had something good in my belly, which is rare during college, and it was warm and comforting. It got me through late study nights or when orange juice and chicken noodle just wouldn't do.
I'm not sure I would have made my own soup back than, but now knowing how easy it is to make I wish I had sometimes. Yes, part of the memory is trudging through the snow but I could have spared myself that! You can make this using any broth, just know that the color will vary slightly. You do not want the soup to boil, but have a strong simmer before you add the egg.
*A great way to ensure that the egg slips in gradually is to prop a fork on the side of your pot with the tines pointing down. Then, pour the egg through the tines. This will give you those fine strands that you are familiar with at the restaurant!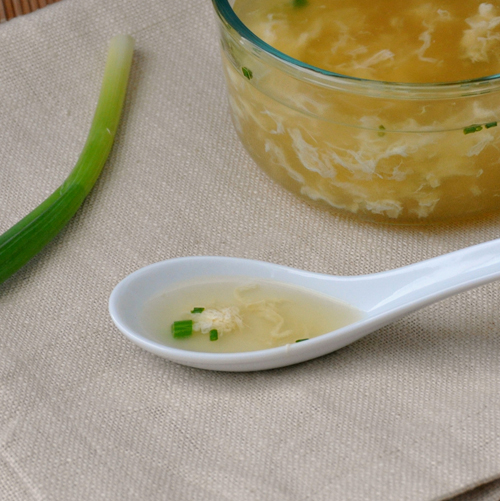 Egg Drop Soup
Ingredients
1 egg
1/2 tsp water
3 cups chicken broth
1/8 tsp sugar
1/4 tsp salt
1/8 tsp sesame oil
1 small scallion, minced
2 tsp finely chopped chives
In a small bowl, beat the egg with the water.
On medium-low heat, bring the broth to a simmer. Stir in the sugar, salt, and sesame oil.
Continue to stir in a clockwise motion and very slowly slip the egg into the simmering broth. As you stir, the egg will coagulate and form thin threads.  *See note above recipe.
Stir in the scallion and remove from the heat. Pour soup into individual bowls and garnish with chives.
Serves 4
Source: 'Round the World Books Chinese Dishes