Funfetti Almond Spritz Cookies
19 Friday Sep 2014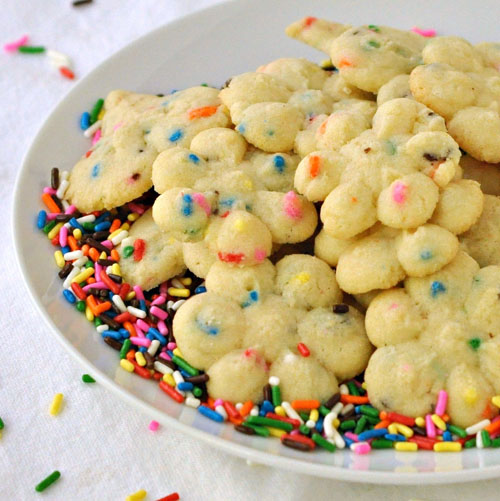 I've always thought of spritz cookies and butter cookies to be pigeon-holed into the "Christmas cookie" category. December rolls around and you break out the cookie press and some green and red sprinkles and food coloring and go to town. What happens to that cookie press the rest of the year? It usually gets tossed in a cabinet and forgotten. When I finally purchased my OXO Cookie Press last year I was bound and determined not to let that happen. I'm against gadgets that I only use once a year, if that.
Well, it happened. Even though we loved using the cookie press, we kind of forgot about it. Then September rolled around and OXO and Cookies for Kids' Cancer started promoting their "Be a Good Cookie" campaign to raise funds for Childhood Cancer Awareness Month. I've taken part of this wonderful fundraiser before. It's one of my favorite fundraisers and one of the reasons I love blogging. Get the word out on awareness, raise some money, and bake!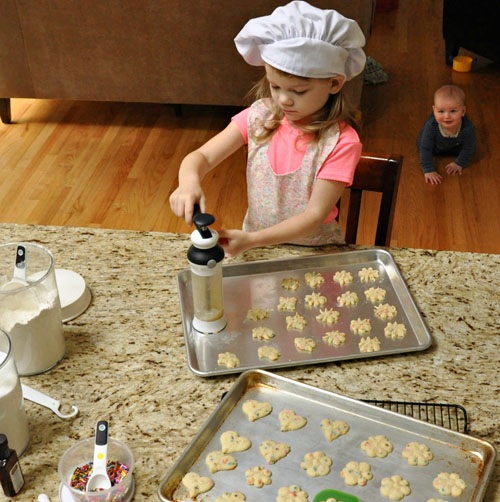 I started thinking of so many great spritz cookie flavors, which I'll be sharing this year in my effort to keep that cookie press out of storage and in regular rotation. The recipe that we decided to share as part of the "Be a Good Cookie" campaign are these Funfetti Almond Spritz Cookies. The best part of spritz cookies are the sprinkles and why not add them to the batter, instead of just on top? My four-year definitely agreed! Since it is also my mom's birthday today, we opted for a lovely almond flavor since that's one of her favorites. We made some fun heart and buttercup shapes and it was a celebration in our house! These are perfect for any day of the year, especially the rainy day we decided to bake some up. I hope you all will keep reading and check out OXO and the rest of the great recipes that bloggers have come up with in support of the Cookies for Kids' Cancer "Be a Good Cookie" campaign.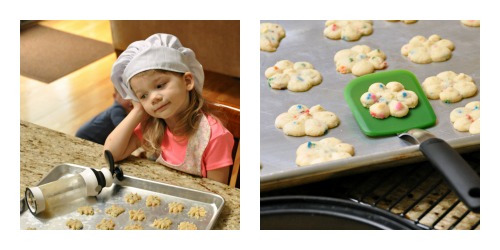 OXO supplied me with the cookie press and baking kit, but as always the opinions expressed here are solely my own. OXO will also be donating $100 to every post dedicated to the Cookies For Kids Cancer Campaign in September.
For every stickered item sold, OXO will donate 25 cents in support of pediatric cancer research as part of its $100,000* pledge to Cookies for Kids' Cancer. Look for specially marked OXO products at participating retailers in September. You can find the list of eligible products here. My recommendations are the cookie press and the cookie spatula. I never knew I needed a cookie spatula until one entered my life. Now, I can't do without!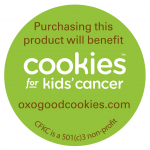 * In 2014, OXO will donate up to $100,000 to Cookies for Kids' Cancer through specially marked baking tools, bake sale matches and other fundraising efforts. Cookies for Kids' Cancer is a recognized 501c(3) public charity duly incorporated under the laws of the state of New Jersey. Your donations are tax deductible to the fullest extent allowable by law. 100% of proceeds raised by Cookies for Kids' Cancer fund pediatric cancer research.
Funfetti Almond Spritz Cookies
Ingredients
1 cup unsalted butter (two sticks), room temperature
3/4 cup granulated sugar
1 egg, room temperature
1 tsp almond extract
2 1/4 cup sifted flour
1/8 tsp salt
1/4 tsp baking powder
4 Tbsp rainbow sprinkles
Pre-heat oven to 400F.
In a large bowl, cream butter and sugar together. Add egg and almond extract and beat until just combined. Add flour, salt, and baking powder and mix until the dough has just come together and is moistened. Slowly, with mixer on, pour sprinkles into batter so they distribute evenly.
Add dough to your cookie press and press dough onto an ungreased cookie sheet. Bake for 7 to 9 minutes, or until edges are sightly golden brown. Cool on pan for a few minutes and then remove cookies and place on a wire rack.
*If you don't have a cookie press, roll dough into a log and slice and bake. This dough can also be frozen.
Yields 80 cookies
Slightly adapted from Food.com