Green Beans with Lemon Aioli
25 Tuesday Mar 2014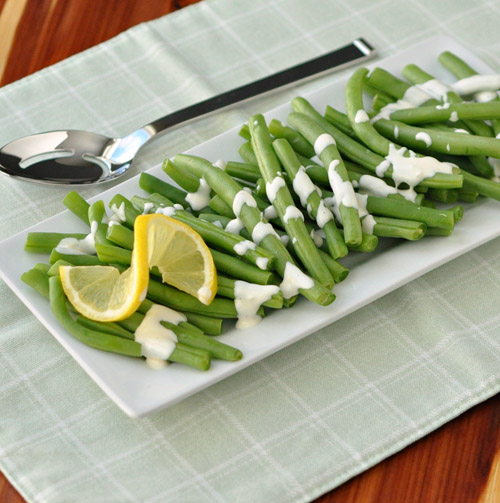 Spring is here! It may not feel like it, but it is. Even with a possible Nor'easter on the horizon I can see the difference. In wide open areas, the snow has melted and you can see the brown fields. The crocus are sprouting through the hard soil and the birds are chirping. We are almost there! To celebrate, I've made a wonderful side dish that is the essence of spring to me. Fresh green vegetables with a wonderful lemon aioli. If ever there was a fresh taste, it's lemon! This is easy enough to whip up any night, but nice enough for all of those wonderful spring holidays. Easter, Mother's day, Passover, etc. So, in just ten minute you can transform your green beans into a light and healthy side dish.
Green Beans with Lemon Aioli
Ingredients
3/4 cup Smart Balance mayonnaise
6 Tbsp lemon juice
2 tsp lemon zest
1/4 tsp finely minced garlic
salt and pepper to taste
1 1/2 lb green beans, trimmed
In a bowl, whisk the mayonnaise, lemon juice, zest, garlic, salt, and pepper until well combined. Set aside.
Bring a large pot of water with a steamer basket to a boil. Add green beans and cook for 4 minutes. Transfer to serving dish and serve warm with aioli.
*The aioli can be made up to a day in advance and stored in the refrigerator. The flavor will become stronger.
Serves 8 (3oz beans per person and 1 1/2 Tbsp aioli per person)
Nutritional Information
Per serving: 104 Calories, 8g Fat, 7mg Cholesterol, 200mg Sodium, 10g Carbohydrates, 2g Fiber, 3g Sugars, 2g Protein.
Source: The Way to His Heart