Grilled Skillet Strawberry Pie
08 Tuesday Jul 2014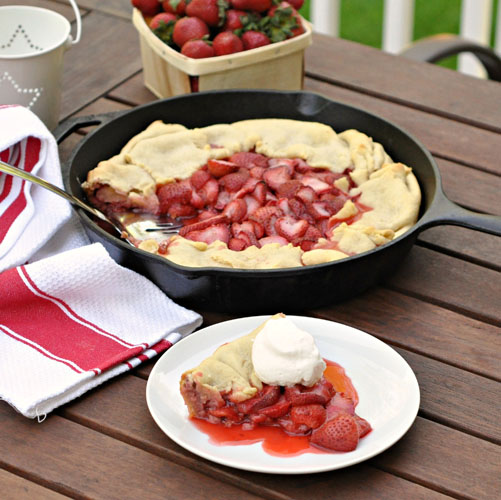 The summers in Maine are beautiful, but short. We try to stay outside as much as possible and soak up as much sun as we can. While we love fruit salads and ice cream, a good pie that utilizes all of the fresh berries is always appreciated in my household. The problem is, who wants to turn on their oven? I decided to try grilling the pie instead. I wanted something that was deep like a traditional pie so I wanted to use it in the skillet. Plus, the skillet is relatively easy to transport if we go to a cookout somewhere else.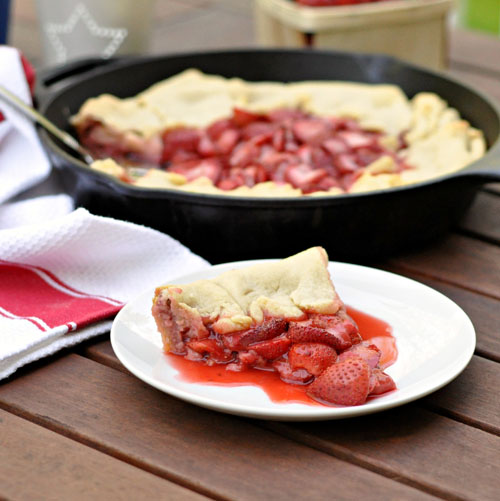 It took a few tries to get the right crust that wouldn't burn or be too thick, but my family did not mind all of the strawberry pies that were created during this process! This grilled skillet pie was even more delicious since it didn't heat up the house and you could smell it all across the backyard as we played outside!
So, grab your skillet and a batch of strawberries (or any other berry you prefer) and hit the grill. This pie will make you re-consider your favorite grilled recipe!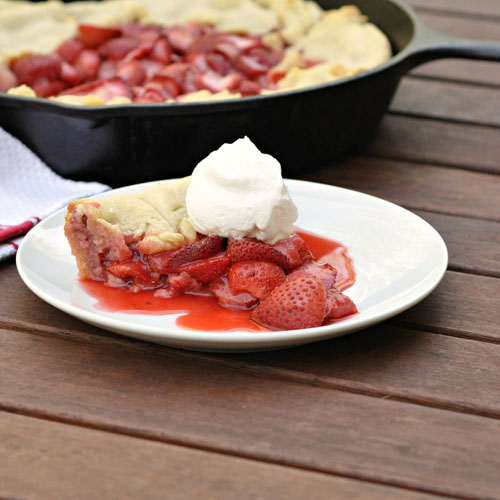 Grilled Skillet Strawberry Pie
Ingredients
For the crust:
12 oz. all-purpose flour
8 oz Smart Balance Original Spread, cold and in small pieces
2 to 4 oz cold water
1/8 tsp salt
Smart Balance Cooking Spray
Sanding or finishing sugar for optional dusting on top
For the filling:
2 lbs strawberries, hulled and sliced
1/2 cup sugar
3 Tbsp cornstarch
Combine flour and butter in a large mixing bowl using your hands and fingers until you have pea-sized chunks. Gradually, add just enough water and the salt until combined and the dough forms. Don't overwork or the dough will become tough. Shape the dough into a disc, wrap in plastic wrap, and refrigerate for at least 15 minutes or until ready to roll.
In a large bowl, gently mix strawberries, sugar, and cornstarch. Cover with plastic wrap and chill in the refrigerator for 15 minutes.
Pre-heat grill to 400F. If you can, use only the front and back burners as this will create air flow like a convection oven.
Lightly spray a 10 or 12-inch cast iron skillet with cooking spray.
Roll out the pie dough and lay it in the skillet, leaving the excess crust hang off the sides for now. Spoon strawberry filling onto pie crust and lightly spread it to cover the entire crust. Do not spread it out too evenly or pat it down. Fold over excess pie crust over the strawberries. Sprinkle finishing sugar on top of crust if desired.
Grill for about 25 minutes or until filling has started bubbling. The crust will not brown on the grill. Make sure not to open the grill cover until close to the end to check, otherwise you will lose all of the heat and it will not bake properly. Also try and keep the grill temperature around 400F.
Remove from grill and let set for 5 minutes. Serve warm.
Serves 8 to 10
Prep Time: 15 minutes
Cook Time: 25 minutes
Source: The Way to His Heart