Honey-Orange Pork Tenderloin
09 Wednesday Jan 2013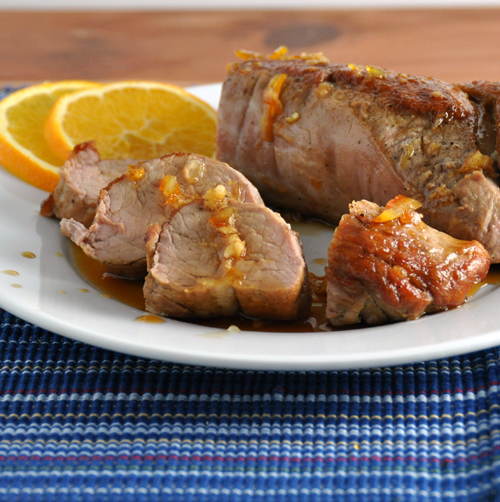 I'm sure you all have seen the wonderful roast recipes that were all over the magazines and internet the past month, gearing up for the holidays. Like I do every year, I bookmarked a bunch and I'll be lucky if I make one of the year. The problem is I don't make crown roasts for Sunday and while I am a foodie, I'm not going to indulge in pancetta wrapped pork on a weekly basis. Between time, budget, and health these roasts just don't get made. So, what to do when you really want something tasty and only want to serve your immediate family? Well, head out to the store and grab a small one pound pork tenderloin and check your pantry to make sure you have some orange marmalade. This super simple recipe that uses mostly pantry staple ingredients is quick, delicious, and wont hurt the figure! It has a wonderful sweet, yet savory taste and is delicious enough to be the star of a Sunday dinner and quick enough to make on a weeknight. I've made this recipe twice in two weeks already!
Honey-Orange Pork Tenderloin
Ingredients
1/3 cup orange marmalade
3 Tbsp cider vinegar
3 Tbsp low sodium soy sauce
1 1/2 Tbsp minced garlic
1 1/2 tsp honey
2 Tbsp canola oil
1lb pork tenderloin, trimmed
1/4 kosher salt
1/2 tsp freshly ground black pepper
Pre-heat oven to 350 F.
Combine the first 5 ingredients, stirring well with a whisk. Reserve 2 tablespoons of the marmalade mixture.
Heat an ovenproof skillet over medium-high heat. Add oil; swirl to coat. Sprinkle pork with salt and pepper. Add pork to pan; cook 5 minutes or until browned.
Turn pork over, brush with 1/4 cup marmalade mixture. Bake at 350 F for 10 minutes. Turn pork over and brush with 1/4 cup marmalade mixture. Bake for an additional 10 minutes or until a thermometer reads 150 F.
Remove pork from pan and brush with the reserved 2 tablespoons of marmalade mixture. Let stand for 10 minutes, then slice and serve.
Nutritional Information
Serves 4
Per serving; Calories 275, Fat 9.5g, Protein 24.8g, Carbohydrates 21.9g, Fiber 0.3g, Cholesterol 74 mg, Iron 1.4 mg, Sodium 609 mg, Calcium 25 mg.
Source: Cooking Light December 2012