Individual Raspberry Chocolate Tarts
03 Monday Feb 2014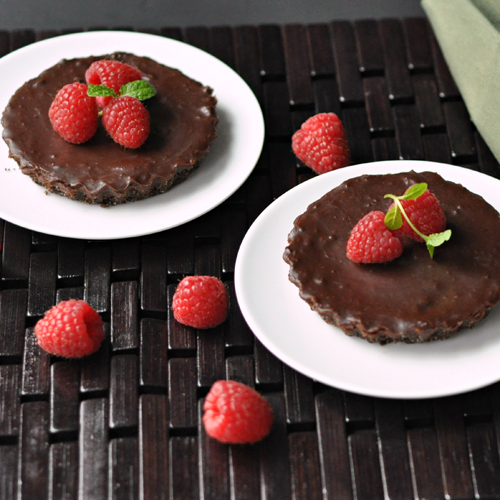 Valentines Day is just around the corner and desserts are always in demand. Chocolate and Valentines Day go hand in hand. If you are staying in this Valentines Day or coming back home for dessert, you'll want something that is decadent and indulgent, but if you're like most you don't want to spend all day making it. These little tarts are perfect. The most difficult part is making sure you have 4-inch tart pans with removable bottoms! I love the idea of a smaller dessert that you can either each have one or even share and you don't have this large cake sitting on your counter for days later. Just the perfect amount of sweet. Especially if you were lucky and were given some chocolates from your sweet as well!
The semisweet chocolate takes on a deeper, fudgy flavor in this tart and the hint of raspberry is just enough to turn this into something amazing. These are so simple to whip up, you can even do each step while you are getting ready. Pop them in the refrigerator while you have dinner and they will be ready for you afterwards!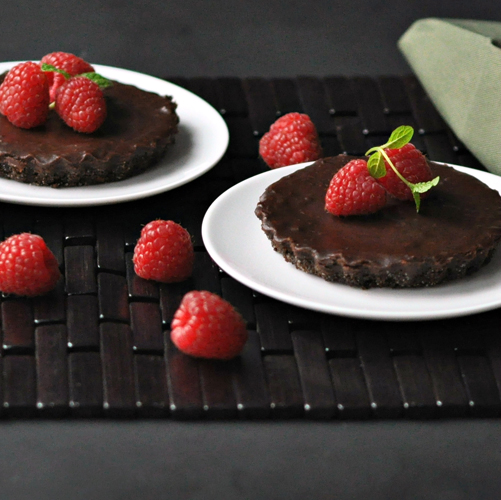 Individual Raspberry Chocolate Tarts
Ingredients
For the Crust
4 chocolate graham crackers (about 3/4 cup)
2 Tbsp unsalted butter, melted
2 Tbsp superfine sugar
For the Filling
1/2 cup heavy cream
2 Tbsp unsalted butter
8 oz. semi-sweet chocolate chips
1/4 tsp raspberry extract
Pre-heat oven to 325F
To make the crust:
In a food processor, add chocolate graham crackers and process until fine. Combine graham cracker crumbs, melted butter, and sugar in a small bowl. Distribute crumb mixture between 4 mini tart tins with removable bottoms. Press down crumb mixture with your fingers and spread along and up the sides, about half the way up the sides. Put the tins on a cookie sheet and place in the refrigerator and chill for 10 minutes. For a softer crust, do not chill and bake immediately instead.
After the crust has chilled, bake for 8 to 10 minutes, or until firm. Remove and allow to cool on a wire rack for 20 minutes.
To make the filling:
Warm cream and butter in a small saucepan until just before boiling. Remove from heat and add chocolate chips and extract and stir until combined.
Evenly distribute chocolate mixture among the 4 tart tins. Using a spoon, spread the chocolate to the sides of the tin.
Refrigerate for 2 hours or overnight.
Yields 4 servings
The Way to His Heart original