Lemon Popsicles
12 Monday Aug 2013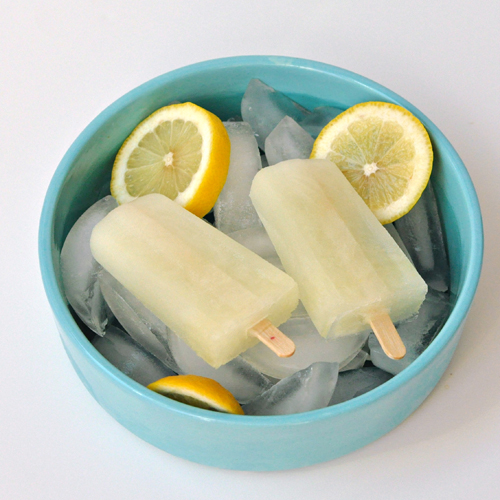 I was having a bad day the other day and just couldn't seem to fix it. No matter what I did, things just wouldn't go right. Luckily, my daughter was being really good. So, since I couldn't accomplish much else, I decided to whip these popsicles up. When life hands you lemons, you have another option now rather than just lemonade! Honestly, nothing cheers me up more than the smell of lemon and while I was calming down and zesting the lemons, I could feel myself relax. Aroma therapy at work!
Lemon Popsicles
Ingredients
1 cup water
3/4 cup granulated sugar
zest from 2 lemons
1 cup freshly squeezed lemon juice
In a small pot, combine the sugar and water and heat until the sugar has dissolved, stirring frequently. Add the lemon zest and bring to a simmer. Remove from heat and allow to cool. Once cooled, pour the sugar mixture through a strainer over the bowl of lemon juice. Stir the strained sugar mixture and lemon juice and set aside.
Pour the lemon juice into each popsicle mold. Freeze for approximately 30 minutes and then remove the molds from the freezer and place a popsicle stick in each mold. Put the popsicles back into the freezer and freeze for 1 to 2 hours.
When you are ready to serve, let hot water run over the popsicle mold for 10 seconds. To store your popsicles, wrap in wax paper and store in a plastic container in the freezer.
Makes 10-12 popsicles
Adapted from The Way to His Heart & Two Fat Als