Lobster & Potato Salad
26 Friday Jun 2015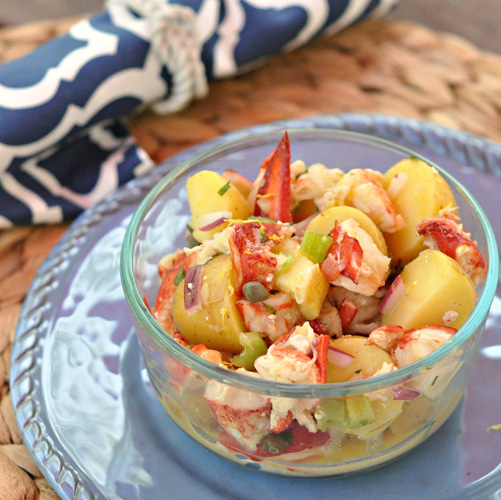 The temps are climbing and it is time to bring on some great summer foods. Of course, having lived most of my life on the East coast, summer equals seafood. Living in Maine, that means bring on the lobster! I'm a lobster purest and I've said it before, frankly the best way to eat one is with some warm butter, but if you want to switch things up a bit, like I do from time to time, it's always nice to have a few other recipes up your sleeve.
This recipe calls for picked lobster. I made the mistake of cringing at the price of packed lobster meat, the tourists have arrived therefore the high prices have too. I decided to just buy the lobsters steamed and pick them myself. Well, I only saved $10 and while I've gotten good at picking them pretty quickly, it just isn't worth it. So, do the math and decide for yourself. Me, I'd rather have that time back to sit on the hammock. Granted, I would have probably been cleaning or hanging out with the kids, but still.
Anyways, this is a really fresh salad. The flavors are bright, although pretty strong so taste as you go. It really does balance well with the lobster meat and potatoes. Make sure to use a nice white wine otherwise you'll just ruin the poor dish. You're using lobster, so don't go cheap now! While I tend to love lemon and use a lot of it with seafood, I don't always add a full lemon worth of juice. Taste as you go.
This is lovely for entertaining, but simple enough to enjoy for a weeknight meal. It can be used as either a side salad for a barbecue or the main event. You can enjoy leftovers, but the flavors will intensify.
Lobster & Potato Salad
Ingredients
1 1/2 lbs unpeeled small Yukon Gold potatoes
Kosher salt
3 Tbsp Champagne or white wine vinegar
1/2 tsp Dijon mustard
1/2 tsp minced garlic
1 extra-large egg yolks, at room temperature (optional)
Freshly ground black pepper
1/2 cup olive oil
1/4 cup dry white wine
3 Tbsp drained capers
1 cup thinly sliced scallions (6 to 8 scallions)
1/2 cup (1/4-inch) diced celery
1/2 cup (1/4-inch) diced red onion
1 1/2 lbs cooked lobster meat, 1-inch diced (about 4 to 5 lobsters)
1 lemon
3 Tbsp coarsely chopped fresh tarragon
Place the potatoes in a large pot and cover with water by 1 inch. Add 1 tablespoon sat and bring to a boil. Lower the heat and simmer for 15 to 25 minutes, depending on the size of the potatoes, until just tender. Drain in a colander, cover the colander with a clean kitchen towel, and allow the potatoes to steam for 5 to 10 minutes. Cut them in quarters or halves, depending on their size, and place them in a large bowl.
Meanwhile, whisk together the vinegar, mustard, garlic, egg yolk, 2 teaspoons salt, and 1 teaspoon pepper. While whisking, slowly pour in the olive oil, making an emulsion. Stir in the wine and capers.
While the potatoes are still very warm, pour half of the vinaigrette on the potatoes and toss them gently, allowing them to soak up the vinaigrette. Stir in the scallions, celery, red onion, and lobster and add enough vinaigrette to moisten. Reserve any remaining vinaigrette. Add the zest and juice of the lemon, the tarragon, 2 teaspoons salt, and 1 teaspoon pepper and toss carefully. Cover with plastic wrap and refrigerate for at least an hour to allow the flavors to blend. Taste for seasonings and add more vinaigrette, if necessary. Serve at room temperature.
Source: Ina Garten Barefoot Contessa Foolproof