Oreo Mint Ice Cream
04 Wednesday Sep 2013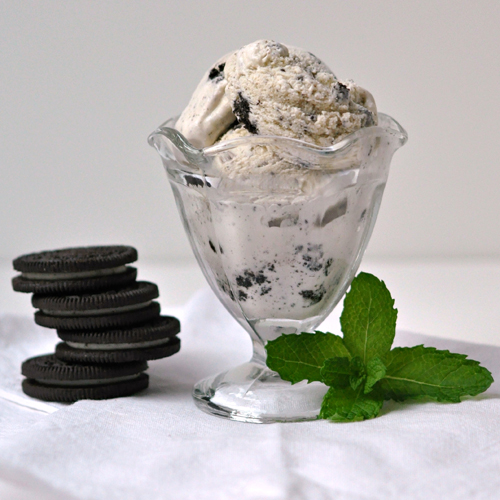 I've been making homemade ice cream for a while now and usually pick out flavors that I think my family will love. I recently purchased the Ben & Jerry's recipe book and let my husband pick out one that he wanted me to make. His choice of Oreo Mint surprised me. Granted, he loves mint chocolate chip ice cream, but any time I've ever mentioned making cookies & cream ice cream he goes, "ehhh."
From my very first ice cream recipe I've shared with you, I've preached just how good home made ice cream is. We all know that a carton in the freezer of ice cream in general makes you feel good, but home made just tastes so much better! Now, think about your favorite store brand and kicking it up a notch by making it from home? I hope I have your attention because this ice cream has been deemed the best ice cream made yet! It's so creamy, has such a perfect blend of flavor, and you can not stop yourself from eating more. Imagine eating a quart instead of a store bought pint, yeah you're in trouble! I wish I could give you all a taste so you'd believe me, but you'll have to take my word for it and go grab a package of cookies and get to it!
The only thing I changed from this recipe was using a few more cookies, you can be the judge as the machine is churning. I just always like to toss in some extra toppings!
Oreo Mint Ice Cream
Ingredients
2/3 cup coarsely chopped Oreo cookies
2 large eggs
3/4 cup sugar
2 cups heavy or whipping cream
1 cup milk
2 tsp peppermint extract
Place the cookies in a bowl, cover, and refrigerate.
In a large bowl, whisk the eggs until light and fluffy, 1 to 2 minutes. Whisk in the sugar, a little at a time, then continue whisking until completely blended, about 1 minute more. Pour in the cream and milk and whisk to blend. Add the peppermint extract and blend again.
Transfer the mixture to your ice cream maker and freeze according to the manufacturer's instructions.
After the ice cream stiffens, about 2 minutes before it is done, add the chopped cookies, then continue freezing until the ice cream is ready.
Yields 1 generous 1 quart.
Source: Ben & Jerry's Homemade Ice Cream & Dessert Book