Pork & Chive Pot Stickers
30 Friday May 2014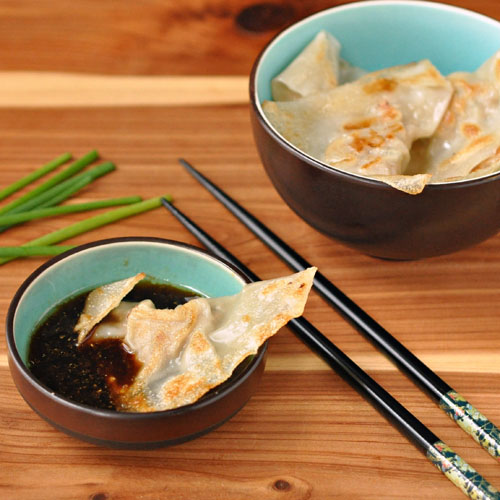 If you've been around this blog for a while, you will know that I love using wonton wrappers for traditional and nontraditional recipes. What you may find odd though, is I've never made wontons or dumplings with them. They aren't just missing from the blog, they were missing from my life. I always order them when we go out for Chinese food, but it's one item I hadn't made at home. Recently, I decided to change that and have been playing around with different recipes. This recipe has been one we've gone back to a few times, although I tweak it each time. For us, the ginger is slightly too much, but I know others may love it so I wanted to stick with the original and later on I'll post variations that I've come up with.
Potstickers or dumplings are great because you can make a large batch and freeze them for later. Simply freeze the raw dumplings on a baking sheet and then store in an airtight bag for up to 3 months. When you are ready to eat, simply cook from frozen. They are also great because you can eat them easily with one hand which, for me these days, is vital. My daughter loves them since they are a "fun" food to eat as well and you can even sneak all sorts of foods they may not realize they like yet inside!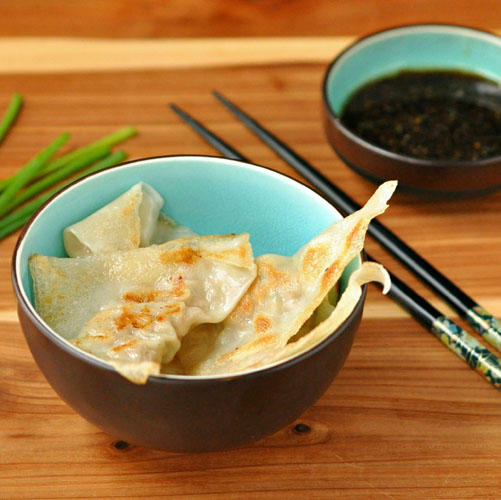 Pork & Chive Pot Stickers
Ingredients
1/4 lb ground pork
1 Tbsp minced chives
1 1/2 tsp soy sauce
1 1/2 tsp dry sherry
1 tsp minced peeled fresh ginger
1/2 tsp sesame oil
1/2 tsp cornstartch
20 wonton wrappers
1 Tbsp vegetable oil
Soy-Ginger Dipping Sauce (see below)
In a bowl, combine pork, chives, soy sauce, sherry, ginger, sesame oil, cornstarch, and 1 tablespoon water.
Place a heaping teaspoon of pork mixture in center of wonton wrapper. Lightly wet edge of wrapper, fold over, and press to seal. Repeat to form remaining dumplings.
In two batches, cook dumplings in a large pot of boiling water until cooked through, 4 minutes; transfer to a plate with a slotted spoon. In a large nonstick pan, heat vegetable oil over medium-high. In two batches, cook until browned, about 1 1/2 minutes per side. Serve with dipping sauce.
Yields 20 dumplings, Serves 4
Nutritional Information
Per serving; 200 Calories, 8.3g Fat, 9.1g Protein, 22.2g Carbohydrates, 1.3g Fiber
Soy-Ginger Dipping Sauce
Ingredients
1/4 cup light-sodium soy sauce
3 Tbsp rice vinegar
1 Tbsp minced peeled fresh ginger
2 tsp sugar
1/4 tsp sesame oil
In a bowl, stir together all ingredients.
Yields 1/2 cup
Nutritional Information
Per 2 tablespoons; 25 Calories, 0.3g Fat, 1.4g Protein, 4.9g Carbohydrate, 0g Fiber.
Source: Martha Stewart Living, February 2010