Queso Fundido al Tequila
21 Monday Jan 2013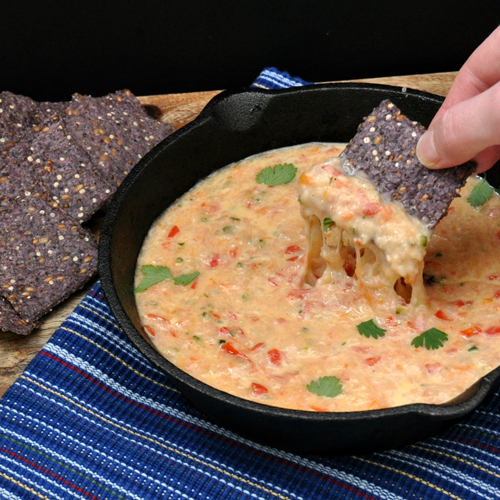 Anytime my husband and I go to a Mexican restaurant we can't help but devour the queso. For some reason or another, we have never tried to make any at home. Well, besides that stuff from the jar that is never good enough. I wont even touch it. So, I decided to fix this and just in time for some Sunday football games.
This is incredibly easy to make and you can leave the tequila out if you wish. I am not a huge fan of a lot of heat, but I felt like this recipe was lacking so I left the seeds and ribs of one of the jalapenos in. I felt like this added the perfect amount of heat, but my husband said adding both definitely would be nice as well.
Stay tuned for Wednesday, when I will have a giveaway that will set you up with a case of tortilla chips from Way Better Snacks!
Queso Fundido al Tequila
Ingredients
1 Tbsp extra-virgin olive oil
2 medium tomatoes, cored and seeded and cut into 1/4″ dice
2 jalapenos, seeded and minced
1 small onion, cut into 1/4″ dice
Kosher salt
3 Tbsp tequila
1/2 lb Monterey Jack cheese, shredded (about 3 cups)
1/4 cup coarsely chopped cilantro
warm corn tortillas or corn chips, for serving
In a large skillet, heat olive oil. Add the diced tomatoes, jalapenos, onion, and a large pinch of salt and cook over high heat. Stir often and cook until everything has softened, about 5 minutes.
Add the tequila and stir frequently, cooking until the skillet is almost dry, a bout 2 minutes.
Reduce the heat to low and add the cheese. Stirring constantly, cook until the cheese has fully melted, about 30 seconds. Transfer to a serving dish, sprinkle with cilantro and serve immediately with tortillas or chips.
Source: Rick Bayless, Food and Wine June 2006