Scallop Chips
07 Tuesday Jul 2015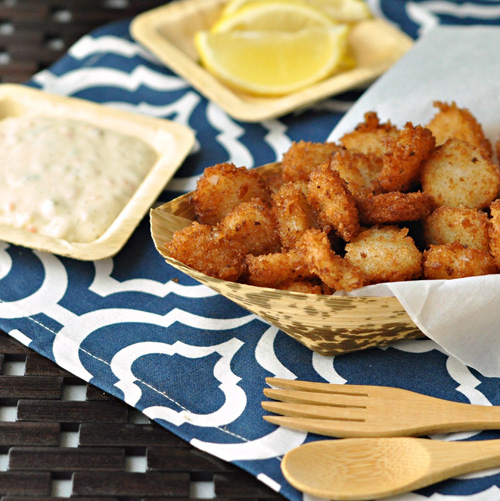 My mom is leaving Maine soon which means I am losing the only other seafood lover in the house. While my daughter enjoys shrimp and some white fish, she will only eat the occasional scallop. Before she left, I wanted to make these scrumptious scallops as a treat for she and I, but also because I don't typically fry things when I'm the only one eating it. This is such a fun way to prepare scallops. It has a visual appeal, but there is also a key reason to slice your scallops like this from time to time. Flavor. Each bite has that lovely crunchy outside and the sweetness only a scallop has on the inside. Adding ginger to the oil gives them a subtle flavor boost, but ups the sweet factor even more so.
A few tips on preparing these scallops. While it does take more effort than simply tossing them in flour and frying, it really only adds maybe 5 to 10 more minutes. Using the largest scallops you can find also helps. If you have nice, large diver scallops then you could probably even use a mandoline to achieve a super thin slice. Just be careful!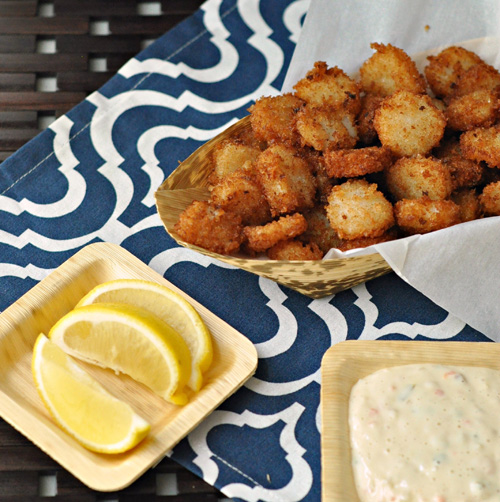 Speaking of fun, aren't these bamboo boats, bamboo leaf plates, and bamboo utensils so fun? They remind me of the little dishes you get at tastings and half the reason the food tastes good is because it looks good too! If you're going to go through the extra effort of making a dish like this, I say keep it up with some stylish tableware. Restaurantware sent me these, along with a few other items from their Bamboo Line.We've been having a lot of fun with them, especially my daughter who knows that french fries taste better when severed in a cute bamboo cone. We're all in agreement that the bamboo utensils are not only attractive, but a really high quality. You could put a hurting on a steak with these guys. I've long been an advocate of making food stylish and fun and now it can also be responsible with Restaurantware's ec0-friendly tableware. They have so many other great items that I can't even begin to list a favorite. To rattle off a few though, their paper straws and french fry baskets are adorable. I'm a huge fan of fun and stylish food picks and don't even get me started on their edibles! I started making excuses to try and host another party as soon as I saw those!
If you are anything like me and checked out the Restaurantware website and fell in love with it all, you're in luck. Restaurantware is offering a 10% discount to my readers. So, go ahead and buy some for that party coming up or just because everything looks great and you'll be throwing a party eventually. Really, who needs a party? If it gets my kids to eat, every night is a party! Go ahead and enter "THEWAYTOHISHEART10" at checkout to receive your discount. This discount code is good until August 30th, 2015. Also, don't forget to post a picture of some of your creations on The Way to His Heart's Facebook page or Twitter! You can tag Restaurantware as well, I'm sure they'd love it!
While I did receive compensation from Restaurantware, as always, the opinions expressed here are solely my own.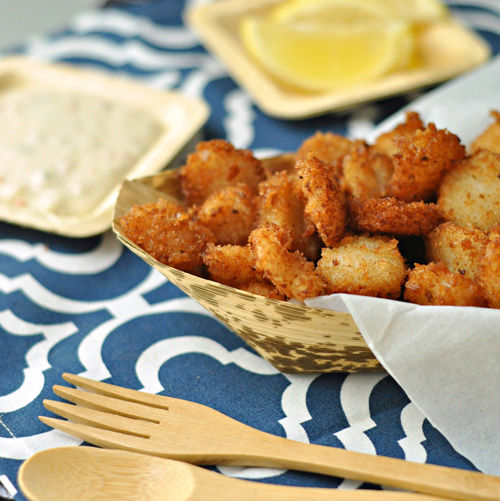 Scallop Chips
Ingredients
1 lb sea scallops
2 cups safflower or vegetable oil
1-inch piece fresh, peeled ginger
2 cups panko bread crumbs or homemade bread crumbs
1 lemon, cut into wedges
Place scallops in the freezer for 30 to 45 minutes to make them much easier to slice.
Thinly slice the scallops horizontally. You should get 3 to 4 slices from each large scallop. Place the panko in a bowl and lightly coat each slice of scallop with panko on all sides. Place on plate.
In a large, heavy skillet, heat the oil over high heat for about 20 seconds. Add the ginger to the oil and let it heat up for about 2 minutes. Remove the ginger from the oil and a slotted spoon. Cook the scallops in batches in the hot oil. Add enough scallops to fit in a single layer in the pan. Cook for 30 seconds; gently flip them over and cook for another 30 seconds. Drain on paper towels.
If you need to keep the scallops warm while others fry, heat your oven to 200 F and place on an ovenproof plate.
Serve immediately. Serve with cocktail sauce, tarter sauce, or any Asian dipping sauce.
Source: Stonewall Kitchen Favorites