Seared Scallops with Snap Peas and Pancetta
15 Tuesday Jul 2014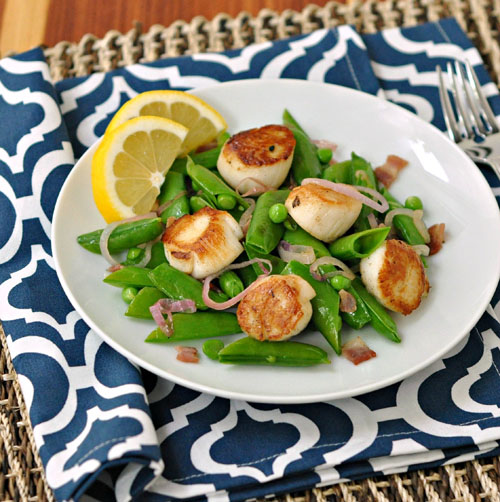 If you're looking for something quick to whip up for dinner, but want something a little nicer than your standard fare this scallop dish is worth a shot. I love scallops, or any seafood for that matter, because the cooking time is quick and you can throw a nice meal together in no time. What sets this meal apart is the snap peas and pancetta. It lends a nice earthy, savory taste to the scallops and really anchors the meal. I personally cook the snap peas a little longer so they soften up more to my liking. You could also do a quick steam to them before sauteeing.  If you're looking for something a little more substantial to fill your bellies, I'd pair this with rice, or perhaps a cauliflower or celery root mash to keep things on the healthier side.
Seared Scallops with Snap Peas and Pancetta
Ingredients
3 tsp canola oil, divided
12 oz sugar snap peas, trimmed and sliced diagonally
1/4 tsp kosher salt, divided
1/4 tsp black pepper, divided
1 1/2 oz diced pancetta
2 large shallots, sliced
1 1/2 lbs large sea scallops
4 lemon wedges
Heat a large cast-iron skillet over medium-high heat. Add 1 teaspoon oil; swirl to coat.Add peas, 1/8 teaspoon salt, and 1/8 teaspoon pepper; saute 2 minutes. Place snap peas in a bowl and set aside. Heat pan over medium high. Add pancetta; cook 1 minute. Add shallots; cook 1 minutes, stirring constantly. Add pancetta mixture to peas.
Return pan to medium0high heat. Pat scallops dry with paper towels; sprinkle evenly with remaining 1/8 teaspoon salt and remaining 1/8 teaspoon pepper. Add 1 teaspoon oil to pan; swirl to coat. Add half of scallops to pan; cook 2 minutes. Turn and cook 1 minute or until desired degree of doneness. Place cooked scallops on a plate. Repeat procedure with remaining 1 teaspoon oil and remaining scallops. Serve scallops with snap pea mixture and the lemon wedges.
Serves 4 (about 5 scallops and 3/4 cup pea mixture)
Nutritional Information
Per serving; 237 Calories, 7.9g Fat, 25g Protein, 15g Carbohydrate, 3g Fiber, 48mg Cholesterol, 3mg Iron, 568 mg sodium, 52mg Calcium.
Source: Cooking Light July 2014