Soft Caramels
11 Friday Oct 2013
Written by Maeghan in Candy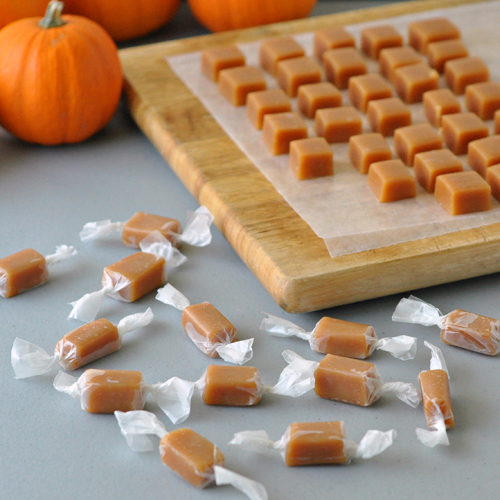 While caramel candy can be found year round, there is something about this season that just makes them necessary. Caramel apples, caramel topped anything really, caramel candies while trick or treating, and of course that dish of hard caramel candies sitting out at family get together. My husband loves soft caramel candy so when he asked if we could make it at home I quickly found a recipe and let him get to work. What? I'm busy making a baby! These came out great and we'll be enjoying these for a while. The batch makes a full cookie sheet worth and you can cut them to whatever size you desire. We are also going to play around and see if this can be melted and used for a few other treats. If so, I'll be sure to get back to you and show you the results! You can also lightly sprinkle sea salt on top or dip these in chocolate for wonderful little mini candy bars!
Soft Caramels
Ingredients
14 oz. can sweet condensed milk
2 cups granulated sugar
1 cup unsalted butter, plus extra for greasing pan
1/2 tsp salt
1 1/2 cup light corn syrup
Generously grease a  9 x 13-inch glass baking dish with butter.
Combine all of the ingredients in a medium heavy saucepan. Cook on medium high heat, stirring constantly, until the mixture reads 240 F on a candy thermometer. Remove from heat and pour into the prepared baking dish.
Let cool completely and then cut into desired size. Wrap in wax paper for individual candies. Store in an airtight container.
Adapted from oh so Delicioso