Stonewall Kitchen's Hot Cocoa Cupcakes & A Giveaway!
04 Friday Jan 2013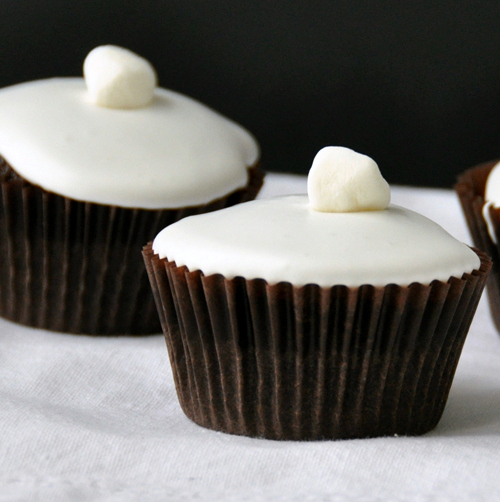 January is upon us and if you are like me that means you are cold, tired, and want to indulge a little without making a million cookies for others or worrying if your nice dress clothes are going to fit. This morning in Maine it was -5 at 7:00 am without the windshield factor thrown in. Bring on the blankets, fireplace, and a hot cup of cocoa. It gets better though, why drink your hot cocoa when you could eat it? In cupcake form, how much more could you ask? Well, Stonewall Kitchen has taken care of that and created a wonderful little treat, their Hot Cocoa Cupcakes with Marshmallow Topping.
I was recently asked by Stonewall Kitchen if I would like to try one of their new products. There was no hesitation on this one folks. A resounding, "Yes!" I love their products, I love their cookbooks, they work with Ina Garten (HELLO!), and they have a wonderful flagship store that has a fantastic cafe (Everything is wonderful, but a must try is their mozzarella and basil sandwich with french fries. They have some of the best french fries ever!) and cooking school. Oh, a huge factor for me personally is that I can trust their products when it comes to my peanut allergic daughter. The kid loves being able to eat something out of a box and there are few companies out there I truly trust.
Before I get off topic, we are here to talk about the cupcakes! As you all know, I'm a stickler for quality products and I get excited when things smell and taste good. Like, do a little dance with my daughter with spatulas in our hands kind of dancing. So, when I put the cupcakes in the oven and in just a few short minutes my house smelled like a hot cocoa factory there may have been some dancing going on. My daughter kept asking when the cupcakes would be ready and I couldn't get upset with her because I wanted them to be ready just as badly! While they cooled, we prepared the frosting. I've made marshmallow frosting before, but I couldn't get the frosting to fluff up like the picture on the box. It really didn't matter though, they still looked pretty and the frosting was delicious. One thing that made me super happy was the packaged marshmallows for the frosting and garnish tasted great on their own. These were not cardboard tasting marshmallows everyone is familiar with. We know I am a fan of homemade marshmallows and these were pretty darn good! Before even biting into one of the cupcakes, I knew I would be pleased. These were gourmet cupcakes that you would never expect from a box. Recipients will either think you slaved away and are a fabulous baker or you have a great bakery nearby. On cold days like these, it's nice to curl up with a cup or a cupcake of hot cocoa and not have to leave my house or breakout every ingredient I have in the kitchen. In three simple packages, Stonewall Kitchen has already done it for me! The only thing I had to do was keep my daughter and I from eating all twelve!
So, now that I have you all wanting Hot Cocoa Cupcakes with Marshmallow Frosting let's get to the giveaway. Stonewall Kitchen sent along a box for me to try and a really cute gift set for one lucky reader. I'm kind of jealous! You will get a box of the Hot Cocoa Cupcakes to try, a canister of their Hot Chocolate and Marshmallows, and a white silicone spatula to mix it all up!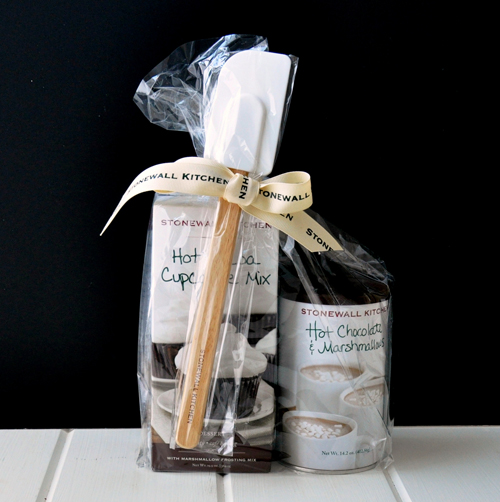 All you have to do is go to Stonewall Kitchen's Facebook page and "Like" them. Come back here and leave a comment on this post telling me that you have liked them. To enter additional times, you can Like The Way to His Heart's Facebook page and/or follow The Way to His Heart on Twitter. Totaling 3 entries for each person. If you already like these pages, just comment and let me know! Make sure that you have left a separate comment for each action since the winner will be chosen randomly by comment number. I'm sorry, but the giveaway is only open for those living in the United States. A winner will be selected Monday, Jan. 7th at noon EST. and contacted by email.
Stonewall Kitchen provided me with the kit to make these cupcakes and the gift set to give away, but as always the opinions expressed here are solely my own.
**** Congratulations Schuyler! You won the Stonewall Kitchen Giveaway!****