Szechuan Shrimp
03 Wednesday Apr 2013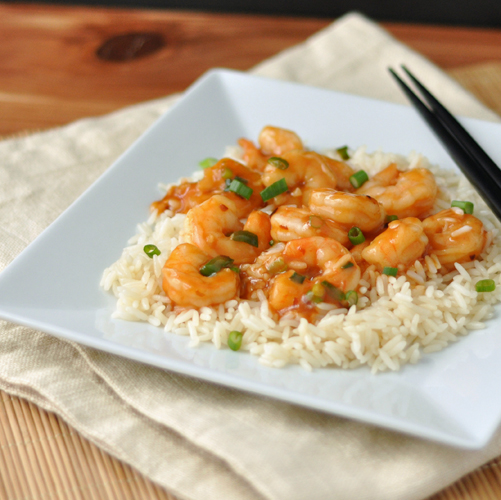 I always have cooked shrimp in my freezer since I can whip up anything with them and can have a meal for myself in no time. My daughter loves shrimp as well, although only sauteed in butter for her! The nice thing stir fry is I can have my meal ready in almost the same time it takes hers to sautee! With all of these ingredients in my pantry, I've got something different and tasty for dinner in no time! You can pair the Szechuan sauce with chicken or pork if you'd like as well.
Szechuan Shrimp
Ingredients
4 Tbsp water
2 Tbsp ketchup
1 Tbsp low sodium soy sauce
2 tsp cornstarch
1 tsp honey
1/2 tsp crushed red pepper flakes
1/4 tsp ground ginger
1 Tbsp vegetable oil
1/4 cup green onions, sliced
4 garlic cloves, minced
12 oz cooked large shrimp, tails removed
In a small bowl, combine the first 7 ingredients and set aside.
Heat oil in a wok over medium-high heat. Add the green onions and garlic and saute for 30 seconds. Add the shrimp and toss to coat with oil. Add the sauce and cook until the sauce is thick and bubbly, stirring often. Serve over rice.
Yields 2 servings.
Source: Blog Chef