Tequila Watermelon Refresco
31 Thursday Jul 2014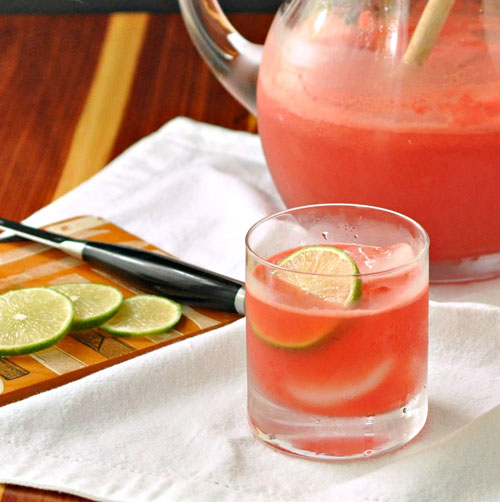 This summer has been our busiest yet. Every time I think things will slow down and we can enjoy those "lazy days of summer" more things get added to our schedule! The good thing is we've been catching up with family and friends. That means lots of entertaining and with entertaining comes delicious beverages and this delicious refresco is definitely one of them! Since we are part of the "adults with kids" crowed now I always set a little bit of the punch aside before adding any alcohol that way they can leave us alone and wont keep asking for a sip.  I also omit any kind of soda I am using as well.
So, sit back and relax when you can and enjoy some of this summer sunshine before it's gone. With this hectic pace we've been setting, sometimes just a few sips of this on my back deck after the kids have gone to bed is all I need to relax and recharge.
Tequila Watermelon Refresco
 Ingredients
5 1/2 cups chopped seedless watermelon
3/4 cup tequila
6 Tbsp Triple Sec (orange-flavored liqueur)
5 Tbsp fresh lime juice
1/4 tsp salt
2 1/4 cups club soda, chilled
6 lime wedges
Process watermelon in a blender until smooth. Pour the puree into a sieve over a large bowl and extract as much liquid as possible, discarding the solids. Pour 3 cups of the watermelon liquid into a pitcher and combine with tequila, Triple Sec, lime juice, and salt and stir. Gently pour in the club soda and serve over ice with lime wedges.
Serves 6 (about 1 cup)
Nutritional Information
Per serving: 138 Calories, 0.2g Fat, 1g Protein, 13g Carbohydrate, 0g Fiber, 0mg Cholesterol, 119mg Sodium, 12mg Calcium
Source: Cooking Light June 2014