Tilapia with Cilantro Butter
12 Friday Apr 2013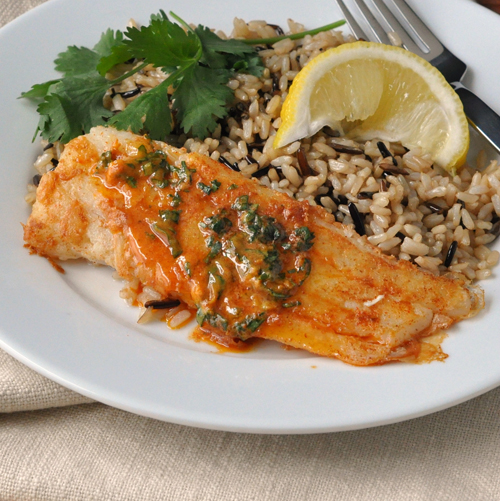 I often find myself with an abundance of cilantro in my kitchen. I cook with it often, but for some reason I never find enough recipes to use it all before it goes bad. I found this recipe in the depths of my large stack of recipes to try and headed right for the kitchen one day for lunch. I haven't eaten lunch that fast in a while. This was more delicious than I thought it would be! What is great is this butter can be used for other seafood, think shrimp, scallops, and of course all of the other mild white fishes. Plus, you could use it with pork, chicken, or even a lovely butter melted over a steak. Yeah, that will be happening soon here soon since I think my husband will love that combo!
So, use up some more cilantro, have lunch ready in less than 10 minutes, and it's healthy. Woohoo! Now, hand me a cookie because I'm so happy!
Tilapia with Cilantro Butter
Ingredients
   Fish
1/4 tsp salt
1/4 tsp ground cumin
1/8 tsp ground red pepper
4 6oz. tilapia filets
Cooking Spray
1 lemon, quartered
   Cilantro Butter
2 Tbsp butter, softened
2 Tbsp finely chopped fresh cilantro
1/2 tsp grated lemon rind
1/4 tsp paprika
1/8 tsp salt
In a small bowl, combine the salt, cumin, and red pepper. Sprinkle over both sides of the fish.
Heat a large nonstick skillet over medium-high heat. Coat pan with cooking spray. Coat both sides of the fish with cooking spray and place in the pan. Cook for 3 minutes on each side or until the fish flakes easily when tested with a fork. Place the fish on a serving platter and squeeze the lemon quarters over the fish.
Place butter and remaining ingredients in a small bowl, stir until well blended. Serve with fish.
Nutritional Information
Serving size is 1 filet and 2 teaspoons of butter
Calories 194, Fat 6.9g, Saturated Fat 3.1g, Protein 30.5g, Carbohydrate 1.2g, Fiber 0.2g, Cholesterol 88mg, Sodium 354mg
Source: Cooking Light January 2006