Tortilla Chip Casserole
16 Wednesday Jan 2013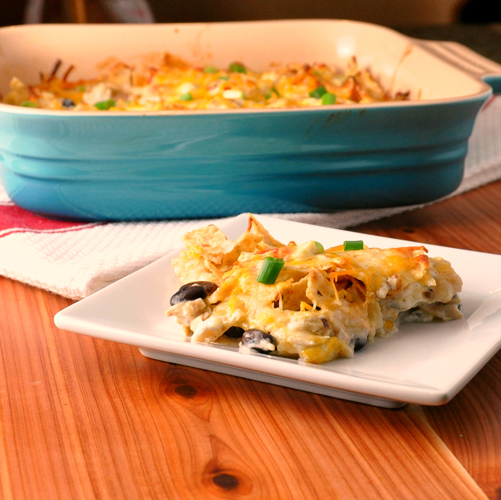 It is pretty safe to say that my husband loves a good casserole. He may raise his eyebrows when I first mention what I am making, but there is something about putting down a hot dish with cheese on top that makes him happy! Who wouldn't be? I've been looking to find the next best thing in our rotation and hopefully yours! The Mexican Stuffed Shells just keep showing up as number one on this site day after day and they are fabulous, we love them too, so I know that if you all loved those you are going to love this too! The best part? A lot less calories and you'd never know it! It's creamy, it's cheesy, the tortilla chips give a nice crunch, and it's warm and feels good on a cold winters night.
I actually chose to make this in two 8×8″ pans. That way, I could cook one up for dinner and freeze the other for another night. I wasn't sure how freezing would work out with the tortilla chips, but it was just fine! Granted, it only lasted in my freezer for exactly one week before it was requested again!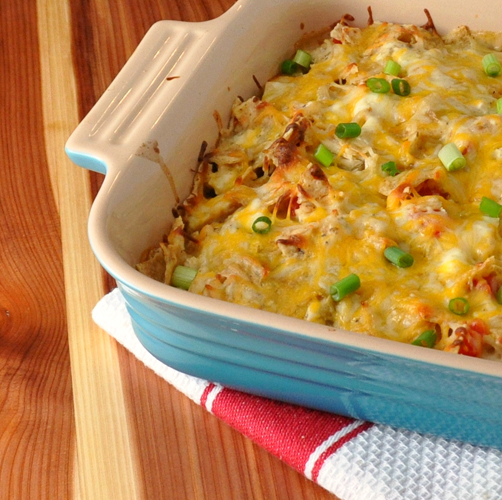 Tortilla Chip Casserole
Ingredients
1 Tbsp canola oil
1/2 cup chopped onion
1 Tbsp minced garlic
2 Tbsp all purpose flour
1 cup 2% reduced-fat milk
1/2 cup unsalted chicken stock
1 tsp ground cumin
1/2 tsp ground coriander
1/4 tsp kosher salt
1/4 tsp freshly ground black pepper
4 oz 1/3-less-fat cream cheese
1 cup canned black beans, rinsed and drained
3 cups chopped cooked chicken breast
4 oz baked tortilla chips, crushed
1 roasted red bell pepper, chopped
8 oz lower-sodium green chile enchilada sauce
2.5 oz shredded cheddar-Monterey Jack cheese blend (about 2/3 cup)
2 Tbsp chopped green onions
Pre-heat oven to 350 F.
Heat oil in saucepan over medium heat. Add onion and cook for 6 minutes. Add the garlic and flour and cook for another 2 minutes. Gradually, add the milk and stock, stirring constantly, bring to a boil. Remove from heat and stir in the cumin, coriander, salt, pepper, and cream cheese.
Spread 1/2 cup milk mixture over bottom of a broiler-safe 11 x 7″ baking dish. Layer beans, 1 1/2 cups chicken, and 2 ounces of tortilla chips. Top with 1/2 cup milk mixture. Layer 1 1/2 cups chicken, bell pepper, and 2 ounces of chips. Top with 1 cup milk mixture and enchilada sauce. Sprinkle with shredded cheese. Bake at 350 for 30 minutes. Sprinkle with green onions.
Nutritional Information
Serves 6. Calories 379, Fat 14.6, Protein 28.5g, Carb 34.2g, Fiber 4.7g, Cholesterol 75 mg, Iron 1.9 mg, Sodium 686 mg, Calcium 215 mg.
Source: Cooking Light January/February 2013