Quinoa Pizza Bites
18 Monday Mar 2013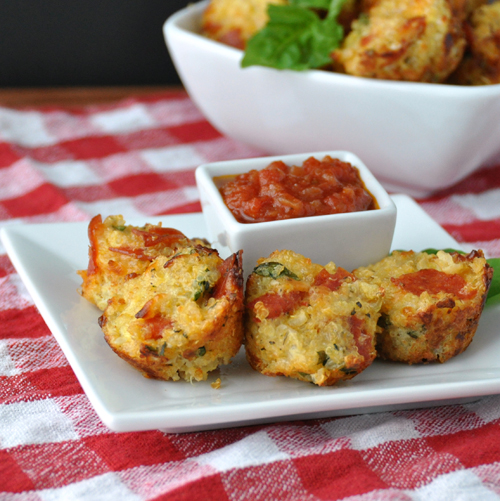 Last year, around this time, I made these fabulous pizza puffs that hit the spot and were easy for snacking. The perfect treat for watching football games or after-school snack. This year, I wanted to up the ante and make something a little more healthy. Since I've been experimenting with quinoa, I decided to give a healthier twist to the pizza puff snack.
You can choose to cook your quinoa in water as mentioned below or if you prefer you can quick the quinoa in any broth that you choose. As with any pizza, mix and match your "toppings" as you like. Ham is easily interchangeable with pepperoni and spinach or mushrooms would be wonderful!
Quinoa Pizza Bites
Ingredients
1/2 cup quinoa
1 cup water
1/4 tsp salt
2 large eggs
1/4 cup onion, finely diced
1 cup shredded mozzarella cheese
2 cloves garlic, minced
1/2 cup fresh basil, chopped
1 cup chopped pepperoni slices
1/2 tsp salt
1 tsp Pizza Spice
1 tsp red pepper flakes (optional)
Rinse quinoa in cold water for 2 minutes. In a small pot, add water, quinoa, and salt and bring to a boil. Cover and reduce to a simmer. Allow to cook for approximately 20 to 25 minutes, until water has been absorbed.
Preheat oven to 350 F. Lightly grease mini muffin tin.
In a medium bowl, mix all of the ingredients together, minus the marinara sauce.
Add 1 heaping tablespoon of the mixture to each mini muffin cup. Gently pat the mixture down to make compact.
Bake for 15 to 20 minutes. Allow to cool on a wire rack for 3 minutes before removing.
Serve with marinara sauce for dipping.
Adapted from So Very Blessed