Way Better Snacks Giveaway
23 Wednesday Jan 2013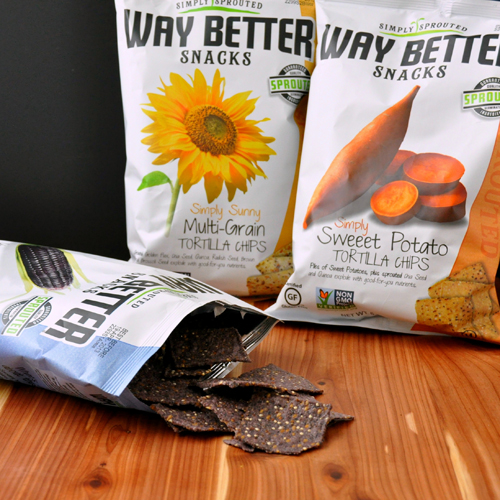 As some of you know, back in November I attended the Mixed conference. While there, we sampled a lot of fantastic foods and brought home some great products. During the day sessions they were handing out bags of Way Better Snacks tortilla chips and I would grab a bag, but never open it. For some reason my eyes and stomach were only on the candy bars. Then, the last night I attended a wine and cheese party where they had some Simply Unbeatable Blues chips out. I couldn't stop eating them. I was that annoying person who kept going back and taking more and every time commenting on just how darn good they were.  I raved so much and I suppose went back to the table maybe enough times to make it really obvious that I liked them that Melissa from Stockpiling Moms told me she wanted to send me home with some. The problem was I was flying and who knows if they would have made the flight. Especially since the flight back was pretty eventful. (Can we say delayed/canceled flights, running in the Philadelphia airport with a cake that was decorated with Duff Goldman, and then lost luggage?) So, it was decided that I would have some shipped back home to me. Yay for me! I was so excited about receiving some that you may have seen the tweets and Facebook messages.
So, lets fast forward to now. I am still raving about them. Besides the fact that they taste insanely good, which a good deal of the time is enough for me, they are good for you as well. You can go to their website to read the long list of reason they are good for you. Here is the short list: Certified Gluten Free, Non GMO Project Verified, Made in the USA (that hardly ever happens anymore!), Kosher, Vegan, Low Sodium, and ALL Natural ingredients. We are talking ingredients you didn't even think could go into a chip and have it still taste good, like broccoli and daikon radish seeds! Their sprouting method means increased vitamins, minerals, antioxidants, digestibility, and nutrient absorption. One other MAJOR thing for me, it's a snack that I can open up and share with my daughter. That is rare because of her peanut allergy. Every other snack is made in a facility that processes nuts. Way Better Snacks deals with all natural ingredients and they know where every one of their ingredients comes from so they can safely say what their food content is.
OK, I'll stop and let you read the rest on the website, but don't get discouraged by all the goodness if you love chips but don't care about the health content, you WILL love these chips! They have some really interesting flavors that are a nice change of pace. My two favorites are the Simply Unbeatable Blues and the Simple So Sweet Chili. One lucky reader is going to win a case of these fabulous tortilla chips. That is right, 12 bags! I only got 6 and was as happy as can be so I can't even imagine! I'm a little jealous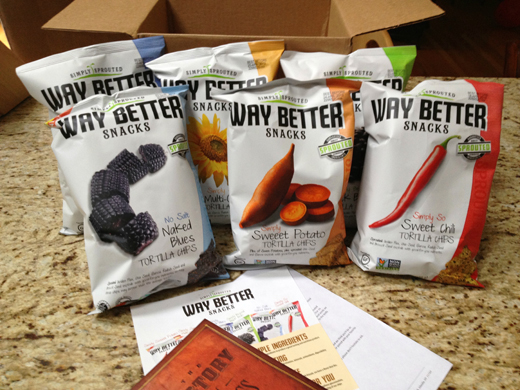 You might have noticed the Simply Unbeatable Blues with the Queso Fundido al Tequila or the Simply Sunny Multi-Grain in the Tortilla Chip Casserole. What you didn't notice was the other bags that were consumed snacking on the couch!
**** Congratulations Lindsay! You won the Way Better Snacks Giveaway!****
Here is what you have to do to enter. Comment below on how you like to enjoy tortilla chips or tell me what sounds most appealing to you about Way Better Snacks. For additional entries you can…
- Tweet about the giveaway and leave a comment below with the link to the tweet. Just click here!
-Leave a separate comment that you follow The Way to His Heart on Facebook
- Leave a separate comment that you follow Way Better Snacks on Facebook
- Leave a separate comment that you follow Way Better Snacks on Twitter
So, you have 5 chances to win! Extra entries must have separate comments as your comment number is your entry! I'm sorry, but the giveaway is only open for those living in the United States. A winner will be selected Monday, Jan. 28th at noon EST. by a random number generator and contacted by email.
As always, the opinions expressed here are solely my own. This prize is provided by Way Better Snacks.